KEARNEY — On the evening of July 8, 2019, dark, angry clouds dumped torrents of rain northwest of Kearney. By midmorning on July 9, floodwaters were rising in Kearney's hotel district, forcing a hasty evacuation of guests and hospitality workers.
Kearney began July 9 with 1,800 hotel and motel rooms, but by midafternoon, only 600 rooms still were fit for guests.
One of Kearney's mainstay industries was brought to its knees.
Hotel owner Paul Younes spent weeks repairing seven of his eight lodging and conference center properties. Repairs cost millions of dollars, but today Younes won't say how much he is spending to keep his hotels open.
"The flood was very bad, but this is 10 times worse," said Younes, referring to the coronavirus outbreak that's caused scores of postponements and cancellations of conferences, weddings and the other events he would be hosting if people weren't worried about the health risks of large gatherings.
"We're losing tons of money," Younes said. "I don't want to give a number because it would scare people, but we're losing money every single day the sun goes up."
Coronavirus and the aftermath of the July 9 flood have had a disastrous effect on Kearney hotels and motels, according to occupation taxes paid by guests in local hotels.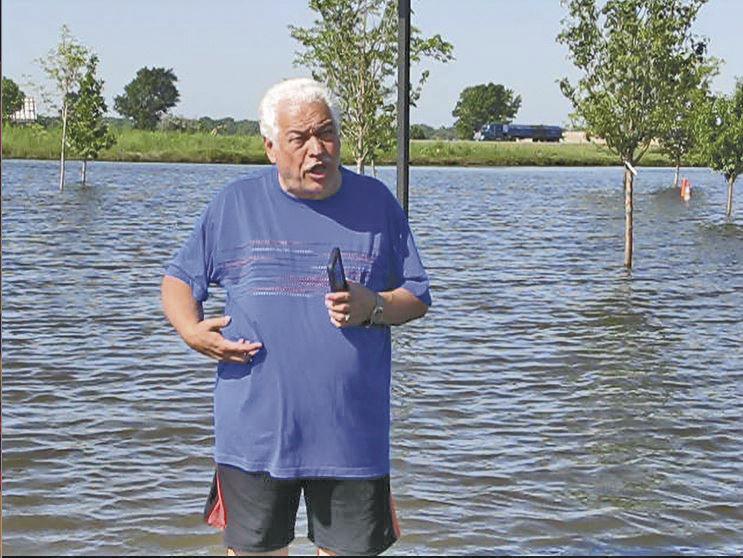 In the fiscal year before the flood — June 2018 through May 2019 — revenues of the 2% city occupation tax totaled $566,486.
From June 2019 through May 2020, revenues declined by $136,638 — a 24% drop — to $429,848, said Wendell Wessels, the city of Kearney's finance director.
That downturn represents a $6.8 million loss for hotels and motels, Wessels said, and it coincides with the flood and arrival of coronavirus.
It's against that backdrop that Younes and potentially many other hotel operators are fighting to stay afloat.
In total, Younes owns eight hotels in Kearney and six other Nebraska properties. He said skeleton staffs are keeping the places open. He used a federal paycheck protection loan to cover payroll for several weeks because his hotels aren't generating revenue at the same pace as a year ago.
June occupancy averaged 48 percent in Younes' eight Kearney hotels.
"Normally we do around 92 percent. We're doing half the business, and because of coronavirus, on our food and beverage we had zero revenue. No conventions, no liquor, no food, no weddings, nothing," he said.
Younes did host a wedding on June 27 — it was the only function in 100 days.
Recently, Sertoma, Rotary, Christian Women's and Kiwanis service clubs resumed weekly lunch meetings at Holiday Inn, but their return represents just a drop in the bucket compared to pre-coronavirus activity.
Katelynn Merrigan, sales and catering manager at Ramada Inn, said that because of coronavirus booking events is challenging. "We're going day by day and booking what we can."
She said some customers may hesitate to gather in large numbers. Also, state directed health measures may restrict how many guests can be seated. For example, Ramada's large ballroom seats 400, but social distancing limits it to 250.
She said she's emphasizing safety for guests and the wait staff, who wear gloves and masks. They try to limit the spread of virus with protocols such as having guests pour their own water rather than waiters handling each glass for refills.
Merrigan said the conference and event business may be coming back. Ramada is hosting a pair of weddings this weekend and a couple of conferences that were postponed in the spring have selected new dates.
"It's a crazy new normal that's going on. I wish it was back to the old normal," she said.
Younes said he is positive about the future.
He's so optimistic that he's building a 23,000-square-foot conference center and hotel, which is slated to open Sept. 21. The place will be called Younes North.
In all, the project will cost $36.4 million.
"We have several conventions booked," he said about the new facility.
Its 2,500-person capacity is so large it will allow Kearney to compete for conventions and events at regional and national levels. Not every convention attracts 2,500 people, so the conference center will be designed to accommodate multiple smaller meetings and gatherings. It will feature 172 guest rooms and 1,200 parking stalls stretching across the space equivalent to eight football fields. Also in the plans are 30 meeting rooms and a glass-enclosed swimming pool with water slides that travelers will see from Interstate 80.
The building's steel is up, and wall frames are being built. Most of the interior space is under roof, and coverings are going up on some exterior walls.
Younes said he's hoping a COVID-19 vaccine or other medical breakthrough occurs soon and that the convention and wedding business can rebound by March. He's already booked several conventions for 2022 and 2023 in the new conference center — some as large as 2,500 and 3,000 participants that never have been to Kearney.
"Hopefully, they'll stay in Kearney," he said.
The decision to proceed with the conference center was carefully discussed, he said. Some of the building materials were on site and the Kearney City Council had approved the project, including a drainage system to protect the Younes Complex from flooding like one year ago.
"My children and our management discussed it. I think it's a good decision we made to proceed," Younes said.
Until there's a solution for the virus pandemic, he said his business must overcome challenges that are "10 times worse" than the flood a year ago.
"It's going to be a very difficult time," he said. "You hardly can sleep thinking about all your people."
---
Photos: Construction progress on new Younes Conference Center