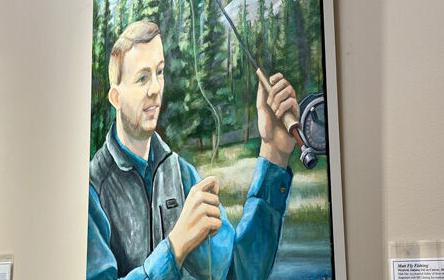 KEARNEY— Nebraska artist Rachel Mindrup's oil and canvas paintings tell the inspirational stories of her son Henry and all others living with neurofibromatosis, a rare genetic disorder.
Her art can be seen in the "Many Faces of Neurofibromatosis" exhibit at the Walkway Gallery at CHI Health Good Samaritan, 10 E. 31st St. The exhibit, which runs through July, coincides with Neurofibromatosis Awareness Month.
The uplifting portraits show real people who have neurofibromatosis, along with brief summaries of their backgrounds and accomplishments since being diagnosed with the condition.
Mindrup was motivated by her son. A junior at Millard West High School in Omaha, he currently has five brain tumors. He had one brain surgery during high school and is hoping to graduate next year without having another. She hopes the portraits will raise funds, educate the public and ideally find a cure for the disease.
"Portraits have always had a powerful grasp on my imagination. Through this series of portraits, I am the conduit, transforming genetic complications into something secondary and portraying the individual personalities first," she said.
"I wasn't very vocal or comfortable talking about Henry's NF when he was little. I didn't want people to treat him differently and so it was easier to keep it a secret and pass everything off as "everything is fine," Mindrup wrote on her Facebook page.
"At the same time, I knew I wasn't helping him if I wasn't advocating. Thanks to Reggie Bibbs advocacy, I met a man living with NF who was spreading awareness," she added.
"I asked if I could paint his portrait as a thank you for all of his NF advocacy. One portrait led to another and to another and I finally found a way to raise awareness in a way that made sense to me," she wrote.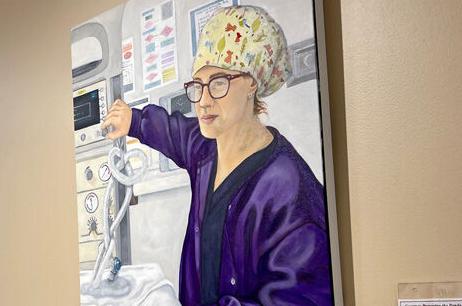 Mindrup, an assistant professor of drawing and painting, holds the Richard L. Deming, M.D., Endowed Chair in Medical Humanities at Creighton University.
She received her Bachelor of Fine Arts degree from the University of Nebraska at Kearney and continued her studies at the Art Academy of Los Angeles. She received her master of fine arts degree from the Art Institute of Boston at Lesley University.
Mindrup's work has been shown nationally and internationally, including the Queens Museum in Queens, N.Y., Georgia Regents University and Washington University Medical School. Her artwork is held in many private collections, including those of primatologist Jane Goodall and U.S. Supreme Court Justice Clarence Thomas.
NF is a genetic disorder that affects 1 in every 3,000 people. It is characterized by multiple light brown skin spots and small benign growths on or under the skin, and/or freckling in the armpits or groin. About 50% of patients also have learning challenges. Softening and curving of bones, and curvature of the spine, may occur. Tumors may develop in the brain, on cranial nerves or on the spinal cord.
NF can lead to blindness, deafness, cancer and sometimes death. There is no cure, but advocacy is helping researchers get the funds needed for clinical trials. To learn more or to donate, visit nfcentralplains.org.