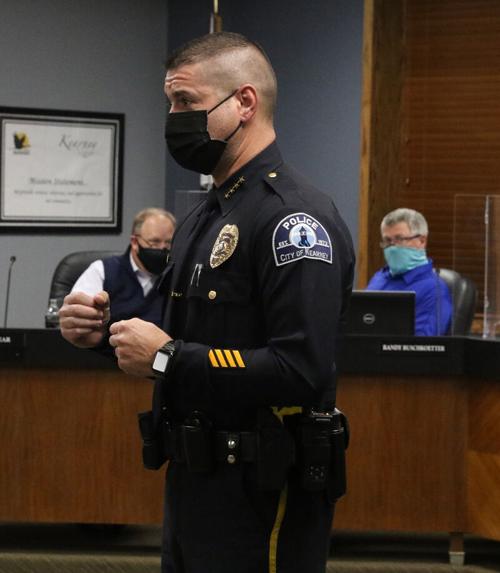 KEARNEY — Kearney Police Chief Bryan Waugh is asking for voluntary compliance from citizens and businesses with the city of Kearney's new mask mandate.
"Our goal is not to criminalize public health," Waugh said.
The ordinance requires people age 5 and older to wear masks in public to slow the spread of the coronavirus and ease the volume of COVID-19 cases filling Kearney's hospitals. Executives of CHI Health Good Samaritan and Kearney Regional Medical Center urged the City Council last week to enact a mask ordinance and encourage other measures to protect the public.
On Tuesday, the Kearney City Council unanimously approved the ordinance, which goes into effect Monday and lasts through Feb. 23, 2021.
Waugh said warnings first will be issued to people not in compliance with the ordinance. Citations could be issued after that. Violators face a $25 fine for the first offense.
Waugh was working Wednesday afternoon on how the public can report someone not in compliance with the ordinance without overloading the 911 communications center. Waugh sees the mandate as yet another way KPD officers can engage with the community in a positive way on a public health perspective.
"The purpose behind this ordinance is not one of enforcement. It's one of prevention, a deterrent," he said. "Public health correlates with public safety."
The Buffalo County Courthouse is exempt from the mandate because it is a government entity. However, when it comes to the courts and courtrooms, Sheriff Neil Miller said judges have the authority to ask individuals to wear a mask inside the courtrooms, and have those individuals removed if they don't comply.
Concerned about COVID-19?
Sign up now to get the most recent coronavirus headlines and other important local and national news sent to your email inbox daily.