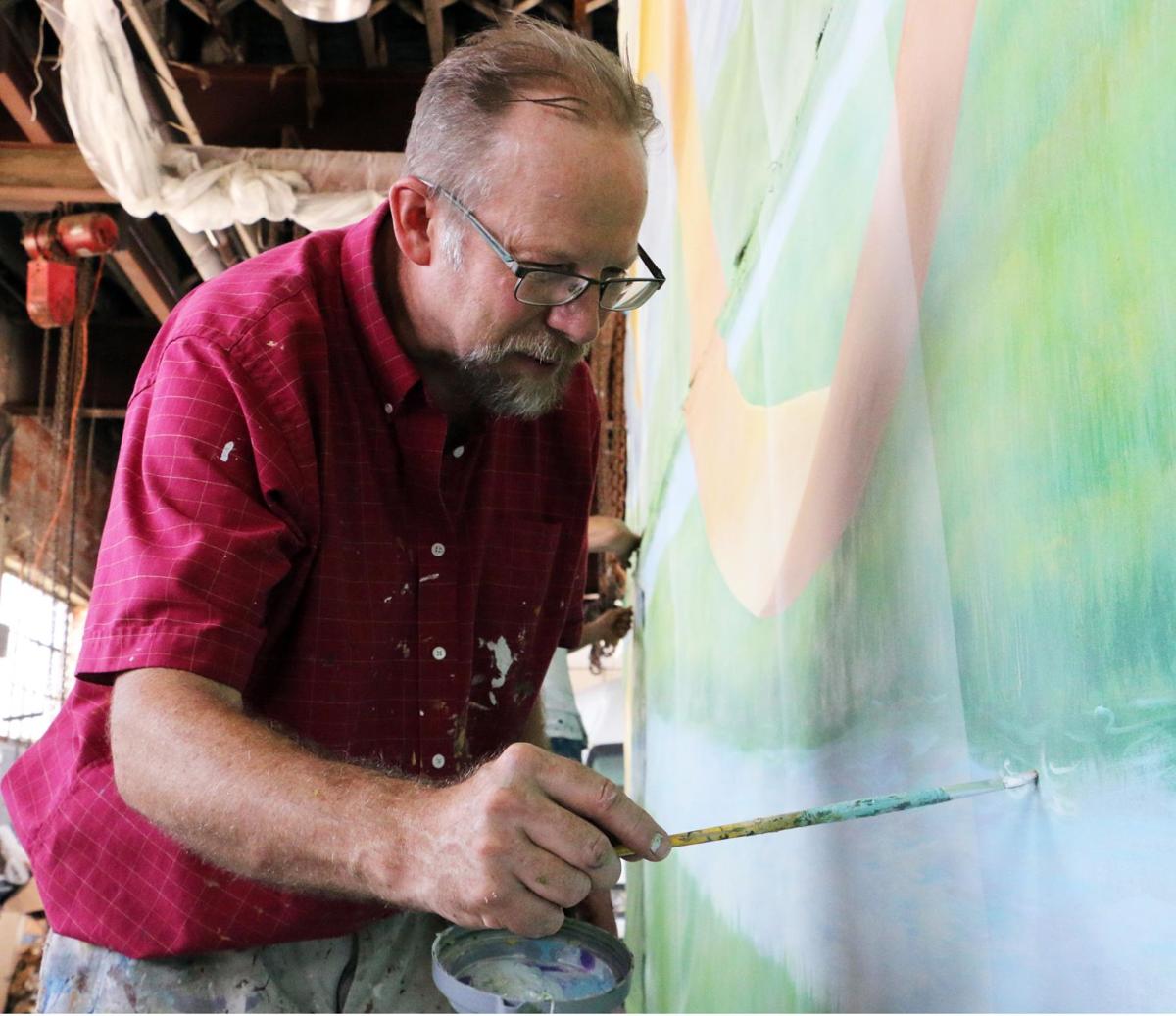 KEARNEY — An old airplane propeller blade, recovered during the initial excavation for the Central Nebraska Veterans' Home, is an element in a mural that will be featured in the home's main building.
According to Richard Harrison, the Omaha artist creating the mural, the propeller blade was unearthed two years ago during dirt excavation for the CNVH at 4510 E. 56th St. He decided to incorporate the propeller blade into his mural, which will cover a portion of the wall and ceiling in the heart room of Juliet, the main administration building on campus.
Suzanne Wise, director of the Nebraska Arts Council, said, "It's going to have a real 'wow' factor to it."
Nebraska Veterans' Affairs officials are trying to determine the blade's authenticity and have declined to share details about the propeller, only saying that the single blade is rusted and worn and may not survive the restoration process.
In the 360-degree mural, a plane with a propeller similar to the one unearthed will be pulling a yellow ribbon across different Nebraska scenes from the Niobrara River to Chimney Rock to central Nebraska.
Harrison has been working on the mural in his Bellevue studio since June. The mural is being painted on five 10-feet by 38-feet canvases, which will be cut and pieced together at the vets home with wallpaper paste.
When people look at the mural, Harrison is hopeful they will see a reason to celebrate and honor veterans.
"It's a pretty simple idea," he said. "Hope is that they (vets) will feel appreciated and feel a sense of grandeur that we have for them."
A selection committee, including three residents from the Grand Island Veterans' Home who will be moving to Kearney, gave input as to what they wanted to see in a mural. About 40 regionally based artists applied for the project, and Harrison's concept was selected from three artists.
"With public art, you want something to have some familiarity that it's accessible for people, but on the other hand you want something unique. When it came to showing an aspect that may not have been seen before, it was Richard that really stood out," Wise said. "It was an element or a theme that really wasn't addressed by any of the other proposals."
Starting young
Harrison was born and raised in Denver. He started painting murals in junior high school in the late 1970s.
"I've always liked doing art since I was 2. And in junior high and high school I started doing large-scale art," he said.
Harrison moved to Omaha in the early 1990s where he worked as a mural painter and an associate scene designer at the Omaha Community Playhouse. He started his own business, A Mid Summer's Mural, in 1999.
Depending on the project, Harrison works with four other artists mainly on pieces with atmosphere. Harrison and his crew design and paint custom murals and wall finishes, offer vinyl lettering and large print mural installations, and create painted glass art similar to stained-glass.
"I like to paint murals that have a sense of various elements coming together harmoniously as a whole," he said.
Although Harrison doesn't have any military experience, as a child he played for hours wearing his father's old Navy uniforms. Harrison's father-in-law served as a Marine in World War II.
In 2015, Harrison crafted the Veterans' Tribute mural at the Grand Lodge at Hillcrest Country Estates in Bellevue. The mural spans a 40-foot hall at the lodge.
Harrison also did a set of 10 murals for the culturally diverse neighborhoods in the South Omaha Mural project.
Wise said the yellow ribbon in Harrison's mural unifies all of what the state is about.
"There's a lot of landscape that really signifies parts of Nebraska, but the yellow ribbon runs through all of that so that the entire room comes together. It doesn't matter on which wall you look at, you're going to see this unification anywhere you look in the piece," she said.
Get local news delivered to your inbox!
Subscribe to our Daily Headlines newsletter.