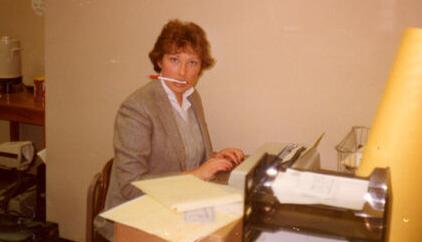 KEARNEY — Kimra Schipporeit began working at Kearney State College in 1975, and never left.
Schipporeit worked in the admissions office and the foundation office when she was a student at KSC in 1975. She received her degree in French and German and had the intention of becoming a teacher, but she never sought a teaching position.
"I think because I had worked as an undergrad on campus and when that position became open in the registrar's office it just seemed like a natural fit," Schipporeit explained. Schipporeit transferred to a graduation clearance position in the registrar's office after graduating in 1979 and became the assistant registrar in 1981. In 1989, she took on the position of director of student records and registrar. She held the position for more than 30 years until she retired in July 2020.
Earlier this year, Schipporeit received the Janie Barnett Distinguished Service Award at the 2021 annual meeting of the American Association of Collegiate Registrars and Admissions Officers, an organization of 11,000 higher education professionals representing 2,600 institutions in more than 40 countries.
The award recognizes an active or retired AACRAO member for exceptional contributions during an extended period of time for service to the association at the national level.
As the registrar, Schipporeit's primary responsibility was to maintain the institutional records including course information, instructor, information, grading and student records.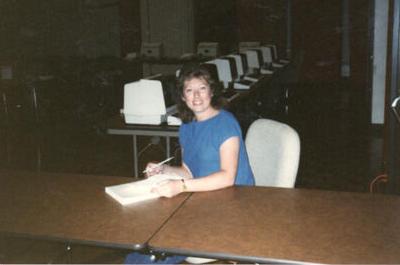 "Over the years, again because of changes in technology and sophistication and services that we offer to students, that position evolved and ultimately became the central focus if you will for the student information system, which is again the automated repository for all institutional records. So as the registrar not only do we oversee the operations of the office issuing transcripts, evaluating transfer credit, clearing students for graduation, putting together the semester class schedule, room assignments, doing grading and registration, those kinds of things, but we also then were the key player in reaching new technological advances out to students," she explained.
One of those technological advances was developing the first web pages for the Registrar's Office in 1997.
When Schipporeit first began working in the Registrar's Office, everything was done manually. There were no laptops or desktop computers, and all the student records were kept in a vault in the former administration building. The college would hold arena-type registrations for students, and staff from the registrar's office would have to cart 80 to 90 dumb terminals — simple monitors connected to a main frame computer — to the student union so students could register for classes.
"We would have lines of students, literally lines out the door, waiting to get in to drop and add or initially register for courses," she said.
As technology advanced, Schipporeit helped bring new advanced methods to campus including the first touch-tone telephone registration in Nebraska.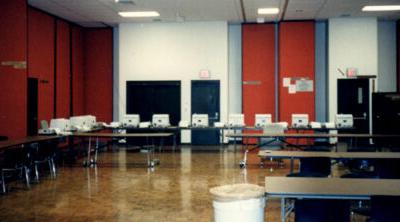 "I'm not talking about web-based; I'm talking about the telephone. Students would pick it up, and they would use the keypad on the phone to register for classes. So that was our segue before we went to the web-based registration; we actually did registration by telephone," she said. "They would enter in a five-digit code for each class. Of course you can imagine how many times they mis-keyed."
In 1999, the University of Nebraska at Kearney offered web access in order for students to register for classes, check holds, obtain grades and review degree audits.
"There were lots of hallmarks obviously in a career like that, and with the technology changing and changing responsibilities, there are a ton of important things that happen that you are a part of that are exciting for the campus," Schipporeit said.
While working as the registrar at UNK, Schipporeit was an active member of Nebraska Association of Collegiate Registrars and Admissions Officers, Student Information Systems Users and AACRAO. She served as president for NACRAO and also served on the board of directors and various committees for AACRAO. She also was the editor and chapter author for various publications.
Through her involvement in AACRAO, she helped developed Registrar 101 and 201 workshops that she taught to registrar professionals across the country.
"(Registrar 101) was a two-day workshop. I offered that in Puerto Rico from California to Pennsylvania. It was something that we did on a regular basis. Typically there would be two to three of us that would present for two days. So I would find colleagues to present with me. We did that for 10 years," she said.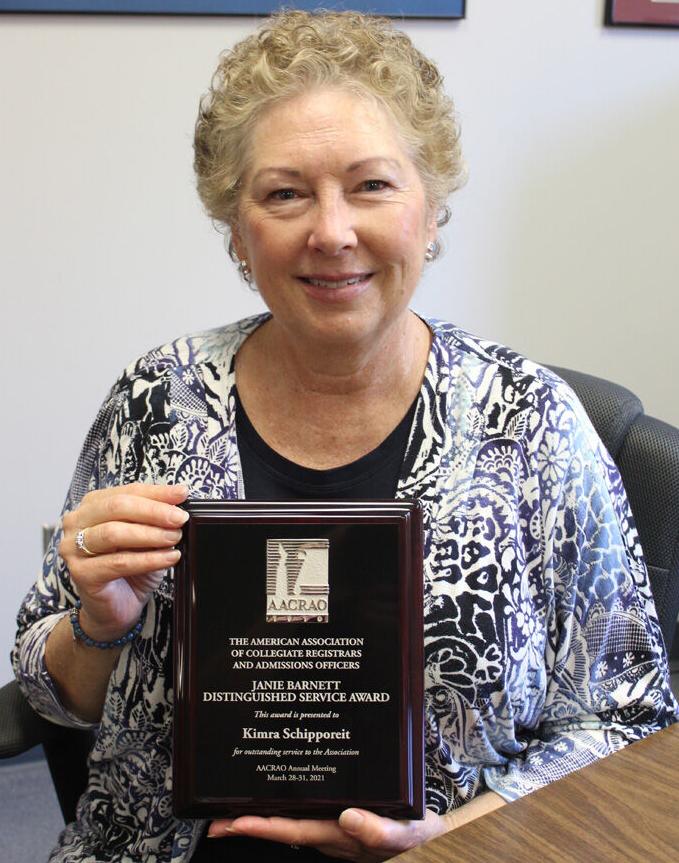 Schipporeit was selected to participate in the first AACRO-sponsored trip to Australia where they visited various institutions on both coasts.
"It was fun. The Australian government wanted to forge closer ties to the American educational system so that students and professors could work together or study abroad or do whatever. The Australian government went to AACRAO and said, 'Let's put together this tour.' It was fantastic," she said.
Schipporeit is now an honorary member of AACRAO. Since retiring, Schipporeit has been spending time with family, doing a little traveling and working on home projects.
Although retired, she hasn't completely left the world of education behind. She has been working as a consultant for a startup software company called Stellic of San Francisco, which is creating software for a degree management system.
"It's turned out to be really a blast. I talked to them about how to reach higher education institutions, what is important to a campus, to students, what the software should be doing in terms of offering new, innovative ideas instead of rehashing things that are already out there. They are young and excited and smart," she said. "It really is a nice way to keep myself tied into the higher ed environment. It's exciting what new things are happening. It just keeps changing."