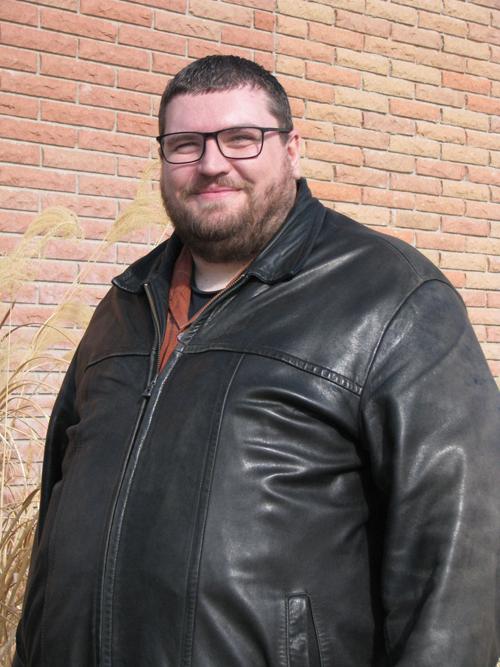 AMHERST — Quintin Cundiff is back in the Midwest, and he couldn't be happier.
In late October, after eight years of serving churches in Oregon and New Mexico, he became the pastor at Trinity Lutheran Church in Amherst.
"I am here to deliver the gifts God has given to his people through His Word and Sacraments," he said. "Our Lord Jesus will make changes here that He desires. It's not my job to say, 'Here's what we're going to be in five years.' If the congregation says, 'here is what we want,' we'll get to it, but this isn't my show."
Cundiff grew up in Oberlin, Kan. After being confirmed in the eighth grade in the Missouri Synod Lutheran Church there, he turned his back on his faith. "I wanted nothing to do with the church," he said. But God refused to give up on him, he added.
"God put people in my life who patiently witnessed to me about Jesus. I rejected all that, but one night, a friend invited me to do some stuff with other Christians, and the Holy Spirit resurrected my faith. I believed," he said.
Soon he felt a calling to become a pastor.
He worried about writing good sermons, but his pastor took him under his wing, "one of a long line of pastors who led and encouraged me," he said.
Cundiff earned a bachelor's degree in history at Concordia University in Seward, where he also met his wife Lindsay. From there, he went to Concordia Seminary near St. Louis.
He first served as joint pastor of two parishes on the Oregon coast, in Reedsport and Coos Bay. Three years later, he was called to a Lutheran Church in Rio Rancho, N.M., a half hour north of Albuquerque. He stayed for five years.
"It was a good place to be. We grew a lot as a family. We made good friends. We had a great time," he said. He and Lindsay had three sons by then, including a younger half-brother of Cundiff's they took under their wing.
But in 2018, after eight years away, he let Missouri Synod church leaders know he wanted to serve a church in Kansas or Nebraska. Both he and Lindsay, a native of Farnhamville, Iowa, felt a desire to come home.
In early fall, he and Lindsay came to visit. "We had a great visit meeting the people, having fun conversations, seeing the community and the great public school that's here," he said. "We like to say that God works through the church to place pastors where He needs them."
Not long after that, they moved from Rio Rancho. A group of church members showed up and unloaded their U-Haul in less than an hour.
The 350-member church holds Sunday school at 9 a.m. and worship services at 10 a.m. Along with a Sunday night Bible study and a vibrant youth group, the church has a "really vigorous" midweek program. Sunday morning services are streamed on Facebook.
The Cundiff family has an unusual hobby: they are part of the Society for Creative Anachronism, a group that celebrates the Middle Ages, anything between 400 and 1600 A.D.
They research and recreate medieval clothing, food, drink and armor. During SCA events, they sleep in medieval-type tents and use medieval furniture they have made out of wood.
"It's really interesting on the battlefield. You may have someone in high German plate armor versus some guy in Roman plate armor," said Cundiff, who loves history.
"That's why putting your elbow on the dinner table is rude. Nobility would pack up their furniture and go from one place of living to the next. Their tables were hinged in the middle to be folded up for transportation. If you were eating and put your elbows on the table, you'd pop the middle joints, and all your food and drink would spill," he said.
He also loves to cook. He worked in restaurants for nearly 10 years and puts dinner on the table every night, "whatever interests me. My wife laughs that she puts something in the fridge to defrost, and I figure out what to do with it."
Cundiff expects to complete his doctorate in ministry from Concordia Theological Seminary in Fort Wayne, Ind., by 2022. His wife is furthering her nursing career with classes at Central Community College in Kearney.
"The congregation here is absolutely phenomenal," Cundiff said. "People are generous. My congregation loves and takes care of their pastor, so my job is to love and care for them back."