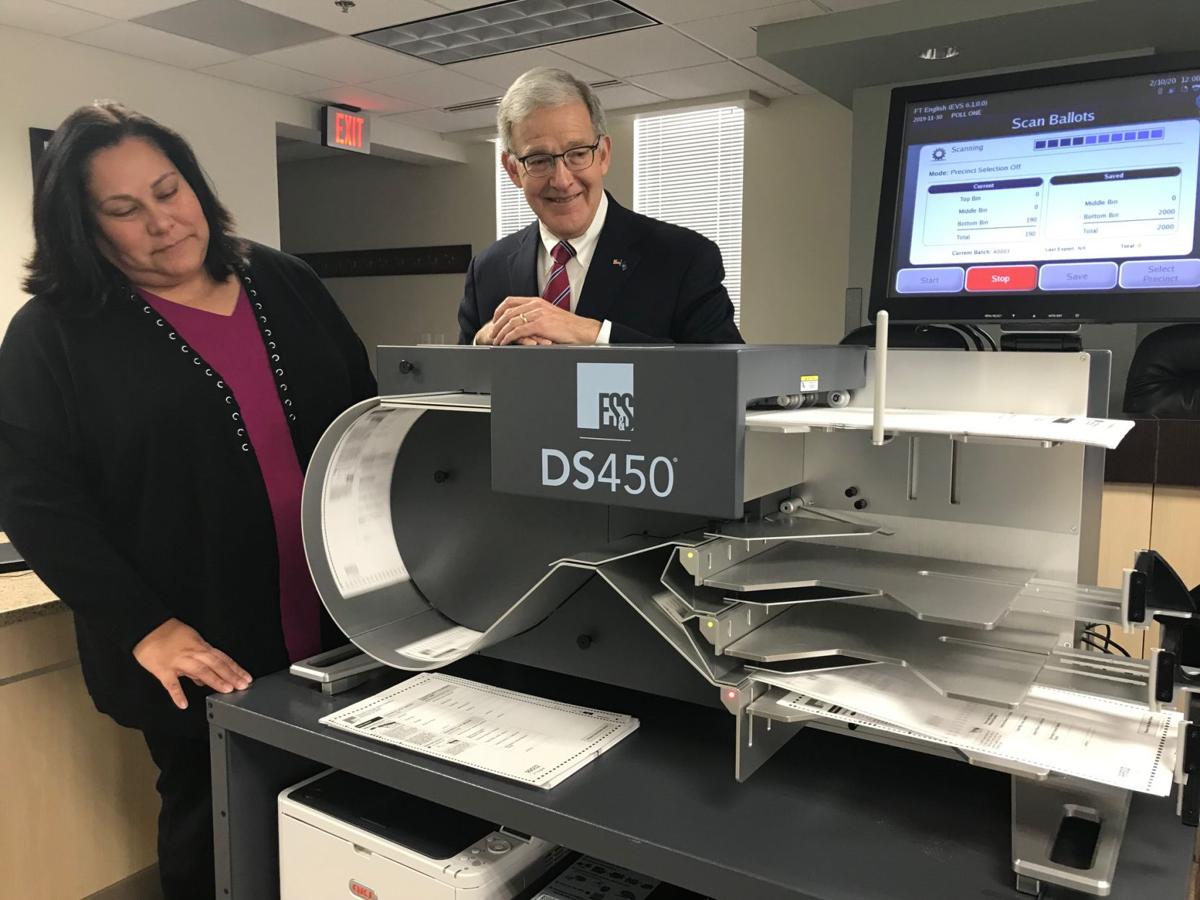 KEARNEY — Election officials statewide are rolling out $9.3 million worth of new ballot-counting and vote-collecting equipment that will debut in 13 weeks when Nebraska conducts its primary election.
The first change most Nebraskans will notice on May 12 is that they'll fill in the ovals on their paper ballots with ballpoint pens, not the smudgy lead pencils of the past.
The next change: Election results may be available sooner, thanks to an advanced ballot-counting machine, the DS450, that's less prone to jamming and delaying results compared to the optical scanners that have been used for almost 20 years. The new machine sorts out unreadable ballots, and can handle ballots that have been folded, a function that's become necessary as Nebraska counties switch to mail-in ballots.
In addition to the DS450 ballot counter, election officials will be rolling out new vote-collecting equipment for the visually impaired. The ExpressVote machine will do everything that the device it will replace, including reading ballots for blind voters and enlarging text on a screen so it's more legible for visually impaired Nebraskans.
ExpressVote has removable parts for easy repairs and it's far more portable than the 78-pound devices it is replacing.
"The disability community in Nebraska is really happy we're upgrading with ExpressVote," said Nebraska's chief election official, Secretary of State Bob Evnen.
Evnen stopped Monday in Kearney and along with Buffalo County Election Commissioner Lisa Poff demonstrated the DS450 ballot counter and ExpressVote in the board of commissioners' meeting room.
According to Evnen, 95 percent of Nebraska's counties will be using the counter and vote collector on May 12.
Buffalo County received two DS450 ballot counters and 30 ExpressVotes machines — enough so one can be available at each of the county's precincts for use by visually impaired voters.
Evnen said in addition to purchasing the equipment for the counties, his office will pay for maintenance and upkeep.
He said that, coupled with paper ballots, the equipment makes it extremely difficult for hackers to torpedo an election because the ballot counters aren't connected to an outside computer. However, each county must electronically transfer its vote tallies to the secretary of state's office in Lincoln after ballots are counted.
Poff reminded Buffalo County voters about approaching voter registration deadlines:
- Mail-in registrations must be sent by April 27;
- Online registrations must be complete before midnight April 27;
- In-person registrations must be completed in the election commissioner's office by 6 p.m. May 1.
Poff also cautioned, "If voters are uncertain what party they're registered under, they need to check it now."
She said Democrats and Libertarians are opening their entire ballots — federal, state and county — including partisan races so that Independent voters can cast ballots for Democrats and Libertarians. Republicans are not allowing open voting, although Nebraska statute allows Independent voters to cast ballots in the U.S. Senate and House races.
Get local news delivered to your inbox!
Subscribe to our Daily Headlines newsletter.