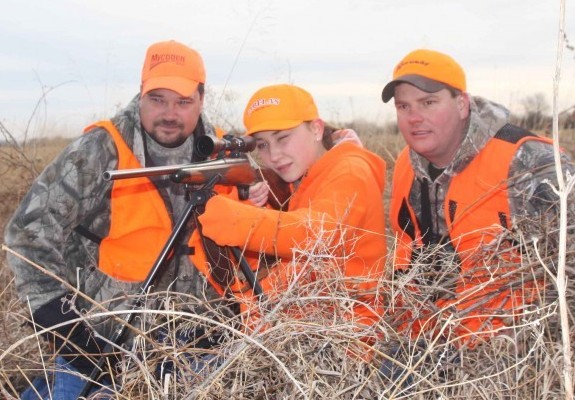 OMAHA (AP) — Nebraskans will decide whether to enshrine hunting and fishing in the state constitution, let lawmakers serve longer and earn more money, and whether to make it a little easier to impeach officials.
With little campaigning being done on any of the measures on the Nov. 6 ballot, it's unclear how any of them will fare. All were referred to voters by the Legislature.
Nebraska is one of four states — along with Idaho, Kentucky, and Wyoming — to consider creating a constitutional right to hunt and fish this November. The National Conference of State Legislatures says 13 states already have similar protections. Seven other states considered similar legislation this year but failed to pass anything.
Scott Smathers, executive director of the Nebraska Sportsmen's Foundation, said it's important to protect the sports now before animal rights groups, such as the Humane Society of the United States, can act. Smathers said he believes it's important to put this statement in the state constitution to make clear how Nebraskans feel about hunting and fishing.
"It's a statement that says, 'Listen, we value these traditions in our state,'" said Smathers, whose group has been holding meetings to explain the need for the ballot measure.
Critics of the proposal question whether language should be added to the constitution when there's no apparent threat to hunting and fishing in Nebraska. But hunting rights advocates point to measures animal-welfare groups pushed in other states, including a ban on dove hunting approved by Michigan voters in 2006 and a five-year ban on bear hunting in New Jersey that ended in 2010.
"We know that those groups are coming, and their efforts are increasing," Smathers said.
The Humane Society of the United States, which has led efforts to improve conditions for farm animals, isn't campaigning against the Nebraska measure, said Jocelyn Nickerson, the group's state director. Nickerson said there is no threat to hunting and fishing in Nebraska.
"This amendment is a solution in search of a problem," she said.
Randy Adkins, a political science professor at the University of Nebraska at Omaha, said he expects the hunting measure to pass easily because hunting is so popular in the state and some people are concerned about the possibility of new gun-ownership restrictions.
Nebraska ballot measures must receive a simple majority of yes votes to pass. But the number of yes votes a measure receives must be greater than 35 percent of the total votes cast in the election.
Here's a rundown of the three other constitutional amendments:
— Nebraska's 49 state senators would see their salaries jump from the current $12,000 to $22,500 annually under one proposal. Omaha Sen. Scott Lautenbaugh proposed the raises, noting state senators haven't received a raise since 1988.
Lautenbaugh said the extra pay could enable more people to run for office, rather than only people with the personal wealth that enables them to serve for little pay.
Voters rejected the last effort to increase senators' salaries in 2006.
— Voters will also have a chance to relax term limits for the state Legislature. The measure state Sen. Tom Carlson of Holdrege proposed would allow senators to serve up to three consecutive four-year terms. The current limit is two terms.
Carlson said he thinks relaxing term limits would help senators learn more about the state's issues and legislative procedures before they have to leave office. If they knew more, he said senators could be more effective.
Gov. Dave Heineman and some lawmakers oppose the change, saying lawmakers are effective now and that the change isn't needed.
— The final measure on the ballot would make it possible to impeach officials for wrongdoing done while campaigning. Currently, Nebraska elected officials can only be impeached for actions they take while in office.
Sen. Bill Avery of Lincoln said the impeachment measure would close a loophole exposed by the case of former University of Nebraska Regent David Hergert.
Hergert was impeached in 2006 and removed from office for manipulating campaign finance laws when he ran for election in 2004. He later pleaded guilty in a separate case to bank fraud for inflating business assets to keep a $3 million loan.