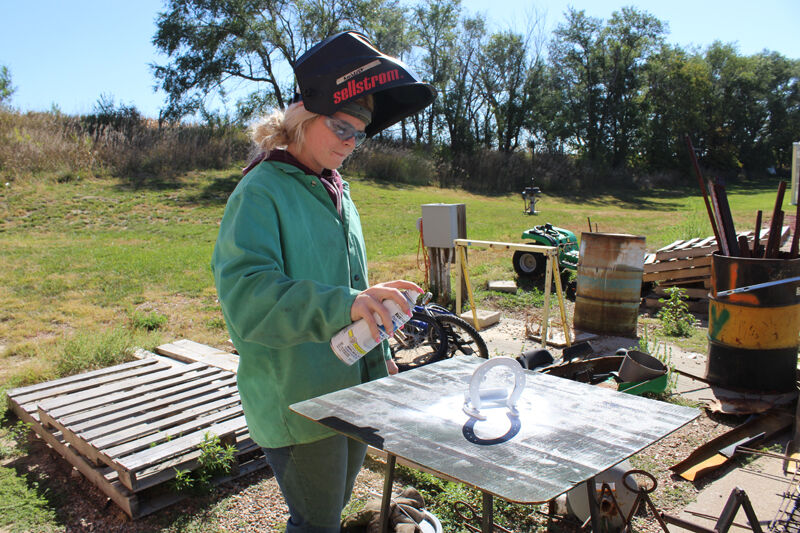 AMHERST — A green dinosaur hovers near a forlorn cowboy warming his hands over a nonexistent fire.
It's not a scene out of a science-fiction movie, but it's two starkly different pieces of art created by Amherst Public Schools welding students. The pieces were created as part of a contest to kick off the new school year. Each student had to use five washers and a large bolt that were scrap items from the Broken Bow wind farm.
Chuck Day, the owner of Keyser/Day Welding in Amherst, is a welding instructor at the school. Day becoming acquainted with Kyle Layman, the manager of the wind farm. When Layman was visiting Day at his shop, Layman noticed Day was scrapping metal.
"He offered me the scrap from this wind farm, which I have been getting pretty regularly," he said.
Once Day scraps the metal, he sells it and gives part of the proceeds to the American Legion. He kept washers and bolts that had been used as building material in the towers, and he thought of a way to make use of them. He asked Katie Hothem, Amherst agriculture teacher and FFA adviser, if he could have an art contest for the welding students, and she agreed.
"I think it was great because it didn't really cost anything, and it's stuff that would have been thrown away. It's taught the kids how to be resourceful. The kids really took ownership," Hothem said.
The students could work alone or in a group. They had to use at least five washers and one bolt for their project.
"When you look at the projects, you will see all the different directions they went with the same (material). Everything they got out there was pretty much scrap," Day said.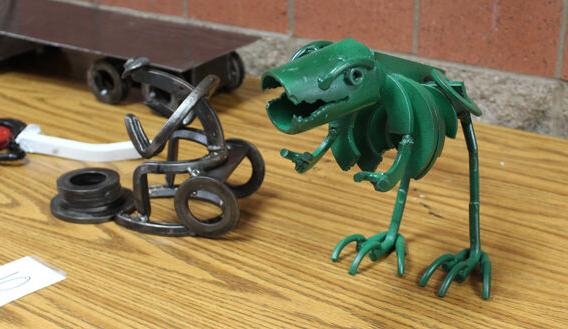 Students made a variety of creations, including a train engine, a semi truck, a sunflower garden stake and decorative pumpkins. Along with the required items, students used other scrap items like railroad spikes or links from chains.
"I'm amazed at what they came up with, so many different things. Some of them found ideas online. I had no restriction to any of that. It's amazing how they envision it," Day said.
Senior Ryan McGee wanted to incorporate wheels into his project and chose to make a train engine. It took McGee about a month to finish the train.
"I don't think it can ever turn out exactly how you expect because there is always something that is difficult, but I'm happy with it," McGee said.
The projects were on display outside the industrial arts classrooms, and teachers voted on their favorite piece. The winner will receive a batch of Day's brownies.
Welding has picked up in popularity at the school since Day began helping instruct classes. The welding program has grown from once section to three, and each year there has been at least one student who has pursued it as a career, Hothem said.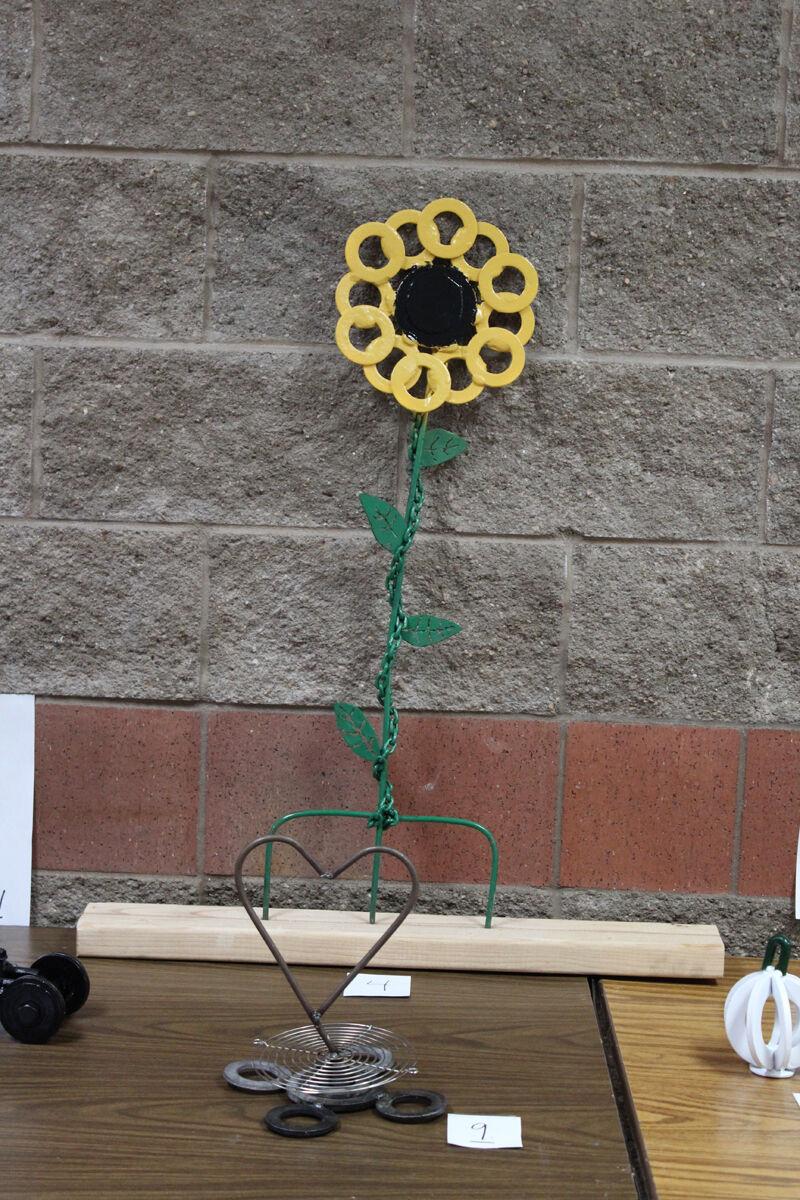 "I think our society is getting better about encouraging students to go into those professions," she said. "It's something that is contributing directly to society. Even if you aren't going into it as a career, it's a good hobby. A lot of my kids go onto farm, and it's something they would have to hire out if they don't know how to weld."
Day plans to hold another welding contest in the spring, and he hopes to bring in a motor from the wind farm for the students to scrap. Hothem and industrial technology teacher Faron Klingelhoefer are grateful for Day's expertise and hope the program at Amherst continues to grow.
"I hope it does spark some interest especially for people who assume welding is more of an ag thing or industrial arts type of class. There are a lot of other avenues that you can explore with it," Klingelhoefer said.