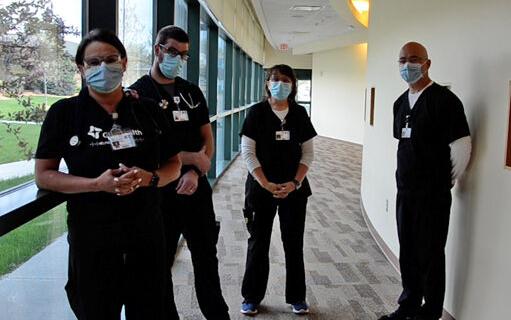 KEARNEY — Advocating for patients ranks first for Stacy Cabela, respiratory therapist at CHI Health Good Samaritan.
"That's the No. 1 thing I pride myself on," she said. "I always want to do what's right for the patient, regardless of what the situation may bring. It's hard for patients and families to decipher what the physicians are saying. Sometimes there's a language barrier but also there can be a medical language barrier, too. I always want to make sure that the information is clear, the patients understand the process, along with what outcomes could be."
She sees herself as an intermediary between patients and doctors.
"I like it when the patient and the family knows exactly what's going on," Cabela said.
Her interest in health care began in her own family. When she was 16 years old, Cabela's grandfather died from laryngeal cancer, a type of cancer that affects the voicebox and the throat.
"He had COPD and all of that business," Cabela said. "I just liked the idea of being a respiratory therapist. My grandmother was a nurse, too."
The stresses and strains of working everyday in health care can seem overwhelming at times, but Cabela benefits from an understanding and supportive family. Her sons, ranging in age from 22 to 14, are sensitive to their mother's stress level.
"They can tell by my mood, when I walk in the door, if I need a moment to decompress — of if they can come at me with homework," she said.
When dealing with patients, Cabela uses terms that non-medical people can understand. And in that role as a patient advocate, she often must set aside her own emotions.
"But sometimes you just can't do that," she said. "Sometimes you hold tough and then you walk out of the room, find a closet and cry. Sometimes you tear up in a room — but mostly you've got to be strong for the family of the patient. I think the only time I've teared up in a room is when it was a child."
Once, when her oldest son was 2 years old, she worked with another child of the same age. Another time, when Cabela's son was 18, she worked with an organ donor who also was 18.
"Those are the times I tear up when hugging that mom," she said. "I put myself in her shoes and what she's going through. Sometimes I just can't control that, but for the most part I try to keep strong and step away, mentally, from the situation. But sometimes you just can't do it."
Working with respiratory issues and COVID-19, Cabela recounted an extremely difficult day: "One day I had to take five people off ventilators — to let them pass away. That day, I just walked down the hall and cried. Everyone knew it was a bad day for me. There were a lot of hugs, but those were just bad days."
As someone on the front lines in the battle with the pandemic, Cabela has one piece of advice: "People keep asking me how we can get over this. Get your vaccination. There's nothing else to say but get your vaccination."
As for the joys of her job, Cabela relates a story about a COVID patient in his 50s who was flown to Omaha for more intensive treatment including extracorporeal membrane oxygenation, or ECMO, that functions as an artificial lung and heart.
"He was super sick. I never thought I would see him again," she said. "They put an ECMO in him to help his heart and his lungs recover. Nobody thought they would see him ever again. And then one day he came walking into the hospital, right up to our department and said hi to everybody. And everybody was an emotional wreck. Those are the good parts of it. We got him through and he came back."
Sometimes a word of thanks makes all the difference.
"The mom of that 18-year-old organ donation patient also came back and specifically asked for me," Cabela said. "She put up a big page on Facebook saying that I will always impact her life. It's the appreciation you get from the people — that you did make a difference in their lives."