KEARNEY — As the sun came out from behind the clouds in late April, people came out of self-isolation in their homes to buy plants.
Because of warmer spring temperatures and the COVID-19 pandemic, people have been eager to start or expand their flower and vegetable gardens, according to local garden center owners Rocky Steinbrink, AnnDrea and Allen Boe, and Monica and Bill Harris.
AnnDrea Boe, co-owner of Elyria Gardens near Gibbon, said, "I think because the sun came out, the people came out. They bought wagonloads of plants."
She believes people are looking for something they can do during the pandemic.
"There's nothing to do. You can't travel. I think people are worried about staying in hotel rooms or traveling to see friends and family," she said. "So our backyards are going to be our sanctuaries. You pretty those up and gardening is about the only thing we can do, I think."
Steinbrink, who owns Steinbrink Landscaping & Greenhouses in Kearney, said people are ready to get outdoors after being isolated.
"You are supposed to be working from home and all of a sudden you say, 'I've got to get outside and work,'" he said. "And no one likes to be cooped up all the time."
Greater demand pushes supply
COVID-19 and beautiful weather created a perfect storm for an early buying frenzy.
Steinbrink's and the Boes' vegetable selections currently are slimmer than usual.
"We're seeing a lot of new gardeners for vegetable gardening, like I can grow my own produce, because you go to the store and you see things getting bare shelves in some categories," Steinbrink said. "So we're seeing an uptick in people doing their own gardening, which some of them have never done before, some enlarged their gardens, which in turn, ticks toward business."
Steinbrink, who has 12 greenhouses, said some vegetable selections are thin, but for the most part he has been able to keep up with customers' requests.
Steinbrink was able to seed more plants recently. His greenhouse employees periodically seed annuals and vegetable plants in order to take care of customers through the middle of June.
Steinbrink said he is fully stocked with perennials, trees and shrubs.
Smaller greenhouses such as Oasis Gardens near Loomis already have sold out of their plants. Owners Bill and Monica Harris said they sold their last plants from their two greenhouses on Friday.
The Harrises said if they're lucky, they sell out Memorial Day weekend but they are usually open until June 5 or June 6. They began selling plants strictly online on April 15.
"We planted three times more vegetables, probably more than that, than we normally do, and it's gone," Monica said.
Even before opening day, she said people started placing orders.
"I have a friend in Florida that helped me with my Shopify, and I opened it up so he could look at our online store and it got leaked somehow," Monica said. "I have no idea how people could tell we had it on."
She said people from Kansas to Omaha ordered from their greenhouse.
"You know we had people $800 at a time ordering things. Someone ordered $500 just of vegetables," she said.
The Harrises said they were surprised by the sales.
"Honestly when I started this, I said, 'Bill, you realize with the pandemic we're going to be lucky to even break even,'" Monica said.
They ended up processing 75-100 orders a day.
AnnDrea said she thinks Elyria Gardens also will end its season earlier than normal this year. She and Allen started sales in their four greenhouses on March 1 and they usually don't end their season until June 30.
"That entire greenhouse typically is just wall to wall plants, hanging baskets everywhere and it's just (almost) empty," she said.
In the three hoop houses where the Boes grow their plants, AnnDrea said they normally keep overstock in there during the selling season. But those buildings already are mostly empty, too.
As of Saturday, she said they had sold more annuals and vegetable plants than they did by the end of the season last year.
"Every year a greenhouse needs to have about 10 percent of stock that they throw out or compost. If they don't have at least 10 percent they turn over to compost, then they did not purchase enough for that season," she said. "Right now this is way less than 10 percent."
Mother's Day weekend is normally the best sales weekend for greenhouses, but that wasn't the case this year.
At Elyria Gardens, AnnDrea said they had Mother's Day sales every day for three weeks.
"Mother's Day, when we have a big day of sales, we celebrate," AnnDrea said. "Every day when we had Mother's Day types of sales, there was no celebration."
Elyria Gardens also has sold out of vegetable seeds.
Steinbrink said his store is fortunate to still have a stock of seeds to sell to customers and plant in his greenhouses. He is running low or is out of some varieties, however.
"So people are sometimes having to resort to a variety that they're not used to or they never have planted before because the more popular ones pretty well sold out," he said.
Nationally, Steinbrink said it's difficult to order seeds.
"Now if a homeowner wanted to order seeds in the mail-order catalogs, there's been some shortages big time," he said.
Nationally, Steinbrink and AnnDrea said, people have been buying seeds and plants beyond normal trends.
Steinbrink said, "It was just all of a sudden a resurgence of people wanting to grow garden vegetables and it just put a supply and demand issue on everything."
"It's like the toilet paper," AnnDrea said. "You're fine, you have plenty, and all of a sudden everybody bought it up so it's going to take a little bit to replenish."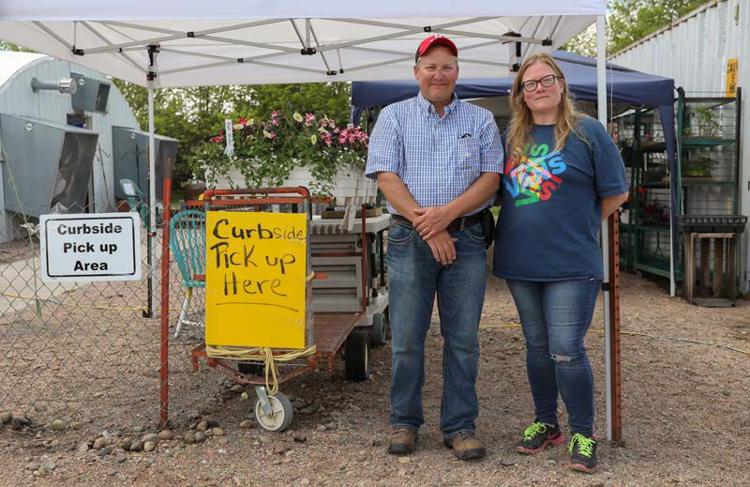 Safety during COVID-19
Because the Oasis Gardens greenhouses are small, it would be difficult to keep people a safe distance apart to avoid spreading the coronavirus. So the Harrises decided to strictly sell their products online this year.
"With the guidelines at that time, I wouldn't have been able to have the amount of people that come through normally," Monica said.
She and Bill also wanted to protect the vulnerable, including their sister-in-law who recently received a kidney transplant.
"If we would have exposed her it would have been fatal," Monica said through tears. "And he (Bill) has to work with his brother side by side every day, and there's no way I would ever want to take her away from (her kids)."
Monica said she handed over orders to customers near the entrance to the greenhouses or put the plants in customers' vehicles.
"We had a very large amount of people who said I'm doing this because I've had cancer, I have cancer, I have immune deficiency. I'm scared," she said. "And I think that's what fueled our sales this year."
Steinbrink and the Boes have kept their doors open during the pandemic but have implemented social distancing guidelines.
AnnDrea said she tells customers that the table legs in Elyria's greenhouses are 6 feet apart and she asks people to keep that distance from one another. She and Allen wear masks to be an example for their customers but they don't require others to wear the masks.
Steinbrink said his new 14,000-square-foot climate controlled greenhouse makes it easy for customers to distance themselves from each other.
"And with the COVID, it's really nice because we have 12-foot wide aisles, plenty of space. It's very much open air, very well protected, so the customer feels comfortable walking in whether you wear a mask or not," he said.
Steinbrink, the Boes and Harrises all said they continuously sanitized their spaces.
"We do go through a lot of cleaning process every night, wiping down everything that people would touch as far as door handles and all kinds of those things," Steinbrink said.
An unprecedented season
This year's sales are nothing that the Boes or Harrises have ever experienced.
Allen, who helped his parents start Elyria Gardens in Elyria in 1991, said he hasn't lived through a season remotely close to this one.
"We'll never see this again," Allen said.
He continued, "As nice as it is to get rid of it and know that we're safe for another year, this was no fun at all. It was just stress."
The Harrises, who have owned Oasis Gardens for 20 years, said they had an extra workload this year because they checked online orders three times before passing products on to the consumers.
In addition to the extra work, Monica disliked missing interactions with other people. She normally invites schoolchildren to Oasis Gardens for field trips where they plant a seed in a pot for their mothers. Local farmers also line the Harris' driveway to buy flowers for their wives on Mother's Day.
Monica said this year with the social distancing and large daily online sales was unlike any other year at her business.
"And I hope I never have to do this again," she said.
Concerned about COVID-19?
Sign up now to get the most recent coronavirus headlines and other important local and national news sent to your email inbox daily.