COZAD — Artist Hana Brock learned the mechanics of art from her parents.
"My love and appreciation for creating started as a young girl," she writes in her artist statement. "Growing up, I was always surrounded by art and creativity. I would sit with my father and he would teach me about drawing and how light would wrap around an object to cast a shadow. My ability to paint comes from both of my parents; I am naturally skilled in the discipline."
Although she specializes in visual art, Brock instills her work with a sense of motion.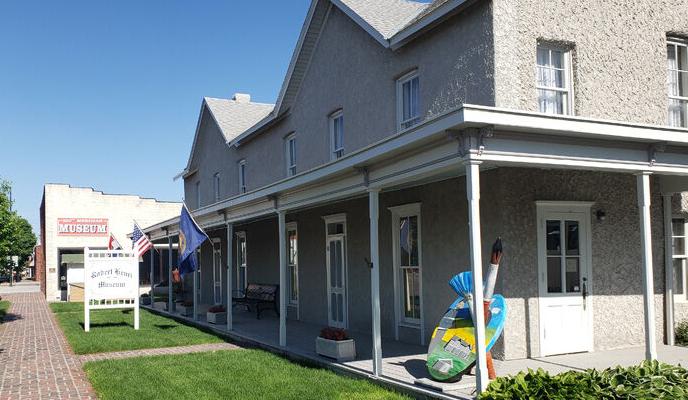 "I have become fascinated with movement, creating and the act of doing; movements such as the way the paint moves from brush to canvas, producing a story," she said.
Artwork by the Lexington native, who now studies fine arts at the University of Nebraska at Omaha, will be on display as the Artist of the Month of May at the Robert Henri Museum in Cozad through the end of the month. The museum will recognize her work with a reception at the museum 5-7 p.m. May 20.
Brock's work has been honored by institutions throughout Nebraska and Kansas.
"Art can be so many things but to me it is creating something out of nothing, creating something that is meaningful to the creator and to others — and evokes emotion," Brock said. "I am so passionate about creating because of my natural ability to do so. It gives me purpose, a reason for being here and being able to take my ideas and influence people, to look and understand what I have to show."
She looks at her abilities to create art as a "voice," a powerful nonverbal form of communication that viewers sometimes can understand more than words.
"I am drawn to capturing an image at a specific time and translating it onto canvas in a realistic way," she said. "I believe that taking a photograph to the next level and creating it again, in a different format, gives it more meaning. It creates another story, the process in which the artist went through to reinterpret that image. It makes spectators wonder about the artist, thinking about what they went through to create something so realistic and full of life."
The Robert Henri Museum established the Artist of the Month program in 1998 to encourage understanding and appreciation of the arts in central Nebraska — and to promote the legacy of Robert Henri, one of America's greatest art instructors. He taught more than 1,000 students during his long career, including well-known artists such as Edward Hopper, Rockwell Kent, George Bellows, Marjorie Ryerson and Elizabeth Grandin.
Peter Osborne, executive director of the museum, sees parallels in the role of Henri as an instructor and what the museum tries to do in promoting young artists.
"The best way to describe Henri's influence on American art might be to liken his career to a large oak tree," Osborne wrote in a previous email interview. "He represents the trunk of a tree that has spread its many branches upward and outward. Those branches are represented by his many students over the decades. Even today he is considered to be one of America's greatest art instructors and his book, 'The Art Spirit,' is still used in art classes and read by budding artists."
For Brock, taking a photograph and re-imagining it as a painting gives the artwork new life, giving the image a greater intensity.
"Capturing specifically youth — in a moment of happiness, action, or curiosity — is important to me," she said. "We see photographs of when we were young and it can bring about overwhelming nostalgia. We wish we could go back, relive the days of stress-free, carefree times when nothing else mattered except what was happening right then. We lived in the moment and didn't compare our situations to this idea of 'perfect' that we have created as we grew up."
Brock works to incorporate those feelings into her artwork.
"I grasp this as a reminder to always live a little more childlike, remembering all that is possible in this world and to always live in the moment. It's a reminder of how fast life can go by without even noticing. It helps me slow down, take in and notice the importance of every moment."