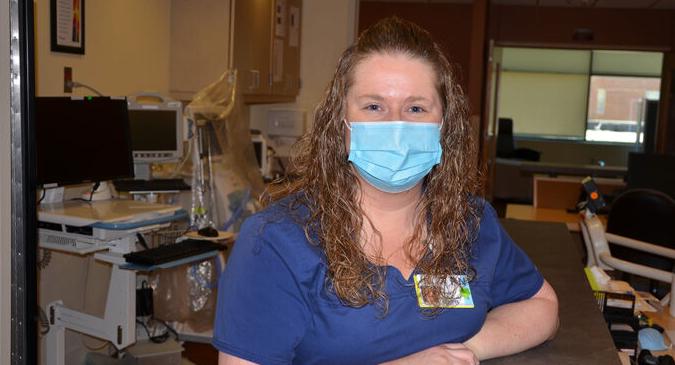 KEARNEY — Kyla Jezbera credits a love of working with people — along with a family tradition of nursing — for her career in health care.
"We had several nurses in our family," she said. "Some of my aunts worked as nurses and my sister is a nurse, too. Some of the people in my family had health issues with lots of treatment, so I went to hospitals where I saw the things these nurses and doctors did. I really enjoyed watching them work."
While studying nursing at UNMC, Jezbera worked at Walmart in customer service to pay for her tuition.
"I've really worked in customer service a lot and I really enjoy working with people to solve problems," she noted. "That lead to health care and I just love it. I love being able to make a positive impact on people, even a slight one."
In addition to doing an important job, Jezbera feels that she gains something from each encounter with other people.
"What keeps me going today is that with everybody I meet, I truly believe that they teach me something," she said. "I may not realize it but I guarantee that I learn something from everybody I meet."
Jezbera lives in Kearney with her husband, Ben, and her 11-month-old son, Jacob.
"Jacob is my first child," she said. "I had trouble conceiving and let me tell you, he is the love of my life. There is nothing that makes me happier than this little boy. He is amazing."
Jezbera's experiences as a new mother help her connect with her patients and better understand their situations in her position as an ICU RN at CHI Health Good Samaritan.
She easily identifies with new mothers and their special needs. Beyond compassion, she agrees that effective nursing requires a head for science and a heart filled with compassion.
"You have to be able to understand science and the strict guidelines that are proven to help achieve positive outcomes for patients," Jezbera said.
The compassion comes from empathy, a quality that speeds healing for patients.
"Health care is a very difficult area to go into," Jezbera said. "It does take a lot of personality to work with patients. You're not just getting patients healthy, you also have to look at the aspects of death. That's a very difficult aspect — and unfortunately we've seen a lot of that. I've seen more people pass away in the last year than all the years in my career."
When it comes to her status in the community, Jezbera said she does her work because she enjoys it.
"I don't see myself as a hero, whatsoever," she said. "I am doing a job and it's a job that I love; it's a job to help protect and heal people to the best of my abilities."