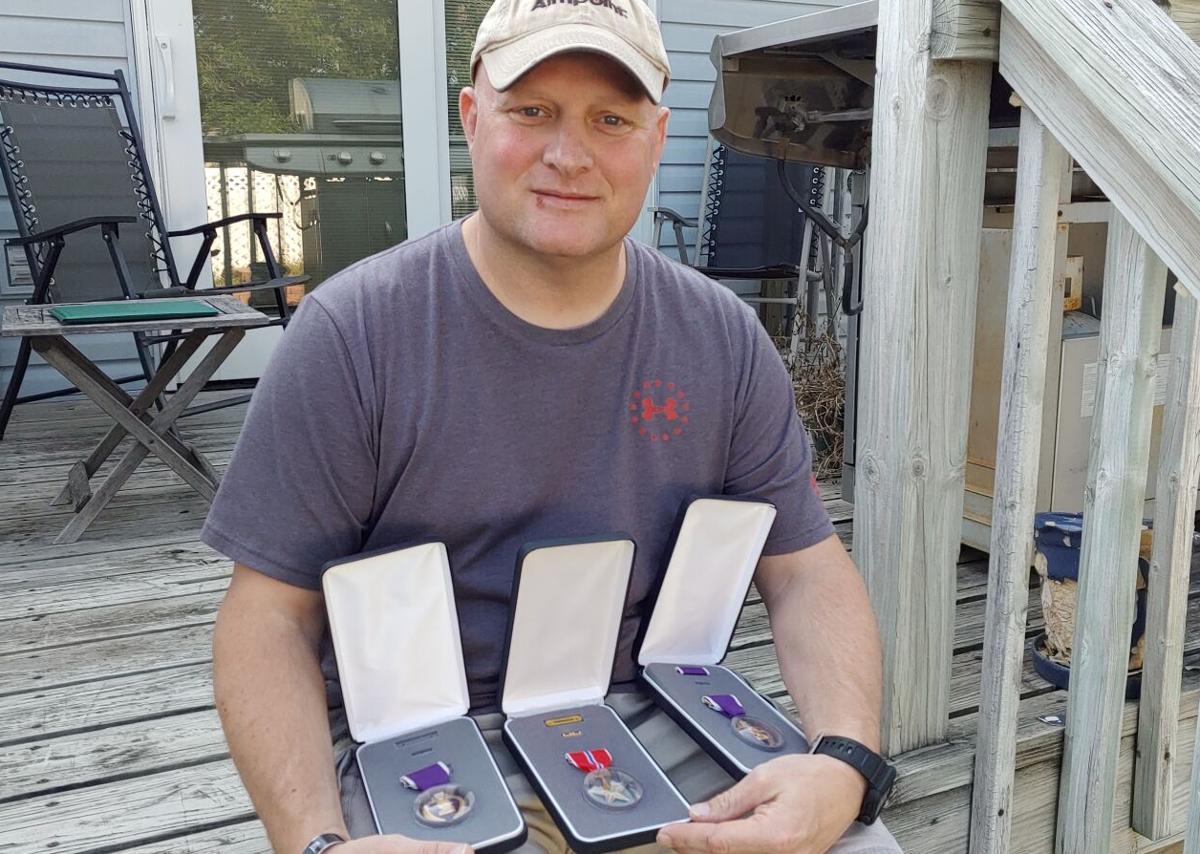 KEARNEY — They say moments before being shot life moves in slow motion. Johnny Eynetich of Kearney agrees.
"You know how they say everything slows down? That's no lie," he said recalling being hit with shrapnel in 2005 during the height of the Iraq War. "I could see it coming, and I was thinking, 'Oh, (expletive), this is going to hurt."
Those injuries earned him his first Purple Heart.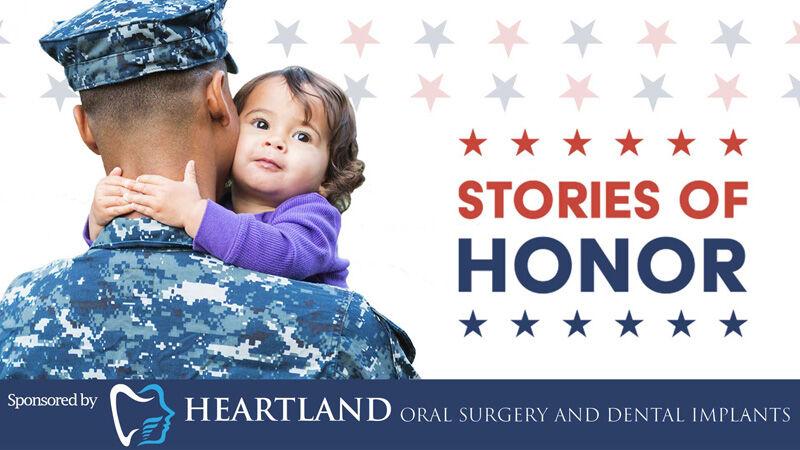 Eynetich enlisted in the Nebraska National Guard in 1989 at 17 as a way to pay for college. During his 24 years of service he was deployed to Kuwait, the Winter Olympics in Salt Lake City, Bosnia, Ramadi and Basra both in Iraq, the Mexican border and hurricanes Ike and Gustav in Louisiana.
Of all his deployments none was more dangerous than 2005-06 in Iraq. Eynetich was a member of the Guard's 167th Cavalry Regiment in Hastings where he held ranks of team and squad leader and platoon sergeant.
In Iraq he was a platoon sergeant where soldiers provided explosive ordnance disposal. They also provided personal security detail for dignitaries.
His unit was stationed at the Kuwait-Iraq border in 2001 when they learned of the Sept. 11 attacks.
In November 2005, Eynetich and his unit responded to a car believed to be wired with a suspected bomb on an Iraqi interstate "out in the middle of nowhere.
"That was typical. Something we responded to every day, multiple times a day."
Military vehicles were positioned side by side parked on the interstate as Eynetich began walking in between them toward the car. He was 250 feet away when the command-detonated car exploded. He remembers eyeing the debris flying directly at him.
"I saw an awesome fireball on the ground shooting a mushroom cloud up into the sky," he said. "I could see and hear pieces of fragmentation from the explosion whizzing past our position. I actually watched the piece of shrapnel hit me."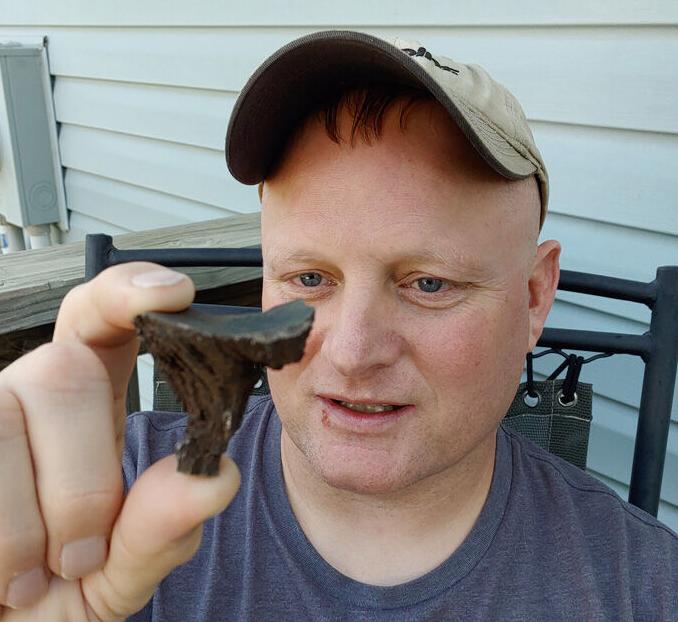 The shrapnel hit his groin plate and ricocheted, hitting him in the right knee.
"That was a bad day at the office," Eynetich joked. "My guys told me I dropped like a sack of (expletive)."
A military investigation determined the car was wired with at least eight 160mm mortar rounds.
Eynetich was the only soldier to be hit, and laughed that the shrapnel didn't rip the Under Armor briefs he was wearing that day.
"Perfect advertisement right there. I still have that pair."
Soldiers found the shrapnel — about the size of a golf ball shaped like a pyramid with a concave middle and a pointed end — and gave it to Eynetich as a souvenir.
He escaped with only scratches and gouges. Eynetich took a few days off then went back to full duty.
"Basically, if you could fight back then, at the height of the war, you went back to work."
That was Purple Heart No. 1.
A month later Eynetich and his platoon were on a mission to recover a burned U.S. military semi-tractor trailer in a hot zone in downtown Ramadi. Soldiers were clearing concrete buildings on both sides of the street as they inched closer to the semi.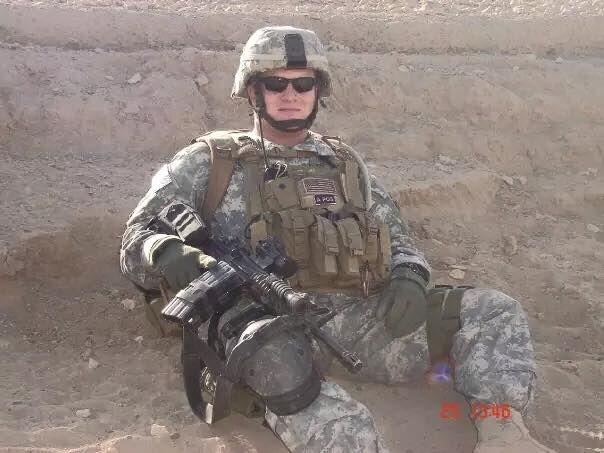 As they turned a corner, before they could secure the semi, they were hit by either insurgents' hand grenades or a rocket-propelled grenade. Again, Eynetich was hit by shrapnel.
"My shin felt like it was on fire, almost like a bad sunburn," he said.
Insurgents fired from a rooftop at the platoon below. Eynetich helped another injured soldier to safety, and eventually they were able to overcome the insurgents, secure the area and recover the semi.
Eynetich saw a medic for his shin that was throbbing and had soaked his sock in blood. The medic was unable to get out the metal the size of a pencil eraser. Later "popped it out like a zit" before a doctor could see him.
That was Purple Heart No. 2.
A month later Eynetich's platoon found themselves in a fierce firefight. They had volunteered for a recovery mission at the crash site of a U.S. helicopter, and were tasked with helping recover the remains of crewmen. While under constant enemy fire, the platoon coordinated with military air fire and provided ground fire on Iraqi insurgents allowing Marines to remove the dead crewmen.
It could've been a scene straight out of the movies, Eynetich said. "We were around gunfire and explosions all the time."
The platoon would be involved in several firefights during that deployment, one that lasted eight hours. In all they went on more than 900 combat missions from June 2005 to June 2006. Despite all the chaos, Eynetich re-enlisted while in Iraq.
"I liked what I was doing."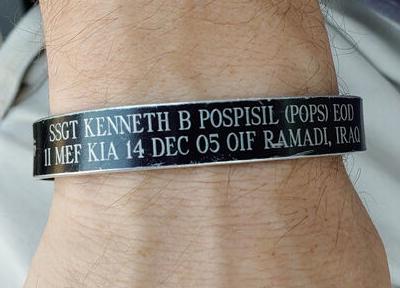 In December 2005, the Marine unit that Eynetich's platoon supported faced their first causality. A soldier from Minnesota who had been working with them for months was killed while trying to disarm an improvised explosive device near Ramadi.
"We worked with him every day for six months."
To this day Eynetich wears a black metal bracelet with Staff Sgt. Kenneth Pospisil's name.
Often, Eynetich said his 2005-06 deployment resembled scenes out of the 2001 movie, "Black Hawk Down."
"That's the only way I can it explain to people is that movie, so they can get a reference. Otherwise, they have no idea," he said.
February 2006 was one of those times.
Eynetich and his platoon were escorting a United Nations official from the government center in Ramadi back to a U.S. military base when the lead military vehicle collided with a civilian vehicle. The convoy stopped to check on the military vehicle. As Eynetich and other soldiers approached an IED exploded near the car.
Shrapnel and concrete flew through the air and under the civilian vehicle. Eynetich and other soldiers were hit by shrapnel in their legs. Eynetich's knee swelled three times its size, and he suffered permanent hearing damage.
Other soldiers' eardrums burst.
Eynetich would go on to earn a Bronze Star in 2011 for intelligence gathering efforts with two different missions. He couldn't elaborate more on his honor, saying he had to sign several nondisclosure agreements during his service.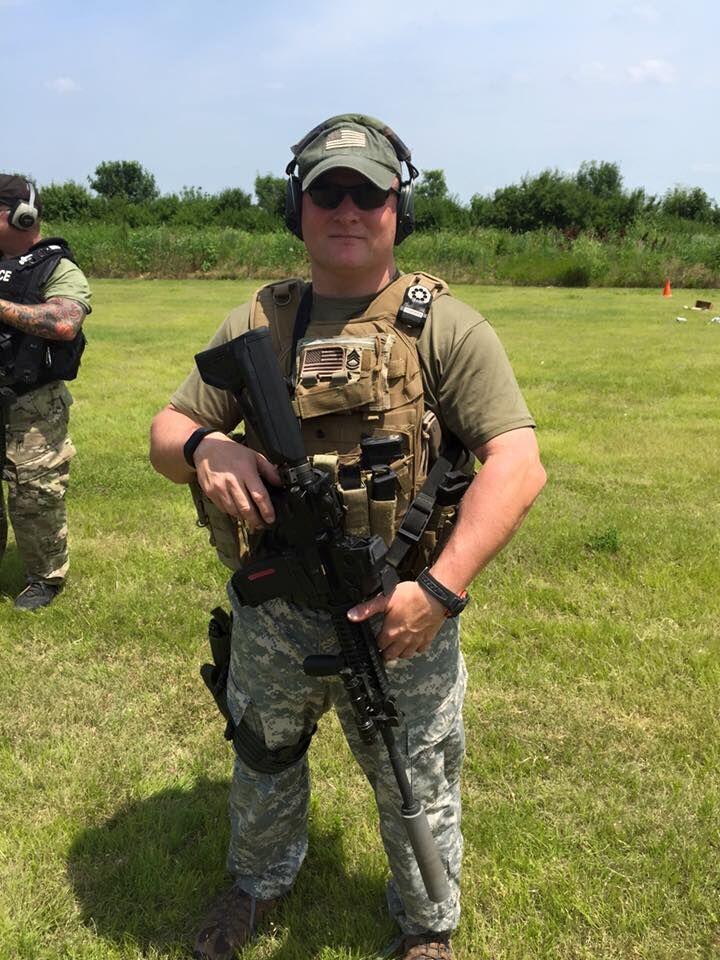 Eynetich returned to Kearney in the summer of 2006 where he was placed on 90% disability for his injuries. A few months ago he started wearing hearing aids.
He's had two back surgeries for herniated discs. He has nerve damage in his shin from the shrapnel wounds, high blood pressure and was diagnosed with traumatic brain injury, which is treated with medication.
"Combat's not a fun sport," he said.
In 2008, at the encouragement of a military friend Eynetich joined the Kearney Police Department where he is a member of the Emergency Service Unit (SWAT) team.
He retired from the military in 2013, and he and his wife Peggy are enjoying life and traveling. Their daughter Erika lives in Japan with her husband, who is a Marine.
Humbly, Eynetich, 50, doesn't display his medals. Those and the shrapnel are tucked away in a foot locker under his basement steps.
"I haven't taken the time to do it. I was going to, I just haven't taken the time to do it."