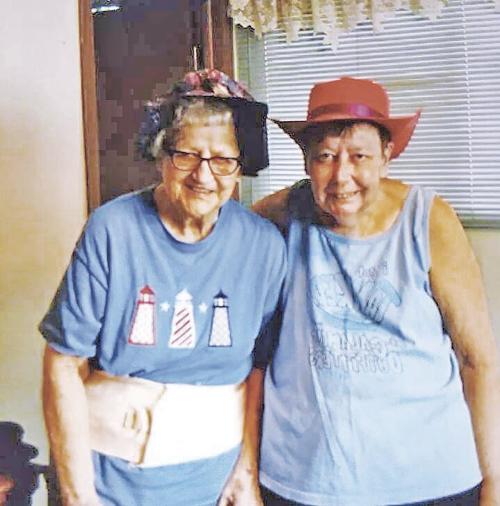 KEARNEY — For Jo Luth, Thanksgiving won't be the same this year.
She will miss her mother's smile and the sound of her mother's voice.
Luth's mother Eula Lee, 95, died of COVID-19 nearly three weeks ago at Heritage of Red Cloud, a 43-bed nursing home at Red Cloud.
It began innocently enough.
The nursing home staff gave her a COVID-19 test, but it was negative, so they put her on antibiotics. They continued with COVID-19 tests, but she always tested negative.
"But then on that Monday night, her heart rate dipped very low. We thought we were going to lose her," Luth said. The nursing home did another COVID-19 test.
This time, she tested positive.
"They moved her into the ward at the nursing home with other positive cases. There were quite a few, but she was doing fine. She rallied well," said Luth, who lives in Kearney.
Although Luth could not visit her mother, she frequently called her. "She was very sharp. She knew what was going on. She said, 'I hate being in this isolation,'" Luth said.
That evening, Eula was crocheting when she took a call from a granddaughter, who is Luth's niece. "Her voice was good. She sounded really good, my niece said," Luth said.
That night, unexpectedly, Eula passed away.
Her lungs were compromised because she had had pneumonia a number of years earlier.
Eula and her husband Donald, a rural mail carrier, had lived in Ravenna for almost 40 years, having moved there from Riverton. They raised three daughters, Jeanette, Jo and Judy. After Donald died 19 years ago, Eula remained in her Ravenna house until 2018, when, at age 93, she moved to the Red Cloud nursing home.
"She loved to crochet. She did that all the time. She made things for Christmas and any occasion," Luth said.
When a Heritage nurse told Eula that the pink flamingos out in the yard "look pretty cold," Eula made stocking caps and scarves for them.
"She came up with the idea, and she did it. That was her passion. She loved to do that kind of thing," Luth said. Eula also made numerous lap quilts for veterans and her family members.
Even before Eula developed COVID-19, the virus had nibbled away at her quality of life in psychological ways. Last Aug. 1, when she celebrated her 95th birthday, her family could only wave at her through the window.
"We had a cake, but we didn't get to share it with her. She had to be inside, and we were outside. We had a phone hookup so we could talk back and forth," Luth said.
Luth can only imagine what her mother experienced as she died.
"Everyone thought she had rallied. She was doing very well, but when her heart rate went down, she was alone," Luth said. "For me, the biggest thing was the isolation, not being able to be with my mom."
Luth knows about health care.
For 39 years — from 1979 to 2017 — she worked at CHI Health Good Samaritan. For most of that time, she was a nurse, but she also cleaned and sterilized surgical equipment.
She retired a few years ago for health reasons. She loved her job, but she has no regrets now that COVID-19 is taxing health care professionals and demanding extra precautions. "I feel for every person who is dealing with all that," she said.
Luth never married. Her little terrier Lucy is a trusting companion. "I'm a dog person," she said.
Luth had her mother cremated. "The choice was have her cremated or send her body to Omaha to be refrigerated until we could have a large funeral, and that didn't seem like a good option. We needed closure," she said.
The funeral was held Nov. 2 at a funeral home in Red Cloud with 30 people in attendance. "Everyone was in masks, and we observed social distancing. Was I worried? Of course. It's a small community, and all the people who work there have families, and they're out and exposed to COVID and they can bring it back to town and take it home."
The funeral was followed by a small graveside service at a cemetery in Franklin, where Eula's ashes were inurned next to the grave of her husband.
As the weather turns cold, Luth has plenty of time to think.
She will skip a family gathering and spend Thanksgiving at home alone to stay safe from COVID-19.
"It will be difficult not having my mother there with me," she said, remembering last Christmas when her mother was at a large family gathering.
In August, on Eula's 95th birthday, the family wanted to take her outside in the nursing home yard to be with them. "I asked the administrator if we could do that. We would do social distancing outside, but that request was denied, much to my dismay. They took a really hard line about it," she said.
"I know where COVID came from. All the people who work at the nursing home have families. Those families are out and exposed to COVID, and the staff can bring it into the nursing home. That's the biggest worry if you have a loved one in there. We can't go in, but people who work there carried it in to her," she said.
"I think most — if patients were asked if they could be with their families or not, they would choose to be with them. To heck with the virus," she said.
Get local news delivered to your inbox!
Subscribe to our Daily Headlines newsletter.