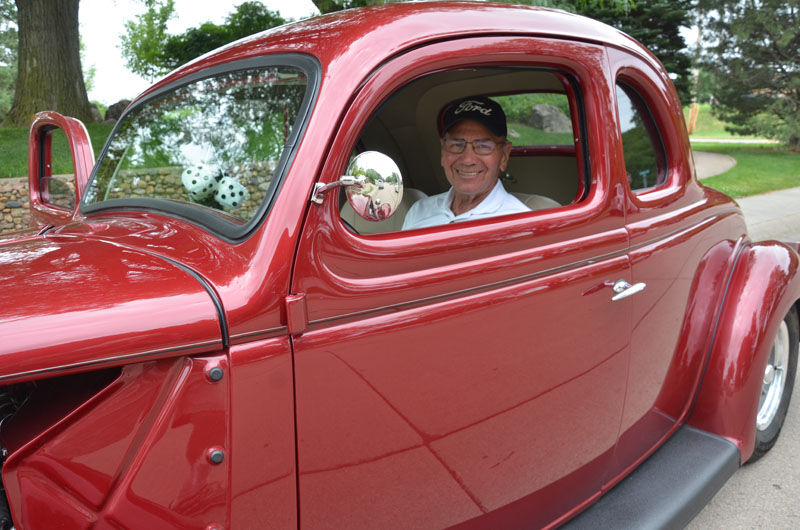 KEARNEY — Stan Staab's mother helped him pay for his first car in 1963.
"I was 16 years old and I paid $50 for the car," he said of the 1936 Ford Model 68 five-window coupe, also called a business man's coupe. "She bankrolled me; I didn't have 50 bucks so I had to borrow a few bucks from her."
Staab's father never liked the vehicle.
"I don't know why," Staab said, who grew up in Ansley. "He graduated from high school in 1936. It was the Depression-era and all of those sorts of things. It sat out behind the shed for years and it was an eyesore. I was off at college in Kearney and one day he just sold it. When I came home, I asked, 'Hey, Dad, where's the car?' 'Well, it's gone. I sold it.'"
That should be the end of the story except for one twist.
"In some mysterious, strange way, we kept the title for it in a safe deposit box," Staab said. "We just forgot about it. For 40 years."
A collector in Kearney bought the car from an individual in Sumner who used it in parades.
"They painted it pea green and hung pots and pans on it and disfigured it quite nicely," Staab continued. "This car has always been a passion for me. I always wanted to make it into a street rod but I never had the money to do that. But it's got that sentimental value for me, like a lot of these cars and street rods do. That's why we spend the time and money to fix them up."
Now fully customized, automotive patrons can see Staab's finished product during Cruise Nite events, presented by Central Nebraska Auto Club, starting Tuesday with a show and shine at BluePrint Engines. The main show and shine, scheduled for Saturday at Downtown Kearney: The Bricks usually attracts more than 500 vehicles.
Admission for most events is free. Check the organization's website for a full schedule and details at CruiseNite.org.
For 40 years, Staab's 1936 Ford was missing. He finished his education and found a career in Norfolk working for the Lower Elkhorn National Resources District. In 2000, Staab's mother called him with news about his car.
"She told me there was a guy in Kearney that bought the car," Staab said. "Well, he gave me a call and said, 'I think I have your '36 here.' And I said, 'No, that's impossible.' So I drove over on the next weekend and brought the title with me."
The new owner wanted to get a clear title and started a title search. That search lead to Staab's mother.
While visiting with the owner, Staab pulled out the old title and they eventually cut a deal on the car, after another year of waiting. Just that easily, Staab had his 1936 five-window coupe back.
"I spent five years trying to find somebody to work on it," he said. "It sat in my garage with primer on it. Finally I found someone in Norfolk who said he would work on it. It sat in his shop for 12 years."
During that time, the mechanic finished some body work and put on seven coats of paint. He worked to make sure the doors closed correctly.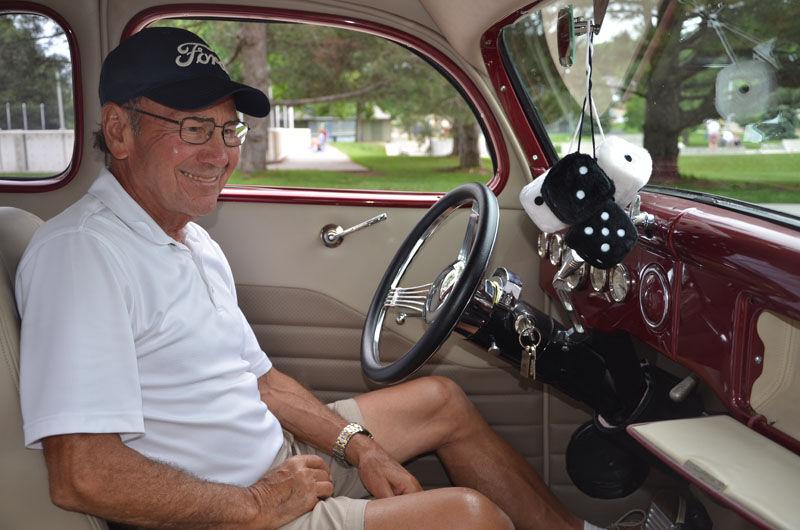 "Sometimes the doors on these old cars don't hang straight," Staab said. "He spent a lot of time to get them straightened out as best he could. And putting the engine in was a trick."
As the work progressed, Staab made choices to create a vehicle that interested him, not one that restored it to original specifications. The mechanic installed the front end of a Mustang, put air conditioning in the car and added details to make it a street rod.
He points out original pieces of trim and body work along with some details that remain true to the original concept of the car like a hand-cranked rear window.
Staab said he likes the rounded edges of the Ford.
"The only things flat on it is the running boards and floor boards," he said. "Everything has curves to it. They call them fat fenders. I put Navigator seats in it and took off the headrests of those so that everything flows with rounded contours. And then I spent a year picking out a color. This is Chianti Red, named after a Tuscan wine from Italy. The color will change when you get it in the sun."
In September, Staab moved to Kearney with his wife, Vicki, from Norfolk. Since then he has found a place volunteering at the Classic Car Collection and as a member of the Central Nebraska Auto Club.
With all the changes and modifications, Staab looks at his 1936 businessman's coupe as a new car with less than a couple hundred miles on it.
"It drives great for an old car," he said. "The engine has more power than you need. This wasn't a total, 100 percent frame-off project, but close to that. I wanted a good car, one that's reliable and something I could trust on the road. This is basically a new car. It only has 230 miles on it since we got it out of the shop."
Creating a street rod gives the owner a lot of leeway.
"You can do what you want with these cars," Staab said of his coupe. "You keep the basic shape and design of the body but that's about where it stops for a lot of guys. Then they go beyond that and decide how extravagant and how carried away they want to get. You want to put a big engine in it? You want to spend a lot of money on the wheels? You've got to decide that stuff along the way as you work with the builder on it."
As he stepped back from his vehicle, Staab remarked, "It turned out better than I thought it would."