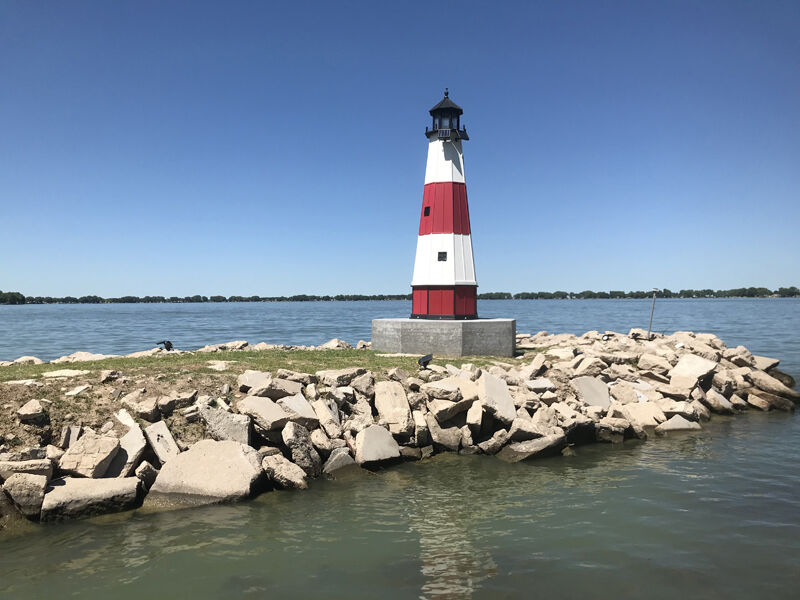 JOHNSON LAKE — A group of Johnson Lake homeowners are hoping to have a second lighthouse installed at the lake.
The Lakeview Acres Homeowners Association has formed a committee to bring a replica lighthouse to the end of the jetty near Lakeview Acres, Lakeshore Marina and the Nautical Rose restaurant. The jetty protects the area from wind, waves and erosion, but can be difficult for boaters to see at night.
"Our goals would be to improve safety for boaters and anyone on the lake, to provide a landmark that is easily seen from a distance and many areas of the lake, and to enhance and aesthetically add uniqueness to the lake, the jetty and the marina area," said Cinde Wendell, a resident at Johnson Lake and member of the committee.
The new lighthouse would be similar to a lighthouse that was installed in 2018 in the Mallard Bay area at Johnson Lake. The lighthouse is a replica of lighthouses in New England and is made by the Lighthouse Authority in Pennsylvania. It stands about 12 feet tall with a 4 foot base. The structure would have a solar light on it.
"It's not a flashing light. It's just a subtle, not bright light. That is what the lot owners prefer that are around it but still there for safety," Wendell explained.
The committee has been working on the project for about a year and will seek approval and assistance for the project from the Central Nebraska Public Power and Irrigation District's Power and Recreation Committee at 10 a.m. Tuesday.
Once the project is approved, the committee will work with the Johnson Lake Chamber of Commerce to begin fundraising. Wendell estimates the total cost of the project will be $10,000.
"The COVID pandemic kind of slowed us down a bit. We are making lots of progress here in the last couple of months," Wendell said.
Donations for the project may be sent to the Johnson Lake Chamber of Commerce, and the project also will be a part of the Lexington Community Foundation's Give Big Lexington campaign on Nov. 12.
"I think this project will help bring people together and be a positive thing in a time when things seem to be turned upside down," Wendell said.