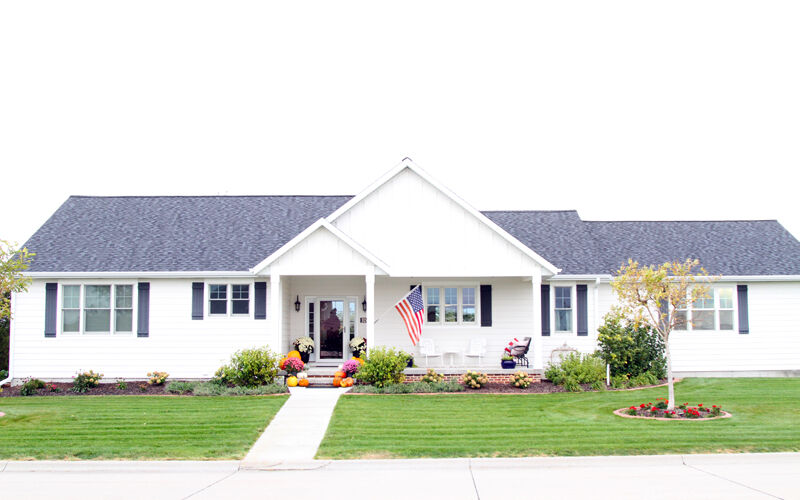 MINDEN — The smallest of details have a story in the home of John and Connie Beck of Minden.
There's a tiny coin purse in a shadow box that John's grandmother gave to him when he was 7 or 8 years old. Two hats rest on top of the kitchen cabinets that belonged to his parents in the 1940s or '50s. The couple's dining room table was the table that they bought when they got married and has been given a fresh coat of paint. From the decor to the furniture, the Becks have filled their cozy, new home with pieces they have collected and loved throughout their lives.
The Becks purchased their lot in Minden West Estates in 2011. They had raised their two daughters in a large, older home on Brown Avenue, and they wanted a home with everything on one level.
"It was a great family home when we were younger. We had two daughters that claimed the upstairs. It was an older house, and it had a lot of yard and a lot of hedges and a lot of trees. It's more of a young man's game," explained John.
The Minden West Estates subdivision had new streets and infrastructure, and there were not a lot of homes in the area at the time. They couple wanted their house to face west with a backyard and deck on the east side of the home next to an open field. They went through countless design scenarios before settling on a blueprint that fit their wants and needs. The 2,100-square-foot home features four bedrooms and three full bathrooms, including two master bedrooms and two bathrooms on the main floor.
"We didn't want small, chopped-up rooms, so we made our rooms larger than normal. We only put on the two-car garage because we only have two cars. Everybody says, 'Well, you should have put on three.' But we didn't really need it," explained John.
On the exterior of the home, Connie wanted the garage to face south so it didn't dominate the front of the home.
"She wanted the big frontage and the nice big porch," John said.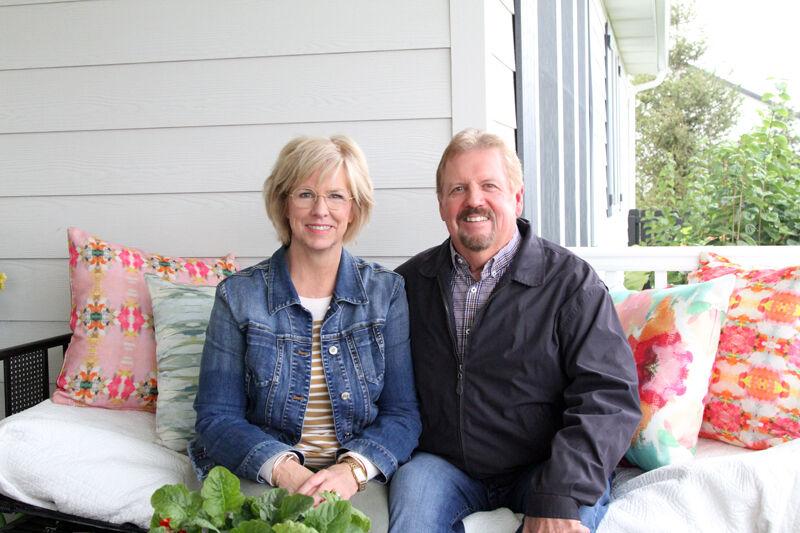 The front door opens into a roomy foyer facing the snug living room complete with a fireplace. Alderwood floors run through the hallway, dining room and kitchen with carpet in the family room and two master bedrooms.
The kitchen is tucked behind the south foyer wall, an intentional choice made by Connie.
"I wanted a big foyer that kind of opened it up, but I didn't want the kitchen directly in the floor plan. I didn't want it that open," she explained.
"We didn't want one big square room," John added.
The bright, airy kitchen features white cabinetry. One corner of cabinets has glass doors where Connie artfully displays dishes that have been passed down or collected over time. The granite counter tops are leathered so they don't have a shiny gleam. The island has a quartz top and dark oak cabinets.
The kitchen was a vision Connie had for many years.
"I had a picture that I had saved from like 20 years ago that people were doing then. I always wanted white (cabinets), and I wanted a wood-colored island," she said.
The oven and microwave are built into the cabinets and were purposefully raised up so no one has to stoop to get goodies out of the appliances. The Becks kept their golden years in mind by creating wider hallways and spaces in the kitchen to be handicapped accessible.
A small room off the kitchen is used by Connie as a "pocket office." She often uses the office to look up recipes online and it's one of her favorite places in the home.
John's favorite place is outside on the covered deck facing the backyard and an open field. He enjoys sitting on the deck with their golden retriever, Nugget, and cockapoo, Frank.
The backyard is fenced in with a black, cedar fence that they want to eventually replace with vinyl fencing. John also intends to add an outbuilding in the backyard in the future.
The top level of the Becks' home is finished with two master bedrooms each with an attached bathroom. The smaller bedroom is attached to a bathroom with shower. The other bathroom is complete with a bath and shower, a choice made to not only be handicapped accessible but is also convenient for their young granddaughter and future grandchildren.
The larger bedroom features a walk-in closet with access to the main bathroom.
The basement of the home is semi-finished with two bedrooms and a storage area that John jokingly says resembles Hobby Lobby. The basement is a project Connie intends to tackle when she retires.
Floral arrangements add pops of bright color, and antiques the Becks have inherited or purchased from auctions are featured throughout the home.
"When I look around almost everything is an antique," Connie said.
There are little things here and there the Becks would like to add to the house or have done slightly different, such as floral wallpaper in the main bathroom or a larger kitchen island, but overall they couldn't be happier with the way their home turned out.
"I love the floor plan. With us amateurs doing it, it's really worked out, couldn't be better," Connie said.
---