EDITOR'S NOTE: The Kearney Hub Sports Team will catch up with outstanding athletes and coaches from the Kearney area on Wednesdays and Saturdays with the Then & Now series.
CHICAGO — Katie Higgins wrapped up her collegiate volleyball career at the University of Notre Dame in 2016.
Higgins always has had a passion for the sport since her days as a youngster in Kearney and even remains involved in the game today by playing in two different leagues and coaching private lessons in Chicago where she currently resides.
She also received the chance to serve as the color commentator for Notre Dame's televised matches against North Carolina and North Carolina State last fall on ESPN's ACC Network. Although she only worked two games, she enjoyed the experience and hopes to continue as a commentator in the future, whether it's with the ACC Network or Big Ten Network, which is based in Chicago, she said.
"I love to stay around the game as much as possible and it was an awesome way to provide some insight on what was happening during the game," said Higgins in a phone interview. "I loved it. It sort of came naturally. We will see if I can continue to do something like that in the future."
Higgins' history in volleyball started in Kearney. She had a notable prep career at Kearney High School from 2009 to 2013, developing into one of the top players in program history. She went on to Notre Dame where she played four years as a middle blocker on the volleyball team and majored in marketing from 2013 to 2017.
In 2009-10, Higgins became the first freshman in KHS history to earn a letter in volleyball, basketball and track and field.
After gaining experience as a freshman, Higgins played a vital role on the volleyball and track and field teams her next three years.
She helped the Bearcats win the Greater Nebraska Athletic Conference in volleyball by totaling 171 kills, 43 solo blocks and 78 assisted blocks in 2010. On the track, Higgins was a member of the Bearcats' 4x400-meter relay team that finished ninth in Class A at the Nebraska High School State Track and Field Meet.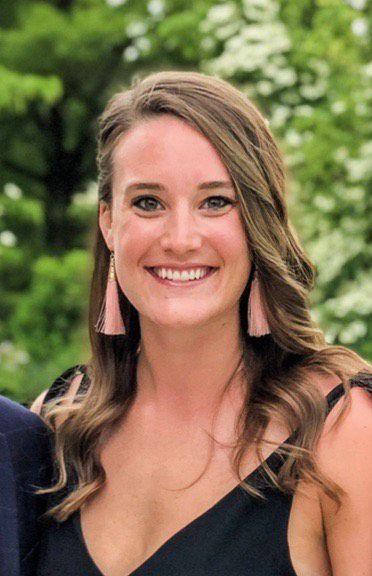 As a junior in 2011, Higgins had a breakout season on the volleyball court and once again guided KHS to the GNAC title. She earned the Kearney Hub Player of the Year award after breaking KHS records in kills in a match (32), kills in a season (459), kills per game (4.6) and blocks per match (2.3).
On Oct. 4, 2011, Higgins had a career night, as the Bearcats kept setting her the ball in a highly competitive match against Aurora. She finished with 32 kills, including 11 in the fourth set, and hit .342 to lead the Bearcats to a 25-21, 23-25, 25-23, 25-23 victory.
"(Kearney coach) Jason Owens was just telling our setter to keep feeding me the ball," Higgins said. "I had no idea. It was just business as usual. After the match, the Kearney Hub reporter told me how many kills I had and my jaw hit the floor. I couldn't believe how many kills I had. I will never forget that."
The Bearcats lost six players to graduation after Higgins' junior season, leaving them with a more inexperienced team her senior year. Higgins continued to succeed, though, and totaled 376 kills, 53 solo blocks, 84 assisted blocks, 210 digs and 30 service aces to earn all-conference honors.
After she qualified for the state track and field meet in the high jump as a junior, Higgins returned her senior year and placed fourth in the high jump in Class A in 2013.
Although volleyball was always Higgins' favorite sport, she had a strong passion for track.
"I did it purely because I loved the events," Higgins said. "I also loved the camaraderie of the team. We had such an amazing team culture. The coaches on that team, I still adore and respect.
"There is nothing like Nebraska high school state track. I try to tell people that I've met in college and other friends how intense and big of a deal it was to make it to state track. Just those two or three days at Omaha Burke were unbelievable."
Higgins only played basketball her freshman year. She instead focused on volleyball during the winter months and joined Nebraska Juniors, an elite volleyball club team, as a freshman. She had practices in Lincoln every Wednesday and Sunday from January through July and regularly traveled for tournaments across the country.
Playing club volleyball allowed Higgins to play alongside and against elite high school competition. It also put her in front of college coaches, which helped her throughout the recruiting process.
During her senior year, Higgins was one of 11 players on the Nebraska Juniors' roster who went on to play NCAA Division I collegiate volleyball. Annie Wolfe also was on the team and attended the University of Nebraska at Kearney where she was the 2016 AVCA Division II Player of the Year.
"It took the best coaches and best players and put them all together," Higgins said. "It was amazing because it was one of the first times that I felt like I was with people who loved volleyball just as much as me and had the same priorities. It was the top of the top and everyone was really committed."
After high school, Higgins attended Notre Dame, citing the university's strong academics and competitive volleyball program for her commitment to the Fighting Irish.
Her family also has ties to the university as her grandfather is a cousin to former Notre Dame President Edward "Monk" Malloy, which factored into her decision, she said.
She displayed growth during her collegiate career. She was one of the Fighting Irish's top player her senior season in 2016. She recorded 199 kills, six service aces and a team-high 106 total blocks in 29 contests. She also ranked fourth in the ACC with a hitting percentage of .354.
"My whole senior year was when everything clicked," Higgins said. "It was awesome to end on a high note. Our senior year, our banquet was around graduation time and I was awarded the MVP for the season for the team. That was probably one of the more gratifying moments."
Higgins lives in Chicago and works at Nuveen, an assets management firm, as a marketing coordinator. Higgins and her fiancé Matt, whom she met at Notre Dame during her sophomore year in 2014-15, are scheduled to get married in early August at Notre Dame.
She still follows the Bearcats, especially since her parents Tim and Sue live in Kearney and remain active at the school. Her father is the managing partner of the Kearney Runza locations while her mother is the activities secretary at KHS.
Higgins said she is appreciative of her time in Kearney and the experiences she had throughout her prep career.
"I tell everyone that I'm so happy to have grown up in Kearney, especially through Kearney Public Schools," Higgins said. "I am longing to find a community to eventually slowdown in like Kearney that has the awesome public schools and is competitive in athletics. I don't know if it exists everywhere, but we are super lucky and fortunate to have it."