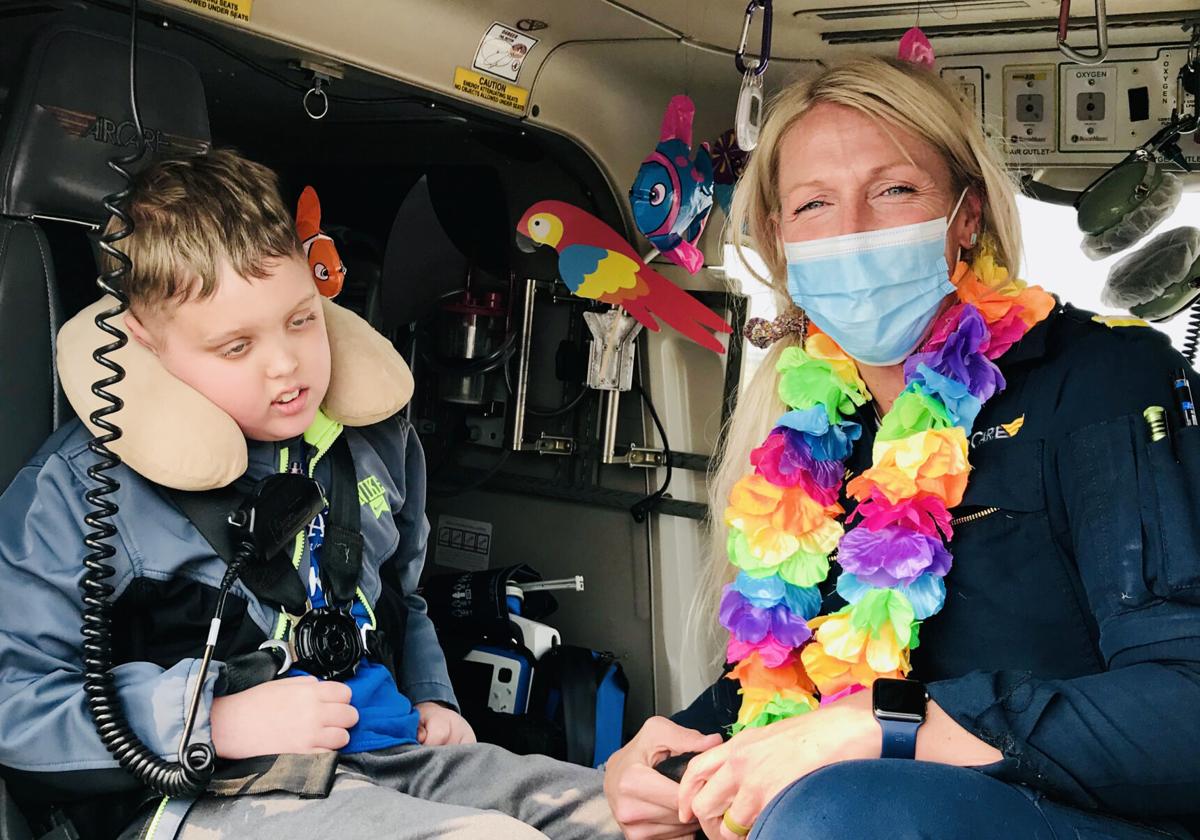 KEARNEY — Adyn Stevens, 11, had planned to visit Hawaii in June and take a helicopter ride over a volcano, but those plans, arranged by the Make-A-Wish Foundation, were squashed by COVID-19.
Thursday morning, the CHI Health Good Samaritan AirCare crew did the next best thing: They took him up in their chopper.
Adyn has been suffering from a brain tumor for a year. As the chopper lifted off, his sister Adalyn, 10, helped steady him. Then she turned his head so he could look down as Kearney spread out beneath him. Their mother Hannah was on board, too.
Adyn saw Northeast Elementary, which he attended through last spring. He saw Glenwood Corners and Glenwood Estates, where his grandmother, Marci Dockweiler, waved with children at the day care where she works. He saw Cottonmill Lake, too.
After about 40 minutes, the helicopter returned to Kearney Regional Airport, where his grandfather, James Dockweiler, was waiting.
"He enjoyed it. He doesn't talk a lot, but he gave thumbs-up," Hannah said. "He had fun."
Adyn suffered from blackouts for nearly a year before his brain tumor was finally diagnosed last December. He has had chemotherapy and radiation during the past year and has been unable to go to school.
Thursday's helicopter ride was the gift of the AirCare crew.
"We had no idea it was going to happen," Hannah said. "They called us just 45 minutes before it was going to take off. I got Adyson out of school and got everybody loaded and got out to the airport. That helicopter was decorated with fish and all sorts of Hawaiian stuff."
Flight nurse Steph Sydow said the ride was a surprise for the AirCare crew, too. The chopper flew to Alda Thursday morning to do a meet-and-greet and put its capabilities on display. As they returned to Kearney, Luke Ballmer, a flight nurse, called and said "something was in the works" for Adyn.
Normally AirCare lands and takes off from the roof of Good Samaritan, but Adyn and his family would meet the chopper at Kearney Regional Airport.
"We had 45 minutes," Sydow said. "We ran to Hobby Lobby and grabbed stuff. We grabbed some fishing string to hang Hawaiian things in the helicopter. I was blowing up mini-fish on the way back."
When they arrived at the airport, they decorated the chopper. Soon the family arrived. "We put Adyn and his mother and sister in the helicopter," she said. Sydow put a lei around her neck, too. The chopper lifted off.
As it hovered around Adyn's school and his grandmother's house, many people were outside, looking up and waving. It was a moving morning, Sydow said.
"We've never been part of Make-a-Wish, but we're not ones to turn anything down. We wouldn't be here without community support, so anytime we can give back, we will," she said.
She admitted to being teary throughout the ride. "They say these kinds of things impact the people who are helping more than the patient," she said.
She added that it was fortunate that AirCare did not receive a call during that time. "Thirty minutes later, we had a flight request, but this was God letting this happen for him and for us," she said.