KEARNEY — Brian Baer has photographed potbelly pigs, ferrets, hedgehogs and even a guinea pig for the Paws for a Cause fundraiser.
Baer Studios' 10th annual fundraising event for the Kearney Area Animal Shelter will be taking place through Feb. 26. The photography studio will be accepting one large bag of Science Diet pet food as payment for a pet portrait session. All pet food and 10% of print portrait sales will be donated to the Kearney Area Animal Shelter.
In exchange for a donation, Baer Studios will create a professional portrait of your pet, or create a family portrait that includes your pet. As for the funds and food raised, those donations usually total nearly three months of the annual food budget for the Kearney Area Animal Shelter.
Pet owners who bring their animals in for the event typically bring dogs or cats to be photographed, but Baer said he is up to the challenge for any type of pet.
"Something I haven't done I'd love to do is like tropical birds or reptiles. I would love to do that. I think it would be really fun to work with some exotics," he said.
The event began as way to try to stay busy during the slow season, and it has continued to grow.
"I think 2020 has been a different year. We have found people are cooped up in their home a little more. If they have pets, they are spending more time with their pets. People are staring at their own walls in their own homes and thinking of redecorating. There has been a huge boom in family portrait and senior portraits this year," Baer explained.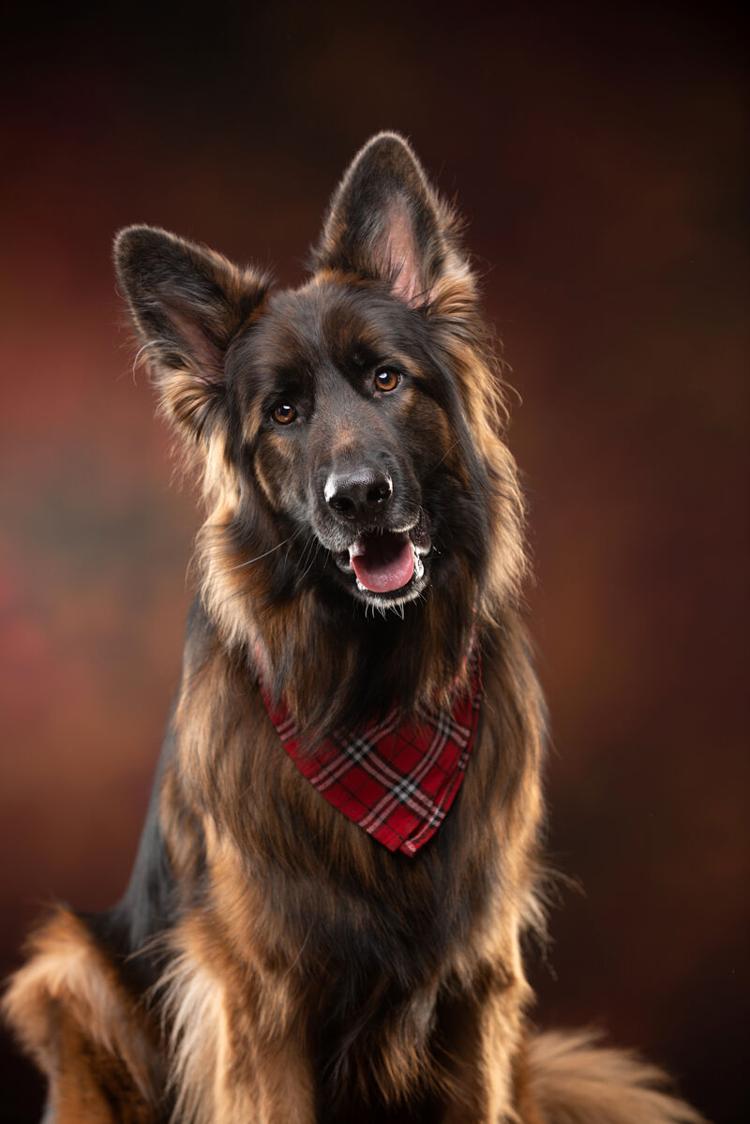 One of the biggest challenges with photographing animals is keeping their attention.
"Their attention level always starts at a 10, and it starts to go down from there. The challenge as a photographer is being ready to go immediately. You don't have two or three warm-up shots, so you better be ready to go," he said.
Baer has 15 different noise makers and squeaky toys to help grab the dogs' attention, and often the best images take place in the first five minutes.
Cats are a totally different animal. They may need 20 minutes to warm up to the space, and some like to feel safe and enclosed, Baer said. He often will photograph cats within partitions that are just out of sight of the lens.
Some of Baer's clients bring their pets back each year for portraits. He's seen a pair of Bernese Mountain Dogs change from 15-pound, fuzzy puppies to giant, 150-pound dogs three years later. Another client brings in her golden retrievers every year, but one year the older dog passed away.
"We get to know these pets over the years," Baer said. "We feel good to know they have good portraits to remember them by."
The shortness of a pet's life is one of the reasons Baer enjoys capturing their images.
"We feel like what our studio offers is a chance to photograph people's loved ones to create art to display in their home. Oftentimes the pets are always there for us, and they are often overlooked. This is a chance for people to spoil their pets a little bit," he said.
To schedule a portrait appointment for your pet, visit BaerPhoto.com and click "Book A Session," or call the studio at 308-234-2601. Baer Studios is located two miles north of Kearney.