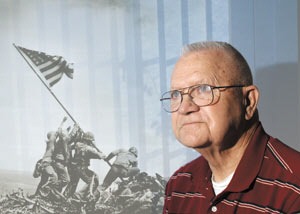 KEARNEY — Nearly 62 years after one of World War II's bloodiest conflicts, images of the battle of Iwo Jima still play in Don Richmond Sr.'s head.
"It's just as familiar to me as if it were yesterday. I might forget a lot of things, but not that," said Richmond, 81, of Kearney, his eyes red and welling with tears. There was a bite in his voice as he said, "The first 150 years are the worst, they say. You don't forget."
A U.S. Marine with the 5th Jasco, 26th Regiment, 5th Division, Richmond landed at Red Beach 2 at the southeastern edge of Iwo Jima on Feb. 19, 1945, near Mount Suribachi. As a communications specialist, his unit was in charge of setting up radio transmissions for soldiers invading the Japanese-held Pacific island.
Richmond's unit was supposed to be on Iwo Jima for only three days. The plan was to then move on to Okinawa to establish similar radio communications.
By the end of the third day at Iwo Jima, his unit still was being bombarded by Japanese soldiers dug in at the top of Mount Suribachi and in pillboxes (bunkers) scattered across the island.
The high number of casualties forced Richmond's unit to disband. He then was attached "to whatever unit would take me," going from the company command post to the front lines to keep communication lines open.
The battle of Iwo Jima was fought between the United States and Japan during February and March of 1945 as part of the war's Pacific Campaign. In the end, the United States gained control of the island and two airfields.
By the fifth day of the battle, Richmond began marching up Mount Suribachi.
"I didn't think I had a chance to get off that island alive," he said. "I gave up on that when finally I decided that was the only way to think. I made up my mind I was not going to be captured and was going to fight my way, and I did.
"I must have been pretty good at it because I'm still here."
The battle was made famous by an image captured by Associated Press photographer Joe Rosenthal of American troops raising the U.S. flag atop Mount Suribachi, a 560-foot high volcanic mountain.
It was the second flag raised on Feb. 23, 1945, and Richmond and other Marines were in charge of keeping an eye on photographers.
"The last time I saw Colonel (Harry) Liversedge (battalion commander), he said, 'Rich, get up on that damn hill and try to see that the photographers don't do something dumb and get themselves killed,'" Richmond recalled, laughing at the memory. "When he (Rosenthal) took the picture, I was probably within 20 feet of him."
As he thumbed through a faded 1950-copyrighted book about the 5th Marines that he purchased after the war, Richmond recognized many faces and scenes, and recalled numerous stories.
There is a picture in the book that shows Richmond's back as he stands on top of top of Mount Suribachi holding his Browning automatic rifle.
"A lot of those old boys I kind of remember," he said, studying the book.
Richmond also is pictured in some original movie footage of the battle of Iwo Jima.
He escaped Iwo Jima with minor injuries to his back and left hand, damage to both eardrums, and shrapnel wounds in his buttocks and head.
Richmond returned home to Codell, Kan., in 1946. He later graduated from Fort Hays State University and became a schoolteacher and superintendent.
Although some Iwo Jima veterans have returned to the island, Richmond doesn't care to. He's unsure if he'll see the newly released movie "Flags of Our Fathers," that's based on the battle.
Today (Saturday), Richmond will break his tradition of going hunting on Veterans Day and honor fellow vets as he rides in his son, Don Jr.'s, 1975 red Alpha Romeo convertible in the parade through Downtown Kearney: The Bricks.
The modest Richmond seems a little uncomfortable with all the attention. "I don't know who did all this planning to get me in to the parade," he said. "But I guess it's all right."
---