KEARNEY — Although the CDC removed mask requirements this week for people who are fully vaccinated against COVID, many local businesses yawned.
They removed mask requirements Feb. 21, when the city lifted its mask mandate.
"We are letting customers decide," U-Save Pharmacy technician Jackie Augustyn said. Masks were required for both customers and staff members last winter, but masks became optional for customers when the city mandate expired.
She added, "Employees don't wear them because we are far enough apart here, and we've all been vaccinated."
Similarly, ABC Drug at 2123 Central Ave. is leaving masks up "to the customer's discretion," owner Dave Brandt said.
Boogaart's Foods at 1615 Second Ave. also lifted its mask requirement when the city did, store manager Tony Seevers said, but he added that masks still are "requested. We're just letting people do what they think is best."
He said most employees were vaccinated for both shots as a group at a Two Rivers Public Health Department clinic at the Viaero Center.
At The Solid Rock at 2010 Central Ave., owner Linda Muhlbach never required customers to wear masks. "I wasn't going to be the mask police," she said.

Her employees were a different story. They were required to wear masks until the city's mask mandate expired due to the "precarious economic environment" created by COVID. She watched her staff carefully. She took their temperatures daily and required them to check off a list of possible COVID symptoms. None got the virus. Now, with the new CDC guidelines, those procedures have been eliminated.
Restaurants remain a bit more stringent.
Liam Mendoza, operations manager at Angus Burgers & Shakes at 421 W. Talmadge St. and Joy's Table Pasta & Steaks at 110 S. Second Ave., said customers are no longer required to wear masks, but all employees are.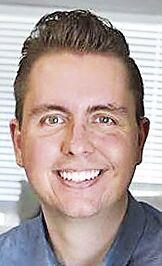 "When the city loosened the mandate in February, we stopped requiring customers to wear them, but from the beginning, our employees needed to wear them, more out of respect to make some customers feel comfortable," he said.
At Panera Bread at 5004 Second Ave., Tiann Purdy, a manager, said she "just got the OK" Friday to remove the mask requirement for customers, but masks still are required of employees.
At Alley Rose at 2013 Central Ave., the mask requirement for employees was removed Monday, the same day Kearney Public Schools removed its mask mandate, according to Sandy Erpelding, an assistant manager.
However, masks were not required for customers, and customers often asked masked servers to remove their masks. "I've heard people say, 'Take that thing off," but one regular customer likes employees to wear a mask, so it just depends," she said.
At Barista's Daily Grind, owner Jasmin McGinnis said masks were no longer required for employees who were fully vaccinated, even before the new CDC guidelines. She said she trusted employees to be honest about whether they received the shot(s).
"We always try to follow what the CDC recommends, and obey and follow city rules, but if masks are no longer required, we respect that. Some people feel comfortable continuing to mask up, and that's fine, too. I'm not going to enforce something that's no longer legally or morally required," she said.
At Good Evans at 1010 Third Ave., employees still are required to wear masks, but customers are not, according to manager Doc Williams. "Masks are not required for customers, but we recommend them," he added.
Matt Williams, director of the Kearney Public Library, said staff who work near library patrons must wear masks, but the public can use its own discretion. "We're the same as the rest of the city," he said.
Kearney Glass Inc. at 16 E. 23rd St. never had a mask policy, but "a good percentage" of customers wore them from the first month of the pandemic a year ago, owner Craig Slack said. Only about 10% of customers wear them now, he added.
At Apple Market Store and Pharmacy at 7 W. 25th St., store director Dwayne Brown said the store still posts signs asking customers to "participate in our mask mandate," even though masks are not required.
"This is mainly because when you work with the public, how do you know whether someone has been vaccinated?" he said. He said 90% of his employees are vaccinated, and even after city mask mandates were lifted in February, between 90% and 95% of customers still wore masks "out of respect for our business. Today, they're still wearing them."