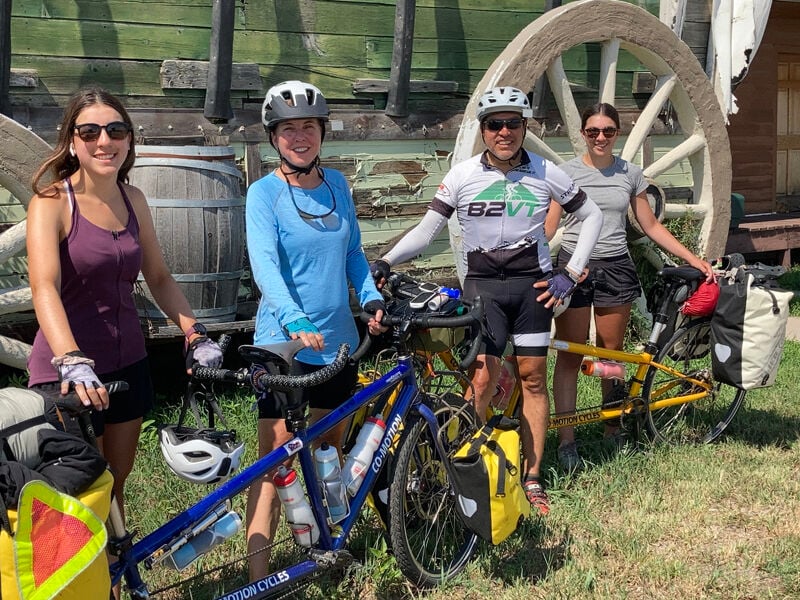 KEARNEY — So many trains. So much empty space. So many nice people.
That's what impressed Anna Barrios, 17, about Nebraska. Thursday afternoon, she bicycled into Kearney with her family — father Fernando Barrios, mother Sarah O'Grady and sister Isabel, 15. The four, sharing two tandems, had just reached the halfway point of their 3,500-mile bicycle journey from Astoria, Ore., to their home in Medford, Mass.
The trip began May 29, when they flew to Oregon and started pedaling. Now, having biked through Oregon, Idaho, Wyoming and Colorado, they said Nebraskans have been the nicest, friendliest people they've met so far.
"Nebraskans have given us water. They've given us rides. When people met us in the grocery store a few days ago, they insisted on giving us food," Anna said.
Isabel was fascinated by the countless Union Pacific freight trains they passed along Highway 30. "The engineers all waved," she said. O'Grady learned about the 100th Meridian in Cozad, but she also noticed the empty, boarded-up farm towns in western Nebraska.
They've taken Highway 30 across much of the Cornhusker State and encountered little traffic until they approached Kearney Thursday afternoon.
The family had previously flown to vacations in a few Western states, but seeing the country from the seat of a bike was a new and novel experience. "I'd never seen towns this small," Isabel said. That includes tiny Cokewill, Wyo., where they went to their first rodeo. "Some towns in the far west were 30 miles apart, and there was nothing in between," Barrios said.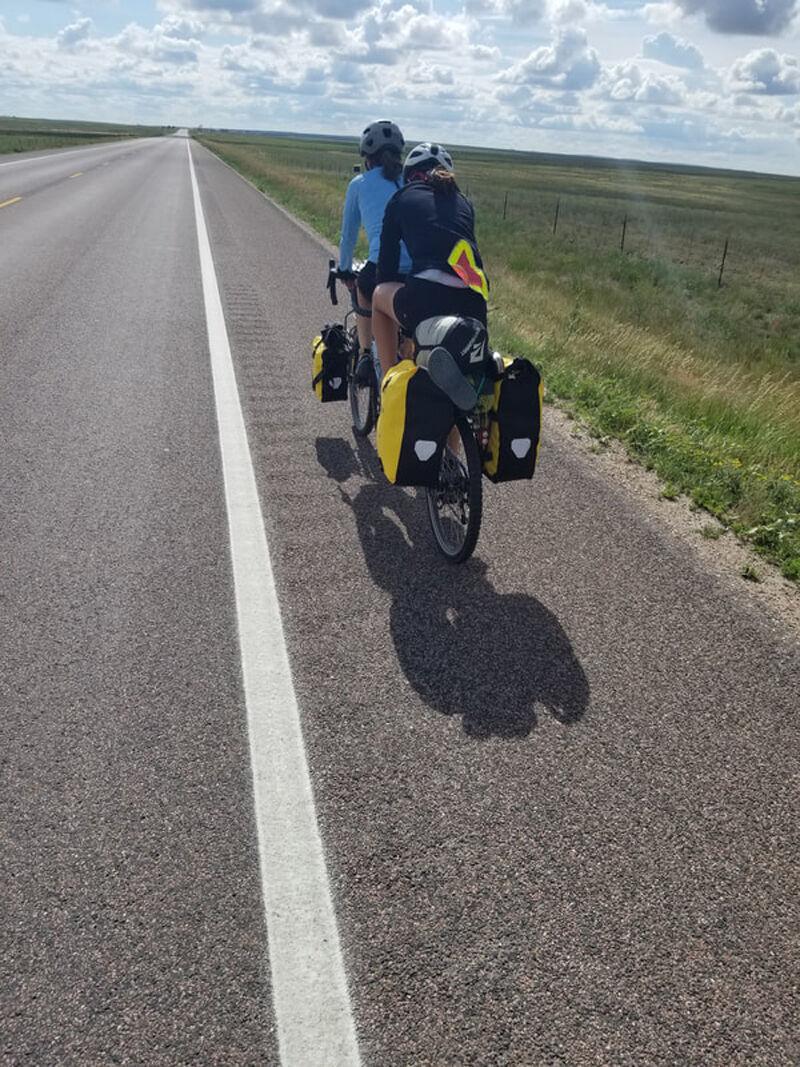 Each family member packed a bag weighing no more than 15 pounds, carrying two shirts, two pairs of cycling shorts and one pair of long pants, plus underwear. They each packed one fresh shirt to wear in the evening.
"The bikes are hard enough to control without all the gear. At any given time, we have 50 to 60 pounds of bags and sleeping bags to carry," Barrios said.
After arriving in Portland on May 29, they rented a car and drove to Astoria, Ore., where they had shipped their Co-Motion PeriScope tandem bikes to a local shop to be assembled. They picked up the bikes, turned in the car, then searched for a beach where they could dip their wheels into the ocean before starting their journey, but they couldn't find one, so they used a non-sandy spot to wet their wheels and set off.
That first day was a long, exhausting 64-mile slog in 104-degree heat. The 64 miles were brutal after their 50-mile training rides back home. Just five miles from the start, they realized they didn't have enough water.
Seeking relief, they shortened the next day's ride by taking the train to Portland, but the train broke down on the outskirts of the city, and they sat for hours. "They offered to take people into Portland by bus, but we couldn't fit the bikes on a bus," O'Grady said.
Now, after a month on the road, they've settled into a routine. They average about 60 miles a day.
"Life feels like a circus sometimes," Barrios said. "We wake up, pack up, load up our food, start biking. We stop, talk to people, continue biking, eat more. At the end of the day we unpack, unload, eat and talk about the day. Then we go to bed and do it all over again the next day."
Every morning, Barrios looks at the map and plans where they can eat and pick up snacks. Last week, when they stayed in Paxton, they bought chicken at a supermarket and grilled it for supper on the mini-grill they travel with. In Lexington, they had lunch at a small Mexican restaurant. In Elm Creek, they stopped at the "nicest little grocery store."
O'Grady said sleep comes early and easily, whether they're camping, staying in a hotel or staying with friends and acquaintances along the way. They spent Wednesday night in Gothenburg, Thursday night in Kearney and Friday night in Aurora. They stayed with a friend in Omaha Saturday night.
Cycling is a passion for Barrios and O'Grady. Their first date, in 1996, was a 12-day bike ride along the Camino de Santiago in Spain. They'd met while based in France working for Backroads, an American bicycle tour guide company. Each returned to jobs on this side of the Atlantic — O'Grady in Steamboat Springs, Colo., and Barrios in Mexico — but they kept in touch.
A few years later, back together, they cycled from Yucatan Peninsula to Tucson. "We almost got married on that trip, but we thought that might be a little crazy. We decided maybe our families should meet first," O'Grady said.
They married in 2001. "We put our heads down for 17 years and were working, caring for our elderly parents and raising the kids," O'Grady said.
Still, they rode for fun and for fundraisers, and they planned a cross-country family trip in 2020, "but then COVID came. We thought maybe it wasn't going to happen," O'Grady said. But in January, Barrios brought up the idea again. They started planning.
Both he and his wife had accumulated enough vacation days for the two-month trip. Barrios bikes to his job each day at Harvard University. O'Grady works for Verizon.
On their bikes, they are seeing the nation up close and personal. "Boise is in the desert, but every lawn is green and perfect," O'Grady said. Barrios said he's seen more dying towns on this trip than he did on his cross-country bike trip 30 years ago. "We've gone down Main Streets where every business is shuttered," he said.
But they've seen many positives, too, including people in Nebraska.
Traveling with two teenagers makes Barrios and O'Grady extra vigilant. "If it was just Sarah and me, we have everything in our bikes to make it work, and we'd power through any problems, but having the girls adds another element of safety," he said.
The family will cross Iowa and Illinois, then pedal along the shores of Lake Erie and follow the Erie Canal across New York. They will head straight east to the Atlantic Ocean and dip their bikes' front tires into the water before heading home to suburban Boston in early August.
Both girls are enjoying the ride. "I thought it would be easier," Anna admitted, recalling the 36,000 feet her father estimates they huffed and puffed as they plowed up and down the Rockies. "I thought I was in shape when the trip started, but looking back, I'm way stronger than I thought I was," she said.
So far, the family has had few, if any, problems. "We feel very fortunate," O'Grady said.