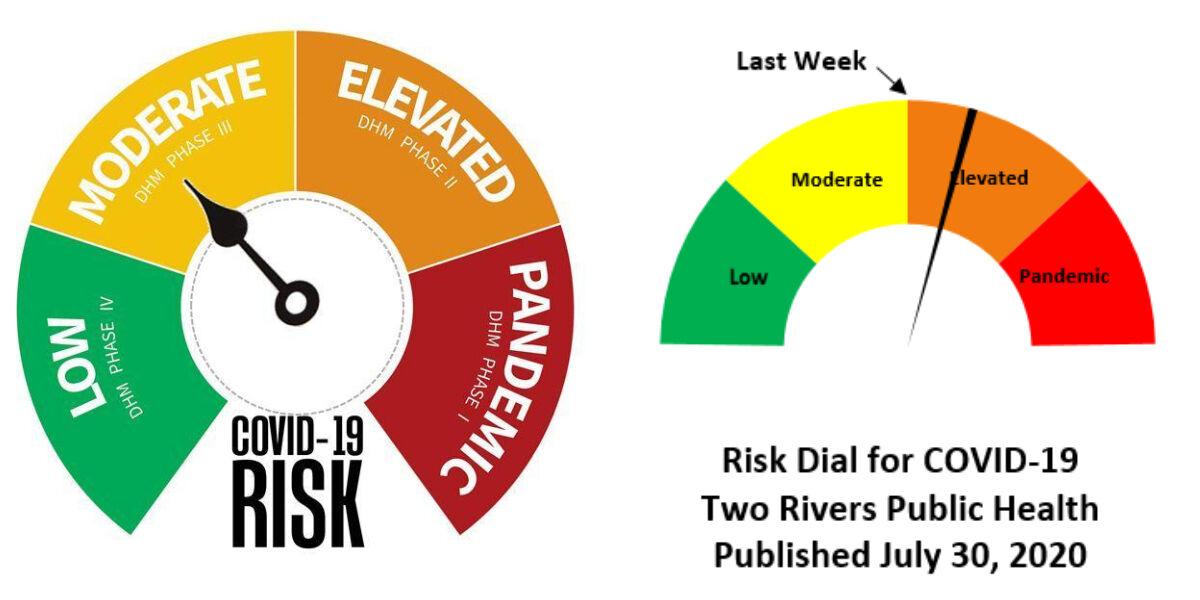 KEARNEY — Even though the Two Rivers Public Health Department's service area is now in an elevated risk for COVID-19, Kearney Public Schools remains in the moderate risk category based on numbers locally.
Two Rivers updated its risk dial Thursday, moving its seven-county service area from the moderate risk into the elevated risk zone. In the past week, the department reported more than 100 new positive cases in area.
However, KPS Superintendent Kent Edwards emailed parents Thursday that even though the district receives guidance from Two Rivers, the school district's risk dial and the health department's will not necessarily be the same.
"KPS risk dials may or may not be congruent with the health department's risk dial as they are looking at a geographic region that encompasses areas outside of Kearney, including Dawson, Phelps and other counties," Edwards explained.
Two Rivers reports cases by county, not municipality. In the past week, more than 40 of the new cases were reported in Buffalo County.
The school district will update its risk assessment dial weekly on Fridays. This week, the KPS dial remains in the yellow, moderate risk zone.
As KPS crafted its reopening plans this spring, it also made concessions for schools within KPS to be in different risk categories.
"Much like the larger TRPHD region, KPS has 14 schools that may have very different COVID situations," Edwards wrote. "It is possible KPS could have one school with several confirmed COVID cases that needs to transition into a remote learning environment, while another school has no cases. We will handle each situation individually, making our best decision for that particular school."
According to the email, the district also will update each school's web page with school-specific risk dials every Friday.
The first day of school for KPS is set for Aug. 13. As schools are in the moderate risk zone, each are set to abide by the following precautions:
- Masks are required for both students and staff members. Visitors also are required to wear masks.
- Temperature checks will be completed for students and staff members twice a day, once in the morning and once at lunch. Visitors also must have their temperature checked.
- Daily routine cleaning will occur, plus heightened disinfection of touch points or areas of specific concern.
- Students who eat breakfast at school will eat in their classrooms, and lunch will be served in the cafeteria with social distancing. Parents will not be allowed to eat lunch at school with their children.
- Schools will implement different "zones" during recess to support social distancing and equipment will be cleaned daily. Shared toys like balls and jump ropes will be available after they are sanitized.
- Off-site field trips for preschool through fifth grade are not allowed.
- Preschool through fifth grade will have three scheduled handwashing breaks throughout the day. Announcements will be made to encourage handwashing.
- Buildings may stagger up to a 10-minute difference from ending time.
- Water fountains will be closed, and students are encouraged to bring their own water bottles.
- Desks in the classroom will not be arranged in pods, but in rows to avoid face-to-face seating.
Two Rivers' service area includes Buffalo, Dawson, Franklin, Gosper, Harlan, Kearney and Phelps counties.