KEARNEY — Emmett Maul loved the Kearney Volunteer Fire Department, and considered it his family.
Why else would anyone spend 45 years of his life volunteering for an organization?
"He was proud to call you all family," said Joe Maul, one of Emmett's sons, at Maul's funeral Wednesday in Kearney.
Maul joined KVFD on Oct. 7, 1976, and died Oct. 7, on what was his 45th anniversary with the department. He was 76.
This week firefighters remembered the blunt, stout man who wore bib overalls religiously, and whose voice and laughter echoed throughout the station. Maul was known throughout the department as a dedicated leader and mentor who served in numerous capacities, including president, board of directors, president, captain, assistant chief and part-time driver.
He also knew a lot of department history.
At the station and on the fire grounds Maul was all business leading and taking care of others.
"He looked gruff, but when you brushed off the dirt he was really a big-hearted man," said Ken Tracy, a retired member.
Maul may be best known for his orneriness, his storytelling and being a prankster. There was the time years ago Maul saw a fire near downtown during the overnight hours. He rushed to the station before the alarm sounded, grabbed a truck and went to the scene.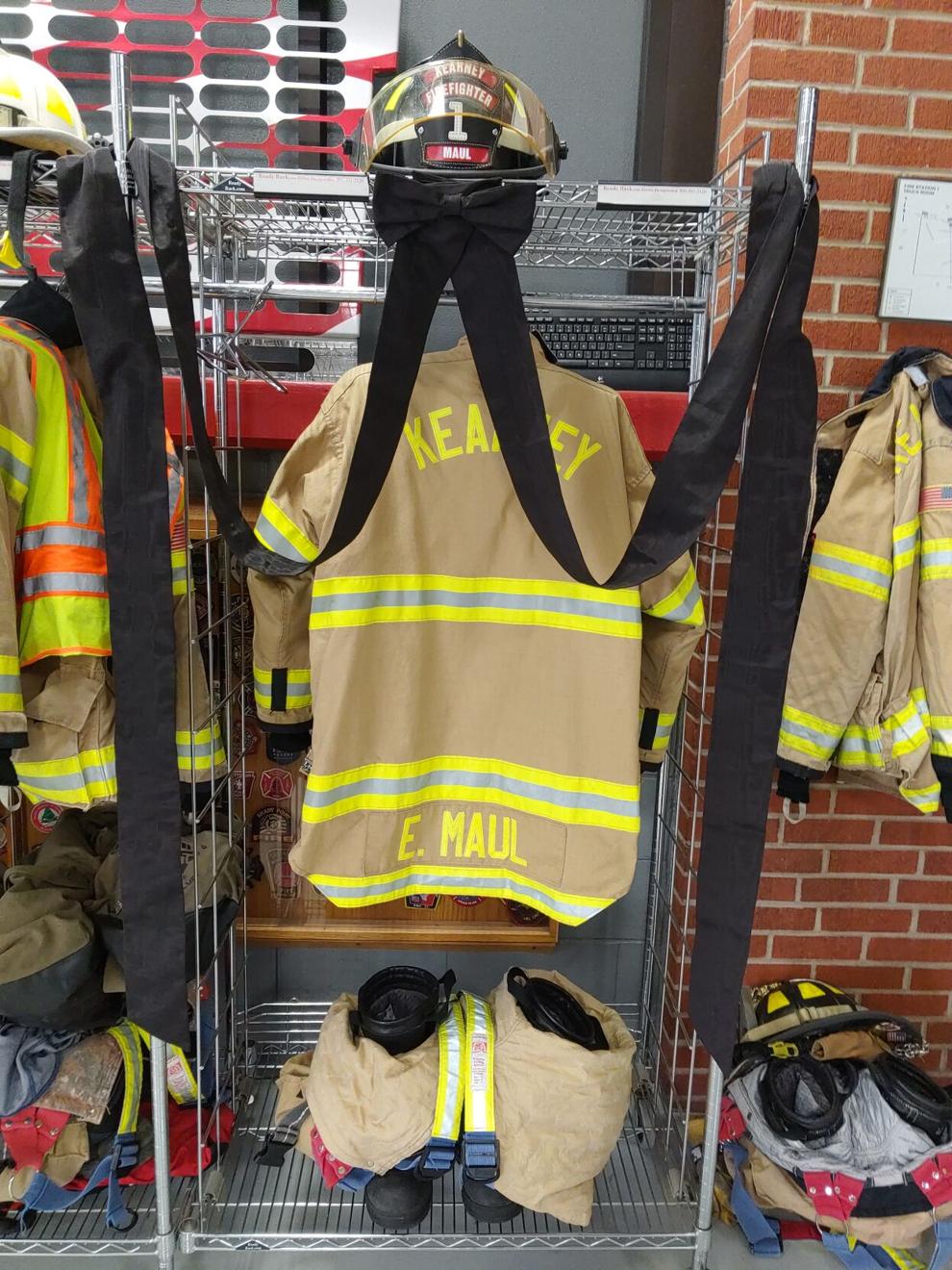 Never mind the fact duty driver Bill Shafer was asleep in the station and didn't know Maul had taken the truck until the alarm sounded and he went to hop into the truck.
"I looked in the truck room and the duty truck was gone. I thought, 'What the heck?' and then I heard Emmett on the radio," Shafer chuckled.
Or the time fellow firefighters took Maul's pickup from the station and parked it in the city manager's stall behind City Hall. Maul reported the pickup stolen and had to be told by police where it was.
"There's all kinds of stories," Shafer said. "Some of the stories about me and Emmett don't bear repeating."
Besides KVFD, in the 1990s Maul enjoyed going to Harlan County Lake with his wife Carol Jean, firefighters and off-duty law enforcement, fishing, more than 50 years with the Kearney Elks Club, making home brew, taking annual trips to Sturgis, riding his red three-wheeled Spider motorcycle, and spending time with his family.
To full-time driver Brian Wolfe, Maul was like a father figure. The two got to know each other outside KVFD in 2012 while driving part time overnight for Brown Transfer. The two would spend hours talking over their headsets about life.
As Maul's health began to decline this last year he was determined to still make monthly meetings. In July, he worked at KVFD's bingo stand at the Buffalo County Fair where firefighters raise money for fire prevention, and a month ago he attended the department's annual banquet for retired members.
"No one was more dedicated," said retired firefighter Don Jobman who handed the job of corporate treasurer to Maul in 2011. "He was one of the greats. We're all going to miss him greatly."