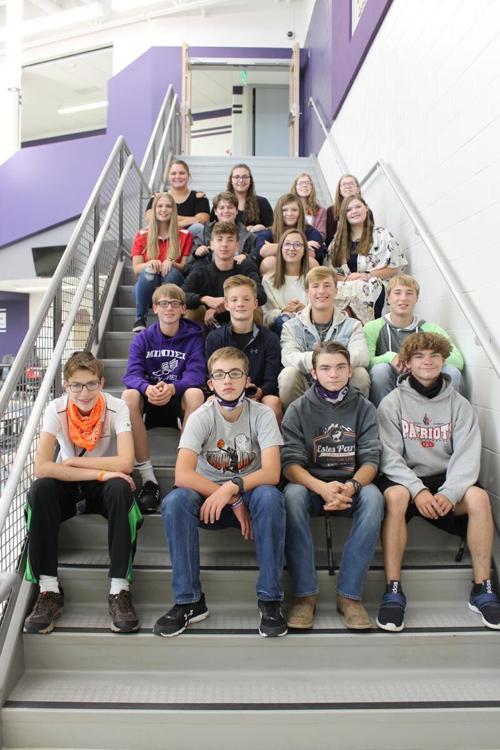 MINDEN — Eighteen sets of twins roam the halls of Minden Public Schools.
Four sets are in elementary school and five in middle school. The remaining nine are freshmen, sophomores or juniors in high school.
"Nine of the 18 sets are in high school though so that's kind of abnormal. We would have one more set that were seniors but they moved away," said Jeffrey Horner, school counselor at Minden High School.
For some of the students, twins are common in their family. Freshman A.J. and Daniel Sharkey have younger twin sisters. The 12th set of twins recently were born into freshmen Madison and Abigail Widdifield's family.
Although it's been a while, Horner said activities director Ed Rowse recalled a time many years ago when there were 16 sets of twins in the school system.
"So we actually have more than that now," Horner added.
Upon first glance, it's evident a few pairs of the high school students are twins with identical facial features, builds, hairstyles or similar clothing.
It goes a step further than being identical for juniors Lilly and Carissa Buntemeyer, who are mirror twins. Mirror twins characteristics are like looking into a mirror or having defining characteristics on opposite sides of their body. Carissa points out they have the same mole on opposite hands.
When sophomores Alexander and Jonathan Brais were younger they'd have fun with their similarities and would swap places for a day in school. As they got older, it became harder to trick their teachers.
"Once we got into fourth grade they started telling us apart and picking out the different features," said Jonathan.
Despite how similar some of the twins look, their teachers don't have a lot of difficulty telling them apart, said Horner.
"They get to know their mannerisms and such," said Horner. "The kids know them. ... They even know them by their personalities. It's funny."
When it comes to expressing their personalities, a few are more outspoken than their twin, participate in different activities or dress differently. Most of the twins agree that they don't dress alike anymore — some stopped as early as the age of 5 — but others like Carissa and Lilly share clothes all the time.
The level of connectedness amongst the twins also varies.
"Some do everything together, some branch out a little bit more," said Horner.
A few grumble about having to share a room or fighting with their sibling, but they do admit there are advantages to having a sibling the same age such as having someone to help with homework or to play catch. For others, it's simply having someone who understands them.
"(I) always have someone to talk to, and you are the same age so you have similar issues," said Carissa. "I don't think we could live without each other. We fight some but minutes later we are fine."
Be the first to know
Get local news delivered to your inbox!