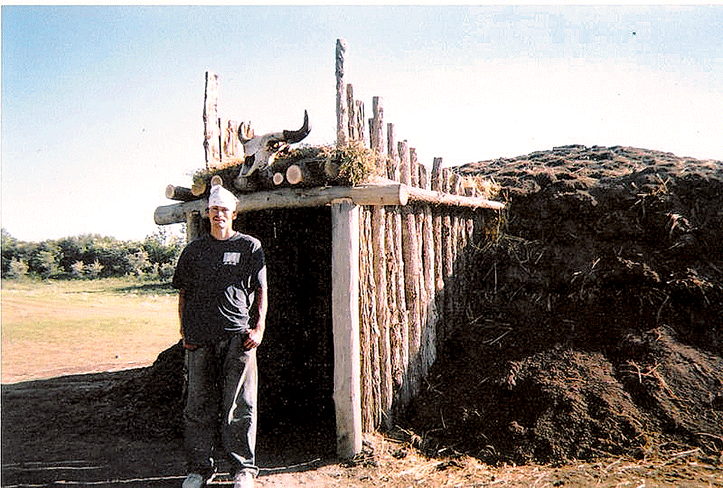 KEARNEY — When members of the Pawnee and Arikara tribes reunite in June for a powwow in Kearney, a structure familiar to their ancestors will likely be here to greet them.
Construction on a traditional earth lodge will tentatively begin Monday on a site near the Great Platte River Road Archway. The 60-foot diameter lodge will be built using the methods Plains Indians employed for centuries by combining timber, saplings, earth and sod into sturdy, enduring structures.
"There are no nails. It's cool in the summer and warm in the winter. You use the materials around you," is how Jasper "Jazz" Young Bear described an earth lodge. He is an Arikara knowledgeable about numerous Native American spiritual topics and lore and was among a contingent that visited Kearney earlier this year to lay plans for the lodge.
Today, the archway announced that, thanks to the donation of building materials and other developments, construction will likely begin next week.
"We're ready to go. The builders arrive this weekend and start construction Monday," said Ronnie O'Brien, director of education at the archway.
Archway officials had planned to build a modern earth lodge as the venue for educational programs, but construction of the $400,000 structure depended upon grants and other outside funding. Plans for the modern lodge have been shelved in favor of the traditional structure.
The traditional lodge will be built using materials donated from south-central Nebraska. Construction will require 350 cedar trees and 150 cottonwoods.
According to O'Brien, the construction teams will include seven Arikara tribal members from North Dakota and 17 Pawnees from Oklahoma. They intend to complete the structure in two weeks, which means it will be ready for the June 18-19 powwow.
In 2009, almost 150 Pawnees returned to south-central Nebraska for a powwow on the land their ancestors occupied until 1875, when they were forced to their reservation in Oklahoma. The powwow attracted an audience estimated at 12,000.
This year, Arikara tribal members from North Dakota will join in the powwow. Until 300 to 500 years ago, the Arikara were members of the Skidi clan of the Pawnees, but they broke off and moved north.
Today the Arikara share the Fort Berthold Reservation with the Mandan and Hidatsa tribes. Earth lodges dot the reservation, but the knowledge to build them has been dying among the Pawnee.
Members of the two tribes will bond as they work together on the earth lodge near the archway.
Although they don't have earth lodges on their Oklahoma reservation, the Pawnee take pride in an exhibit at Chicago's Field Museum that features a Pawnee lodge.
Educational Service Unit 10 in Kearney plans to video-stream construction of the lodge on the archway's website, www.archway.org.