KEARNEY — Kermit and Ruby Wilke were all dressed up with no place to go Sept. 27.
Ruby, wearing a lacy white dress and festooned hat, and Kermit, dressed in a black suit and hat, sat just inside the Classic Car Collection, waiting.
Brad Kernick, the chairman of the museum's board, had asked them to come in costume at 5 p.m. for a museum photo shoot. They did. Now they sat and waited.
A friend arrived, said hello and disappeared to the back area of the museum. Another friend arrived. Another and another. They all said hello and vanished, too.
"I thought, 'There's something fishy going on here,'" Kermit said.
He was right. That "something fishy" turned out to be a surprise party for his 86th birthday.
The party was Ruby's idea, but daughter Cyndy Wieland was skeptical. She and her brothers had given their parents a surprise party in August 2019 in honor of their 80th (Ruby) and 85th (Kermit) birthdays.
"Mom said, 'Yes, you kids gave us a birthday party, but I want to give my husband a surprise party," Wieland said. When Wieland agreed to help, Ruby put her in charge of the festivities.
Ruby's mind drifted to other things. She didn't know that Wieland, who lives between Grand Island and Alda, arranged to have the party at the Classic Car Collection. When Wieland asked Ruby for her address book, Ruby assumed her daughter was arranging a card shower for Kermit.
Nor did she know that Wieland crafted a unique invitation using an old picture from the Kearney Hub of Kermit's grandmother, Amy Richards, and the 1912 Model T Richards won in a new Hub subscription contest. In many ways, the party surprised Ruby, too.
Kermit describes his affection for old cars as "a disease with no cure." He grew up with old cars on a farm south of Wilcox. "My father wasn't really a collector, but he didn't get rid of stuff. I remember he made a comment once: 'If you had to drive those old things, you wouldn't be so excited about restoring them.'"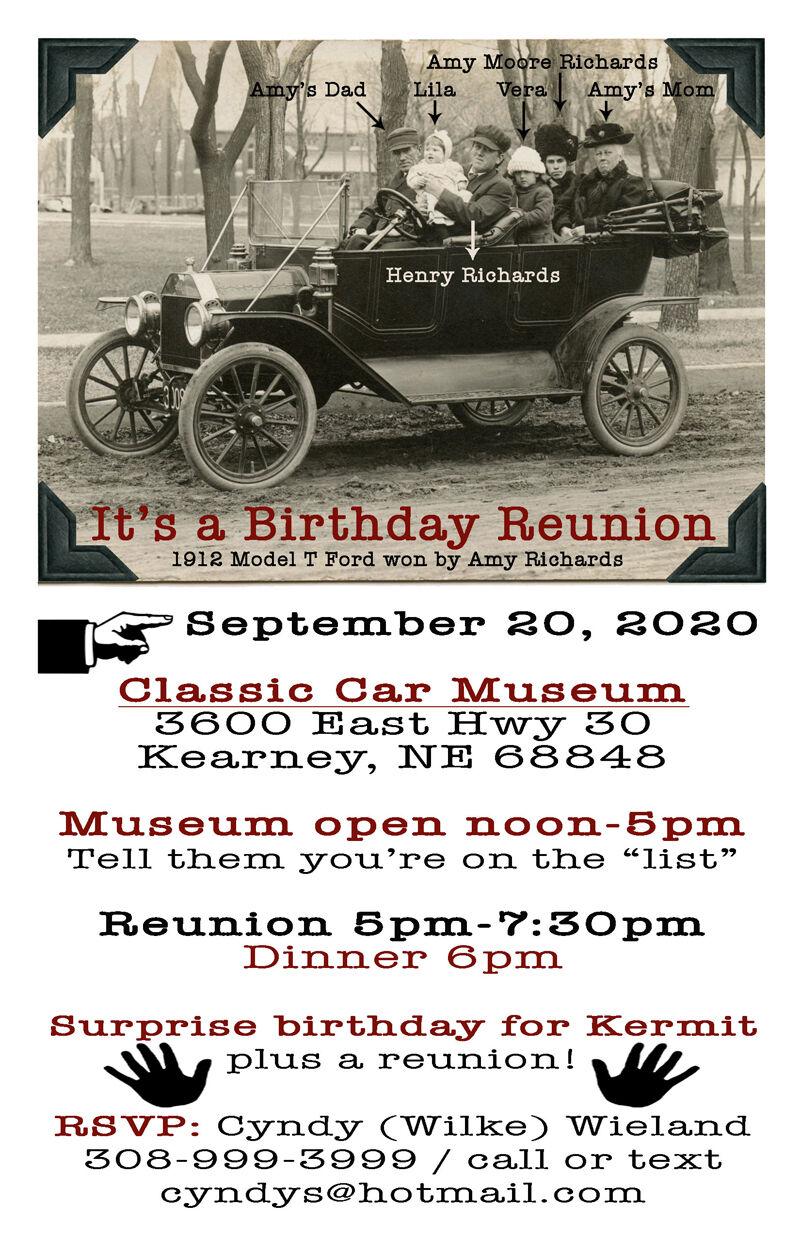 He keeps about 50 old cars on their Wilcox farm, including a 2/3-scale Model T that he started building when he was about 24 and finished five years later. He later drove it in parades.
He's big into frame-off restorations of orphan cars, or models that no longer are made. Among Kermit's favorites are models such as Lexington, Gardner, Stanley Steamer and the old Messersmith, which was made in Germany.
"Also, Overland, Franklin, Reliant, Essex, Maxwell, Star, LaSalle, Edsel, Studebaker, Metz, Kaiser, DeLorean, Liberty, Jeffery, Nash," he added.
For the last 24 years, he and Ruby have participated in antique car tours including the Great Race, and the 2017 Glidden Tour that included stops in this area. Ruby makes their period costumes that coordinate with the old cars.
Nearly 65 years ago, Ruby, then a student at the University of Nebraska-Lincoln, was reading on the porch and "watching the boys drive by" when a blue Studebaker went by. A few days later, it went by again. It was Kermit, driving with a friend. His friend was curious. He asked Kermit, "How come you keep going down that street?" When Kermit explained, the friend dared him to stop to talk to the girl, Kermit took the challenge. The rest is history. They were married on June 9, 1957. They have three grown children and six grandchildren.
A graduate of the University of Nebraska-Lincoln, Kermit taught vocational agriculture in Gibbon for two years while farming on weekends. He then taught a shop welding class and worked on experimental farm machinery in Lincoln.
Next, for 32 years, he managed farms for a bank in Lincoln while living in Holdrege. He spent weekends farming on his property west of Wilcox.
When Kermit retired at age 62, he turned his attention to old cars, car clubs and antique car tours all over the U.S. He currently has about 50 old cars.
The Classic Car Collection was the perfect site for the party because Kermit had volunteered there. "We'd sit at the desk and people would come in and sign in. Kermit walked around, and they had a lot of questions," Ruby said.
Their two sons are car buffs, too. Robert of Lincoln has a Silver Anniversary Corvette. Curtis, who works with cars and specializes in Camaros and Corvettes, lives near Houston. Other family members participate in car shows, build hot rods, run their own mechanic shop and collect cars.
At the party, 55 guests, mostly family and a few close friends, reminisced and admired cars. They devoured Wieland's colorful homemade cookies depicting tiny cars, and her white chocolate spark plugs and chocolate cars.
It was a labor of love; she creates edible art under the name Make Mine Sweet. She has taught cake decorating at Hobby Lobby in both Grand Island and Kearney and currently teaches at Central Community College-Grand Island.
Cyndy's daughter Tyler Scott, who lives in Hastings, helped Ruby put outfits together for the so-called "photo shoot." She also sneaked several of Ruby's handmade 1920s flapper dresses out of the house for family members to wear at the party.
Looking back at that afternoon, "Brad (Kernick) was trying to keep us from wandering around when we got to the museum, but I think he realized I kind of suspected something," Kermit said.
Surprise or not, the party was a success. So was its location, the Classic Car Collection. "That tied in with the party's car theme, and it allowed my husband, my children and me to see the museum," Wieland said.