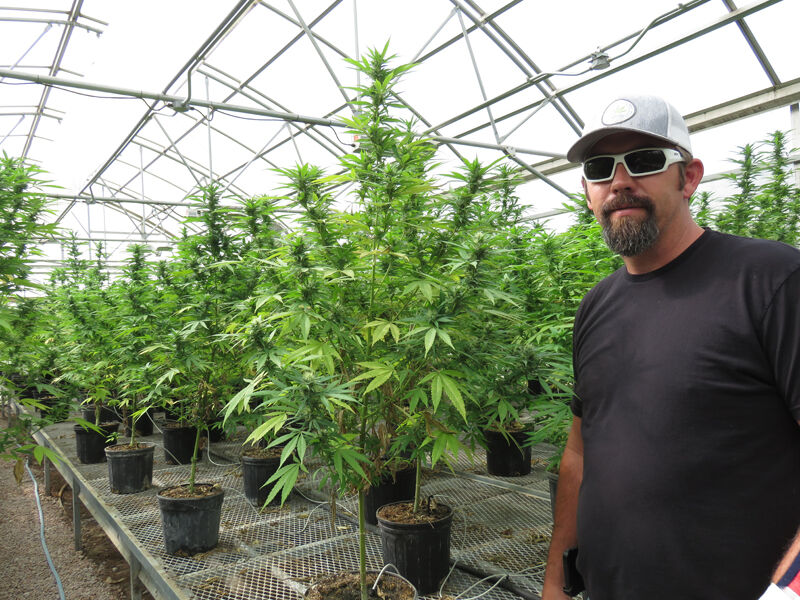 PLEASANTON — Rory Cruise was doing research long before he launched Sweetwater Hemp Co. last year on his family's farm southeast of Pleasanton.
As he prepared to be one of Nebraska's first licensed industrial hemp growers and processors, Cruise studied the industry for approximately six years, went to a "hemp college" in Iowa and attended trade shows where he connected with the company from which he purchased his processing equipment, Whistler Technologies of Whistler, Canada.
Despite all the preparation, there were two big first-year hurdles.
COVID-19 pandemic issues slowed plant equipment deliveries and delayed the start of hemp processing.
On the growing side of the business, his entire crop of 900 "Stormy Daniels" hybrid plants grown in a Cruise family's Sprout House greenhouse tested "too hot" at harvest time.
That means the plants exceeded the 0.3% limit of THC, the psychoactive component of cannabis.
"Nothing's really changed," Cruise said Monday about his business plans. "But the experience of having a crop go hot and how fast it changed, that was an eye-opener for me. And discovering how each (hybrid's) genetics are different."
The biggest moment for all state-licensed growers comes ahead of harvest when hemp plant samples are collected by the Nebraska Department of Agriculture and tested for THC levels. If they meet the low-THC standard, harvest must be completed in 30 days. Cruise said the original timetable was within 15 days.
Hemp plants testing above the THC limit must be destroyed and disposed of in accordance with the federal Controlled Substances Act and Drug Enforcement Administration regulations.
In a interview for a series published in the Hub last September about Nebraska's first year of licensed industrial hemp production and processing, Cruise said there is a fine balancing act in selecting harvest time.
That's because both THC and the valued cannabinoids — CBD and CBG — increase as a crop matures.
Harvesting too early means a lower CBD percentage. Harvesting too late runs the risk of going over the THC limit.
A huge issue for farmers who grow industrial hemp outside is preventing cross-pollination from Nebraska's all-too-common feral hemp. Cruise explained that cross-pollination makes plants focus on producing seeds, not cannabinoids.
He said it is a worry locally, but not as big of an issue for his hemp suppliers farther west in Nebraska and in Colorado.
"I'm already doing a winter crop to see how it does in the greenhouse," Cruise said Monday about moving forward as a hemp grower. "I did change genetics to what's called 'Gatsby' ... It's heading into the flowering stage."
When those plants are ready to harvest, he hopes they will be Sweetwater Hemp's first fresh frozen crop to be processed.
All five of his current hemp suppliers dried their plants and delivered them to the rural Pleasanton plant in huge bags that are stored on shelves in the processing plant's warehouse area.
Cruise said the plants he grows — 500 currently — mostly will be used for research and development on industrial hemp genetics. Using a greenhouse allows him to test variations in growing conditions.
He will contract with larger growers for the volume of hemp needed to keep the processing plant running.
When asked what he learned about industrial hemp production in 2020, Cruise replied, "I think a lot of growers learned this (first) year how hard it is and how much labor it takes."