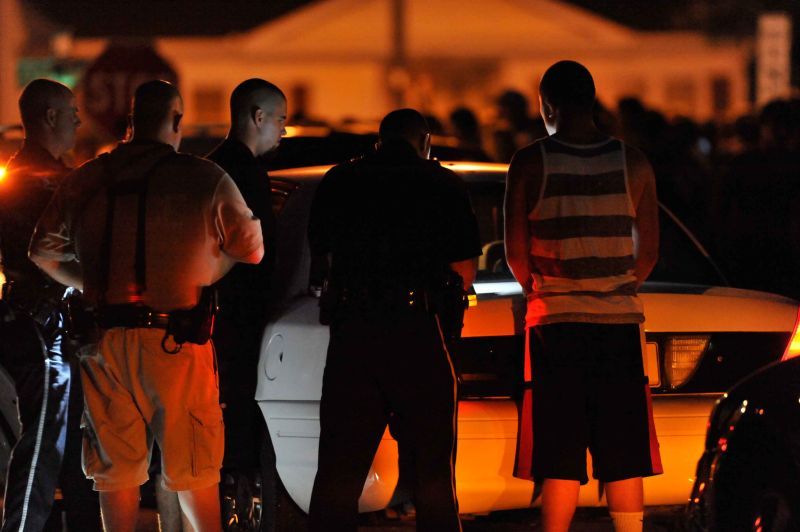 KEARNEY — The amount of drunkenness during and after Cruise Nite activities has hit an all-time high, a Kearney Police Department official said.
"The level of intoxication was a lot higher, especially earlier in the day. It's pretty worrisome," KPD Capt. Mike Kirkwood said.
By the time Saturday's Cruise Nite Parade rolled around at 5 p.m., there already were many heavily inebriated people, Kirkwood said. "The myth of people having a few beers watching a few cars go by has changed. We had big parties going on at 3 p.m. It's just steadily getting worse."
However, no citations or arrests were issued during the parade.
For the first time, officers also had problems with partygoers on West 25th Street on Friday night. Officers broke up a loud party Friday at 718 W. 25th St., after someone threw a beer can at police. Officers also found a woman passed out inside the home, cited one man for disturbing the peace, cited another man for drinking in the alley and smashing a beer bottle as officers approached and wrote citations for a minor possessing alcohol, littering and possession of marijuana.
Saturday, police cited people for numerous offenses such as disorderly conduct for urinating in public, driving under the influence of alcohol and MIP. Exact arrest numbers were still being tallied late this morning, but Kirkwood said the number of fights after Cruise Nite was greater this year.
Because of the magnitude of fights along West 25th Street, officers spent much of their time breaking them up. Several men were taken to the emergency room at Good Samaritan Hospital for treatment of injuries, but in most cases the victims declined to press charges or didn't know the suspect.
"A lot of it was just order maintenance, trying to keep people from getting hit or hit by a car," Kirkwood said. "It's moved beyond having a few beers and watching some old cars. Cruise Nite is known more for the partying instead of the cars, depending on what generation you're from."
Although cooperation with Cruise Nite organizers is good, Kirkwood said property owners are the key to maintaining order during the after Cruise Nite activities. Some landlords are cooperative and won't allow drinking on their property, but more need to follow suit, he said.
"Landlords are the key. For someone from Kearney to watch so many people from out of town come in and trash the city. It's disconcerting," he said. "Where did all those thousands of people go to the bathroom Saturday night?"
One man went to jail around 3:38 a.m. Sunday after police contacted him as he slept in the front yard of a loud party at 903 W. 22nd St. After several warnings not to, the man urinated in the yard in front of officers.
Other noteworthy incidents during after Cruise Nite activities from the police blotter include:
- 8:40 p.m. — A 19-year-old Lincoln man was cited for disorderly conduct after walking into a house in the 400 block of West 26th Street uninvited. The man thought he was at a friend's house.
- 10:31 p.m. Saturday — A 22-year-old McCook man was taken to Good Sam from the Buffalo County Jail after having a reaction to the alcohol he drank prior to being arrested.
- 12:03 a.m. — A Gibbon man reported being pulled out of a parked vehicle and kicked in the face by two men. The man suffered severe facial injuries, and police are trying to locate suspects.
- 1:30 a.m. Saturday — Two men were cited for discharging fireworks in a south Kearney parking lot.
- 2:27 a.m. Sunday — Following a report of two men sleeping in their vehicle in the McDonald's drive through at 621 E. 25th St., a 22-year-old Lexington man was arrested and jailed at the Buffalo County Jail for driving under the influence-first offense and cited for having an open container. His 23-year-old passenger, also from Lexington, was also cited for having an open container.