A Lincoln man is facing a mandatory minimum sentence of 40 years in prison after prosecutors charged him with four felonies Tuesday and added a "habitual criminal" enhancement to each of the charges, all of which stemmed from drug possession, according to court filings.
If convicted, Allen Zollicoffer, 55, could spend the rest of his life in prison after investigators found him in possession of 12 grams of suspected methamphetamine, 5.8 grams of cocaine and 11 suspected fentanyl pills at a central Lincoln gas station Monday night, police alleged in court filings.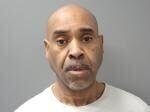 In the affidavit for Zollicoffer's arrest, Investigator Andrew Barksdale said police followed the Lincoln man's pickup from "a residence known to be involved in the use and sales of controlled substances" to a gas station parking lot near 17th and L streets.
Once there, police contacted Zollicoffer, who gave investigators consent to search him, Barksdale said in the affidavit. Police took the 55-year-old into custody after he later began to resist search efforts when investigators uncovered a black pouch tucked in his waistband, Barksdale said.
Inside the pouch, police found four plastic baggies of suspected meth, weighing a total of 12 grams, along with a baggie of 5.8 grams of cocaine and 11 suspected fentanyl pills, Barksdale said. They also found $357 in cash.
The Lancaster County Attorney's Office charged Zollicoffer, who has already been convicted as a habitual criminal once in Lancaster County, with three counts of possession of a controlled substance and one count possession of money while violating a drug law, tacking the habitual criminal designation on each charge, according to the filings.
Zollicoffer, who was out on parole from his last enhanced conviction, would face a minimum of 40 years in prison and a maximum sentence of 240 years if he's convicted of all four crimes he was charged with Tuesday.
Prosecutors can pursue the habitual criminal enhancement — which comes with a 10-year minimum regardless of the crime committed — when a defendant has already been convicted twice of separate felony charges, serving at least one year in prison each time.
From 2010 to 2021, Lancaster County — the state's second-most-populous county, trailing Douglas County by more than 200,000 residents — led the state in habitual criminal convictions.
In a phone interview Wednesday, Lancaster County Attorney Pat Condon defended his office's decision to file the enhancement on all four charges against Zollicoffer, pointing to the unpredictable nature of jury pools should the case go to trial.
"Do you just file one? Is one enough?" he said. "What if (the jurors) don't think that he was dealing or in possession of something and then we haven't filed the other (charge) yet?
"It's kind of a thing that we look at and say, 'OK, What can we do?' And you just never know with the jury, how a jury could come back."
In Zollicoffer's case — his latest in a series of nonviolent offenses that have exclusively involved the alleged possession and sale of drugs — Condon pointed to his lengthy criminal history and his alleged possession of fentanyl pills as the justification for filing the enhancement.
"The purpose of the habitual criminal (enhancement), particularly when you're dealing with somebody with delivery, is you're trying to make sure that they don't deliver to somebody who ends up dead, which we've had several people do that with the fentanyl," Condon said. "I look at it as we're keeping the community safe.
"I don't know if Mr. Zollicoffer can be rehabilitated. … But I have to look out for the people that could be sold the fentanyl and end up taking it and dying from it, or that end up overdosing from the cocaine, or hurting somebody while they're on the cocaine or methamphetamine."
In the latest complaint filed against Zollicoffer, prosecutors noted five prior felony convictions against the Lincoln man, who was convicted in federal court of conspiracy to distribute cocaine in May 1992.
A federal judge sentenced Zollicoffer to 21 months in prison and six years of supervised release following his prison term. He was convicted of violating the terms of his supervised release in February 1994 and sent back to prison for two more years, according to the complaint.
Zollicoffer was convicted of another nonviolent drug crime in March 1998, when he was sentenced to five to 10 years in prison for possession of a controlled substance with intent to deliver in Lancaster County District Court. 
And he was back at the Lancaster County courthouse more than a decade later, in May 2010, when he was convicted of possession of a controlled substance and sent to prison again for one to three years, according to court filings.
His latest conviction came in June 2012, when Zollicoffer was convicted of possession of a controlled substance with intent to deliver — with a habitual criminal enhancement tacked on — after he sold less than a half-gram of cocaine to an undercover narcotics investigator in 2011, according to court records from that case.
Former Judge Steven Burns sentenced the Lincoln man to 10 to 22 years in prison, with a mandatory 10 years of hard time due to the habitual criminal enhancement sought by prosecutors.
Zollicoffer was not eligible for parole until November 2021 and was released from state custody sometime after, according to Department of Correctional Services inmate records.
Upon his arrest Monday, Zollicoffer was returned to state custody, where he has spent most of the last decade — and where could spend the rest of his life if he's convicted of the latest charges against him.
Narcan, a drug that can reverse the effects of an opioid overdose, can be purchased and deployed by anyone and is available for free at eight area pharmacies, a list of which is published at stopodne.com.