Andre Hunt, one of two former Husker football players implicated in the alleged sexual assault of a 19-year-old University of Nebraska-Lincoln student in 2019, was ordered on Friday to pay a $1,000 fine.
Earlier, Hunt entered a no contest plea to a misdemeanor charge of false reporting.
The sentence, issued by Judge Thomas Zimmerman in Lancaster County Court, comes three months after former teammate Katerian LeGrone was found not guilty of sexual assault.
The two players were first implicated in the alleged assault that transpired on the night of Aug. 25, 2019.
Prosecutors alleged that LeGrone sneaked into Hunt's bedroom at the apartment they shared, got into position behind the 19-year-old woman, who Hunt was having sex with, and switched places with his roommate before she knew what happened.
On the stand during LeGrone's trial in April, Hunt admitted he lied to investigators when he said he never saw LeGrone have any contact with the woman, who had gone to the apartment to hang out with Hunt. The woman testified that she didn't know they'd changed places until she saw LeGrone's arm.
Both men were initially charged with sexual assault. Hunt pleaded no contest to false reporting as a part of a deal with prosecutors.
On Friday, Deputy County Attorney Christopher Reid implored the court to consider the seriousness of the initial allegation and the woman's impact statement. In his ruling, Zimmerman weighed the toll the incident and its aftermath has taken on all three parties, but ultimately deferred to the proven facts in Hunt's case: that he gave a false report to a police officer that impacted the investigation.
"I have had an opportunity to review the letter to the court from the alleged victim in this, and, frankly, it's excruciating to read," Zimmerman said from a courtroom in Lincoln's Hall of Justice. "Her life has been clearly forever impacted. 
"This court needs to sentence Mr. Hunt, however, based on the charge for which he has been convicted. The court can't act, in the context of this sentence, to impose a punishment that is based on unproven allegations."
Zimmerman imposed the maximum fine leviable. The judge said Hunt, who has no prior criminal record, was unlikely to reoffend.
Hunt, who returned home to Los Angeles after being suspended from Nebraska's football program in 2019, appeared at the hearing via Zoom.
Outside the courtroom, Carlos Monzon, Hunt's attorney, painted a less sympathetic portrait of the victim than offered at sentencing.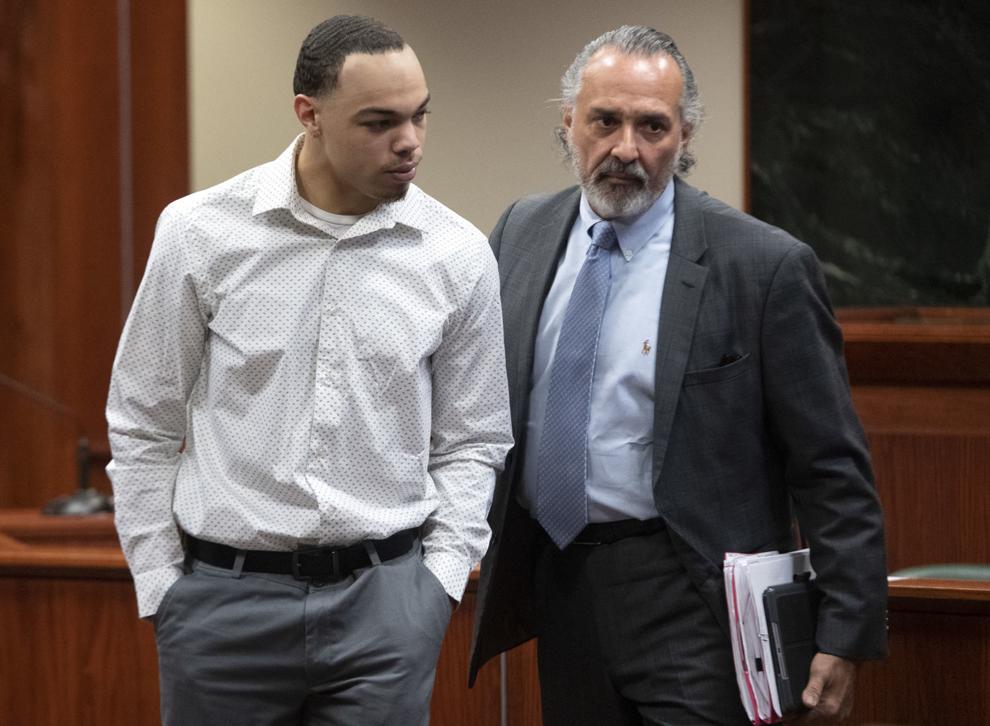 "This is a case that obviously was a buyer's remorse case, where this young woman never gave an indication to Mr. Hunt or Mr. LeGrone that she did not want to have sex," Monzon said. "And this is where we all ended up.
"I'm happy with the outcome and I'm happy that Mr. Hunt can now move on and continue with his life, even though a lot of lives have been destroyed — and a lot of careers have been destroyed — because of this woman not saying 'no.'"
Under Nebraska law, a person must express lack of consent verbally or physically, unless it would be useless or futile to do so or the person is physically or mentally incapable of resisting or appraising the nature of his or her conduct. For instance, if they are intoxicated or drugged.
Officials at UNL who investigated the woman's Title IX sexual misconduct complaint found the two former players responsible for assaulting her, leading to their expulsion in April 2020.
Reach the writer at 402-473-7223 or awegley@journalstar.com.
On Twitter @andrewwegley
Reporter Lori Pilger contributed to this report