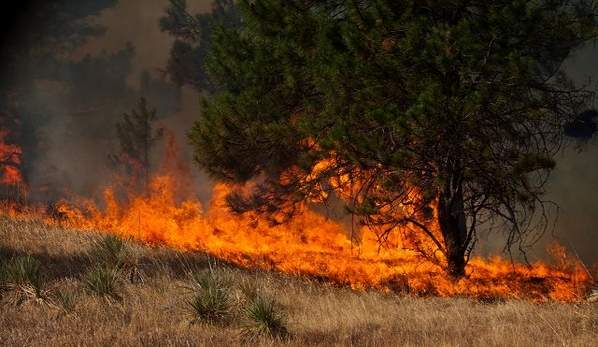 CHADRON — Weary fire crews toiled through the night to bolster defenses protecting Chadron from wildfires expected to burn for seven more days in the tinder-dry pine woodlands, canyons and prairies in northwest Nebraska.
The fast-moving fires had burned more than 107 square miles around Chadron by late Thursday, fire officials said. The area was expected to remain in critical fire danger through Sunday.
Shifting winds on Friday could put one of the blazes on a path toward Chadron, a state college community of 5,900 that saw flames from a wildfire burn to the edge of the city six years ago.
Plumes of dense smoke billowed over the rugged Pine Ridge region as exhausted firefighters struggled to attack three blazes that led to the evacuations of visitors at Chadron State Park and residents of more than 100 rural homes from Crawford to Hay Springs.
"We've got a lot of work to do," said Beth Hermanson, fire information officer for the Rocky Mountain interagency incident management team.
The fires were only 10 percent controlled, Hermanson said. They had burned nearly 69,000 acres in Dawes and Sioux Counties.
She said officials don't expect to have the fires contained until at least Sept. 7.
The biggest blaze — dubbed the West Ash Creek Fire — initially scorched a swath roughly 2 miles wide and 16 miles long from near Crawford toward Chadron. The fire had burned more than 44,350 acres and had moved into the ponderosa pines of Chadron State Park.
Other fires burned north of Hay Springs — including a 24,330-acre blaze near Metcalf State Wildlife Management Area — and in rugged canyons and timber near Fort Robinson State Park between Crawford and Harrison.
No communities were immediately threatened.
A rural Dawes County woman, Ronni Davis, 64, died apparently of a heart attack Wednesday night as authorities ordered an evacuation of homes between Crawford and Chadron.
Lt. Gov. Rick Sheehy and Nebraska Emergency Management Agency officials plan to tour the region today.
Doak Nickerson, a Chadron-based forester and veteran of many wildfires in the Pine Ridge, said the fire behavior is unprecedented in its extremes.
Flames erupting from timber in the West Ash Creek Fire exploded 200 to 300 feet — the length of a football field — into the air, he said.
"I've never seen flames like that before. Ever,'' Nickerson said.
Weather forecasts called for northerly winds to shift from out of the south, with gusts exceeding 30 mph.
If that happens and the West Ash Creek Fire jumps across U.S. Highway 385 south of Chadron, the blaze could rekindle downed timber and tall, dry prairie grass now blanketing hills burned by the Spotted Tail Fire in 2006 — and turn toward the community.
"Then we've got a problem,'' Nickerson said. "When a fire gets into the location of an old fire, it burns hot. Reburns can be terrible.''
Precautionary pre-evacuation orders were issued to residents east of Highway 385, alerting them to be ready to leave on short notice.
Nickerson, who spent about 48 hours on fire lines before retreating for a few hours of sleep, said hot, windy conditions and deep, inaccessible canyons hindered fire crews.
"These big fires dictate everything (we) do,'' he said. "And the wind plays with the fires, pushing it one direction one day, then switching to another and another. It's a chess game or crapshoot.''
Nearly 210 men and women from communities and government agencies were fighting the fires. Many communities responded with donations of food, water and medical supplies to those in need. Local businesses provided trucks in the firefighting effort.
The wildfires are the latest outbreaks in a hot, dry summer that has seen scores of blazes erupt in Nebraska and across the West.
Three wildfires near Valentine in north-central Nebraska burned nearly 76,000 acres in late July. In early August, wildfires burned more than 50,000 acres north of Ogallala and Lake McConaughy in western Nebraska.
Lightning strikes sparked the latest fires.
A bolt south of Ponderosa Wildlife Management Area triggered the West Ash Creek Fire. Flames moved across Squaw Creek Road and burned through parcels of Nebraska National Forest and Bighorn Wildlife Management Area on a 16-mile run east to Highway 385.
The fire forced the precautionary evacuation and closing of Chadron State Park Wednesday night. Chadron State College and Chadron Public Schools canceled classes Thursday and today because of uncertainty over the wildfires.
Chadron State Park is a 972-acre site in the heart of the Nebraska National Forest. It is 9 miles south of Chadron. Nebraska Game and Parks officials were contacting guests who had scheduled Labor Day weekend stays in the park's cabins.
Chadron State freshman Yadira Gurrola was among the students who left the 3,000-student campus Thursday morning.
"Our RA (resident assistant) knocked on our door at 5:30, telling us classes were canceled, and there was a pre-evacuation," Gurrola said.
The pre-evacuation was an effort to get as many students out of Chadron as possible so there would be fewer students to worry about in case of a mandatory evacuation, she said.
Gurrola said she and her roommate opened the windows of their dorm room before they left.
"We can't see part of the hills and it's all smoky," she said. "All the smoke made our eyes burn, and it was kind of hard to breathe."
College officials said the campus would remain open and students living in the residence halls were not required to leave. But they encouraged students going home for the Labor Day weekend to leave as soon as possible.
Gurrola said she couldn't take her usual route on U.S. 385 to her hometown of Scottsbluff because of the fire. The highway was reduced to one-lane traffic in a stretch south of Chadron.
College officials told students planning on driving east through Hay Springs on U.S. 20 to hurry through because they predicted the fires would move toward there.
About 150 residents from 102 rural homes and the Pine Ridge Job Corps near Chadron were evacuated, said Cyd Janssen, a spokeswoman for the U.S. Forest Service.
The Sheridan County Sheriff's Office ordered mandatory evacuations for anyone living west and south of the Metcalf Wildlife Management Area. That blaze was dubbed the Wellnitz Fire.
The fire burning between Harrison and Crawford was labeled the Douthit Fire. It threatened the railroad line into Crawford. Researchers at the Hudson Ming Bison Kill site also were told to evacuate.
Two Nebraska Army National Guard UH-60 Black Hawk helicopters left Lincoln to join the fight. Fire crews concentrated on determining the edges of the fires, carving fire breaks with bulldozers and road graders, bringing in equipment to launch a counterattack and protecting dwellings and other structures.
A community meeting about the fire, evacuation notices and road closings is scheduled for 7:30 o'clock tonight at the Crawford Community Center.
Nickerson said the weather outlook was not favorable for fire crews to take command of the fires any time soon. Highs today and Saturday were expected to hover around 100, with bone-dry relative humidity levels.
"We'd take three feet of wet snow right now,'' Nickerson said. "No lightning, please.''
World-Herald staff writers Martha Stoddard and Maricia Guzman and T.J. Thomson and Ashley Swanson of the Chadron State Eagle contributed to this report.
Get local news delivered to your inbox!
Subscribe to our Daily Headlines newsletter.