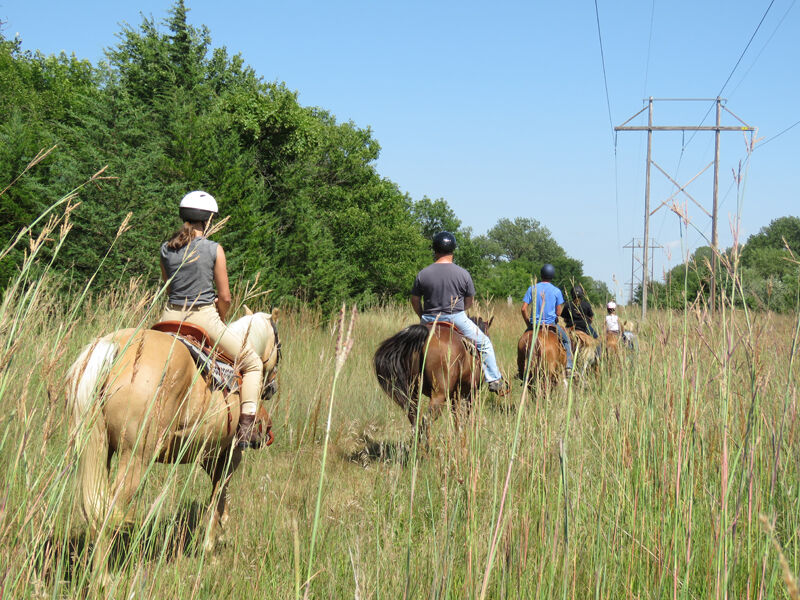 KEARNEY — Eliminating smelly, slippery messes and other problems linked to horseback riding on the trails in Kearney parks is the goal of proposed rules going before the Kearney City Council on Tuesday.
The proposal is a response to "growing complaints and safety concerns" about riding horses at Cottonmill Park and Meadowlark North Park, according to a memo to the City Council from Park and Recreation Director Scott Hayden.
"The revisions were made in order to collect contact information through a registration process from those who ride horses in city parks," Hayden said.
During registration, park staff members will talk with riders about responsibilities, etiquette and trail conditions, he said.
Hayden added that as they register their animals, riders will be able to communicate with the city staff, as well.
The one-time registration will be free, but violating the rules could result in fines up to $100. Companies that provide trail rides or lessons are required to carry $1 million in liability insurance. Horses that have been registered will have tags on their bridles.
"Park and Recreation Department staff met with several horse owners from the Kearney area to develop solutions to issues and mutually develop the registration process and safety guidelines," Hayden said in his memo. The Kearney Park Advisory Board endorsed the proposed revisions 5-0.
Horseback riding is not permitted on the concrete hike/bike trails and in city neighborhood parks, except at the Oldfather Prairie and Lorma's Overlook natural trails at Cottonmill Park, and at Meadowlark North Park's natural trails, unless otherwise approved by the park and recreation director.
Proposed equestrian trail use rules include:
- Horses must be thoroughly broken, properly restrained and ridden with due care, and shall not graze or go unattended, nor shall they be left hitched to any object without supervision.
- Owners must remove horse waste at least five feet off natural trails and from parking areas. Horse manure catchers/bags are encouraged, but not required.
- Horses must be kept to a minimal/safe speed.
- If riding is part of an instructed class or program for children or adults, the provider needs to complete an application and carry $1 million in liability insurance.
Hayden said the new rules are intended to increase safety and etiquette where horseback riders share trails with other users.
The rules state: "Politeness increases the chance of trail cooperation and goodwill. Understand that bikers and hikers, like riders, are individuals. The actions of one do not typify the actions of all."
Tuesday's council meeting is open to the public and begins at 5:30 p.m. in council chambers at City Hall, 18 E. 22nd St. Masks are required. Meetings also may be viewed at cityofkearney.org.