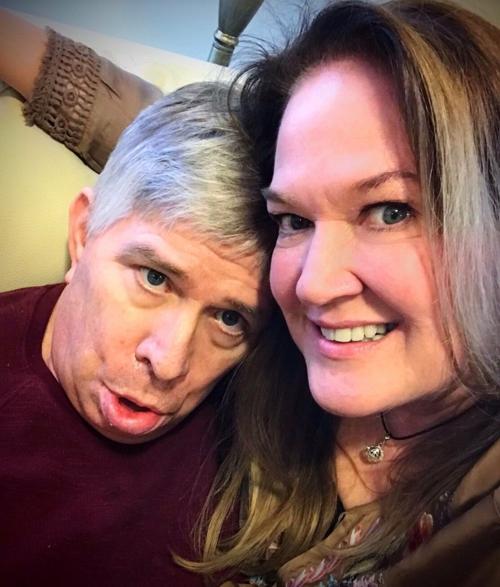 KEARNEY — Janet McKee shakes her head when friends suggest she write a book about her 23 years spent watching her beloved husband Mark die of a rare form of dementia. She doesn't want to revisit those years.
She doesn't believe she will ever heal.
Mark died 13 months ago of early onset frontal temporal dementia with ALS variant. That hereditary disease also killed his mother, his sister and his brother.
The Dawson County couple had been inseparable since they met in the mid-1970s. They married in 1978. They had no children. "The Lord spared me the ache and agony of passing this disease on to children," said Janet, now in her early 60s.
The disease sneaked in silently in 1998 and poked through the surface of their lives about four years later. It slowly destroyed Mark's ability to farm and forced Janet to quit teaching after 30 years to take care of him.
She doesn't know what kept her going throughout those 23 years, but "there was never a minute I didn't know what to do," she said.
"I was an emotional wreck. I wept a good part of every day, but now I can go a few days, maybe a week, with no breakdown," she said.
His last days
Memories of Mark hover ceaselessly. She remembers the day she put him into the car in 2016, knowing he would never come home again. She took him to CountryHouse Residence for Memory Care in Kearney.
Four years later, in March 2020, she drove him to Journey House, a Tabitha End of Life Hospice Care at Lincoln, and "put him in his last bed."
Because COVID-19 was raging, she did not see him in person again until the day he died. Journey House staff members would call her to keep her updated on his condition. Every Sunday, she and a team member would Facetime so Mark could hear the conversation. Nurses said Mark was "different" when he heard Janet's voice. "I know there was a recognition that transcended the ordinary," she said.
As he approached death in early September 2020, hospice called her. He could not communicate. Despite COVID-19, the hospice team requested compassionate allowance so she could be with him.
Janet drove to Lincoln. He was sleeping when she entered his room. She was alone. Due to COVID, nobody else could be in the room.
"They were keeping him comfortable, I just sat and watched him sleep. When they came in to readjust his body, he woke up, and I went over and sat by his head," she said.
From her laptop, she read him Bible stories and sang Sunday school songs. His eyes fixed on her the whole time. He drifted off to sleep and did not wake up again.
"I know the last voice he heard was mine. The last face he gazed upon was mine. I just sat quietly with him for 24 hours before he passed," she said.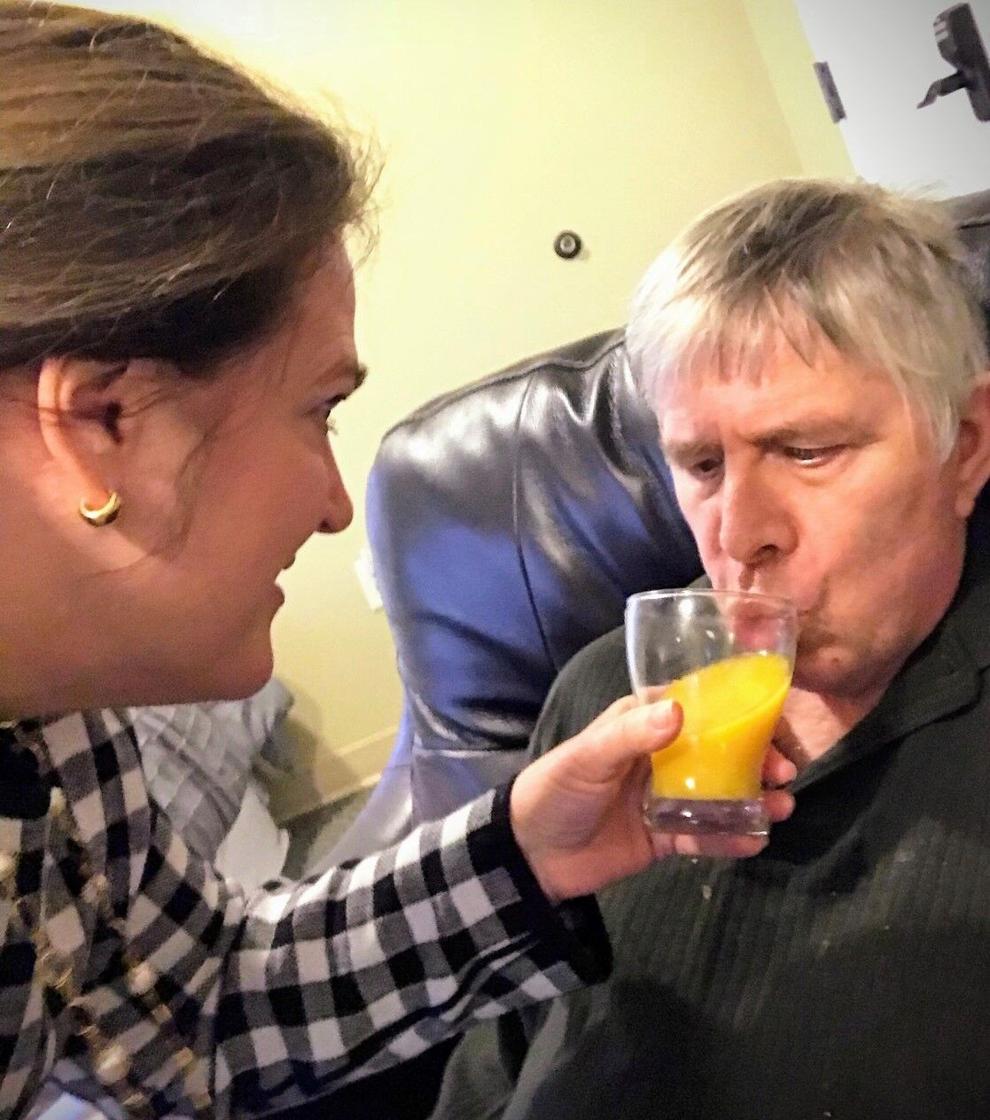 A small funeral
Mark was raised in a Presbyterian church in rural Dawson County, north of Lexington, two miles from the McKee farm. Even though most churches were closed due to COVID, Mark's pastor, family and closest friends gathered privately in the church where Mark was baptized and confirmed. They said farewell.
He was cremated. His ashes were interred at a family plot at the Cozad Cemetery with those of his border collie Sadie who died in 2020, too.
Then Janet went home. Mark was gone.
Empty and broken
Janet was raised to be structured, to think things through, but Mark's illness turned that upside down.
"When this disease came along, I had to learn to let go. I couldn't be in control. It wasn't up to me to predict the outcome," she said.
"You fight a monster like this, and you find out that it doesn't matter if you go along with it or back down. Either way, you lose," she said. "His loss left me standing at the end of the road with a broken heart, empty-handed."
She stopped attending church 15 years ago. She knew that neither worshippers or clergy grasped the incalculable depth of her loss and pain. As Mark deteriorated, she felt marooned. She became furious with God.
"I was sick and tired of having everything taken from us. He never got better. I knew it would never be over. It was the same torment day after day, year after year, and it got to the point where I realized that God is no different from any other father," she said.
"Every father knows when kids are mad and throwing a fit, and I knew I'd be loved know matter what. I didn't care anymore. I really don't care," she said.
"One day I got so upset with the situation I couldn't change that I just said, 'Fine. Just let the whole thing fall apart. I can't change this.' As soon as I quit caring, it didn't hurt as much."
'We stopped living'
Three years ago, while Mark was at CountryHouse, McKee had her wedding dress made into a quilt so she could wrap herself in it for comfort as Mark declined. That quilt now is hidden in a cedar chest. She brings it out only if someone wants to see it. "It represents everything I lost. It's not something I feel good about," she said.
"This happened to us in our 40s and 50s. We stopped living. I don't get any of that time back," she said. "We went from one battle to the next, and we never had time to sort out what happened. I haven't processed a lot of stuff yet. I won't remember a lot until something triggers it."
She describes herself as still so "emotionally brittle" that she cannot hear words of hope or encouragement or love or caring without breaking down.
"After he died, I would go to the barn and get an extension cord or a rope, and Mark was there. Everything was exactly where Mark had left it. Everything smelled like him and sounded like him, and I couldn't start to heal until I got away," she said.
Out of the darkness
Janet did not plan to move. She focused on simply getting out of bed every morning. Then, on Easter weekend, she was contacted by a family who wanted to buy her house. They were moving back to Dawson County to farm and raise their children. The house was not on the market, but she realized that perhaps it was time. "This place had to go to the right people," she said. "I was last surviving member of the family to live in that house. I didn't want it to go to just anybody."
That family turned out to be the right people. "They are picking up where Mark and I left off," she said. "Selling the house was the beginning of finally coming out of the darkness."
She relocated to Kearney, "a beautiful city, a smart town" where she had friends, and where Mark had spent most of his final years. She and her two rescue dogs moved in on Memorial Day. Her home has a sunny room in the back that reminds her of her beloved house in Dawson County. "I am home here," she said.
Moving forward
A few blessings poke up through the broken cracks of her life.
Financially, she has no worries. Soon after his diagnosis, Mark created a foundation that paid for his care for four years at CountryHouse Memory Care Residence, and the $12,000-per-month care for six months at Tabitha Journey House in Lincoln.
But in 2018, Janet was diagnosed with Stage 3 breast cancer. She has another cancer in her neck. Both cancers are now in remission. "I'm trying not to die," she said. "But after Mark died, I recognized that I was going to die and somebody had to buy my gravestone, so I did."
She has no plans to go back to work.
"My job now is just to stay home," she said. "My family is supportive. My friends care deeply, but they are as helpless as I am to know what to do or say. Time will either fix it or it won't."
Because Mark's disease was hereditary, she is thankful she never had children.
Though brokenhearted, Janet has no regrets about the time she spent caring for her husband.
"Sometimes I think I was sent here for Mark. As difficult as it was, it was effortless. I loved him more than I hated the disease," she said.