AMHERST — Amherst school patrons soon will have the opportunity to vote on a $9.1 million school bond.
The project at Amherst Public School would consist of new construction and renovation of current facilities. The addition would be about 51,801 square feet of new construction and 12,504 square feet of renovated areas. It would be built to meet the needs of the current student enrollment.
The school will host public meetings at 6:30 p.m. Sept. 19 and Sept. 21 at the west gym at Amherst Public School. The meeting will begin with a tour followed by an informational meeting at 7 p.m. The deadline for online voter registration is Sept. 27, and the last day to register in person is Oct. 1. Ballots for the bond are due by 5 p.m. Oct. 12 to the Buffalo County Election Commissioner.
"Currently our lower elementary — kindergarten, first and second grade — and our cafeteria are across the street. We have our kids crossing the street; it's a county road so it is open daily. We have our 3-12 that go down and eat in the cafeteria so they are crossing the road daily to go down there. Our K-2 is crossing to come up for specials, for PE and music and everything. That is a huge safety issue with the kids walking back and forth," said Superintendent Matt Gordon.
The project would allow K-12 to be in the same building and would also add a new kitchen and commons area in the main building. The addition will include a multipurpose room, two locker rooms and a wrestling room. It would also allow the school to expand the shop area, the music room and art room.
The addition and renovation would address other issues at the school including a sub-standard kitchen and food service space. A locker room is currently used for kitchen storage. The shop area would double in size, and there would be a classroom for ag and shop classes.
"We have no storage for woods and metals so they are stored in the shop. Metals are actually stored outside. We have a lot of our kids working outside with the garage doors open because there is just no room," Gordon said.
The space would provide more opportunities for students to pursue high-demand jobs in the future such as industrial technology, plumbing, welding, etc. Elementary classrooms would also increase in size.
The multipurpose and wrestling rooms would allow community members and youth organizations to have more options at the school.
"Right now with our involvement in just kids athletics, gyms are booked everyday of the week. We have our regular school practices, and then our younger kids come in," Gordon said. "Just having these extra areas for the community members to gather is huge."
With grades K-12 in one building, the lower elementary school would be used for preschool. It could also potentially be used for a daycare, but there are no officials plans for that yet, Gordon said.
The school currently has a special building fund total levy of 14 cents. If the new bond passes the special building fund levy would be removed and replaced with the new school bond at 14 cents making it levy neutral.
"Currently we are the lowest levy in the area with what we were levying for our building and bond this previous physical school year. With our bond we plan on levying about the same amount. It would put us still lower than anyone else in the area," Gordon explained.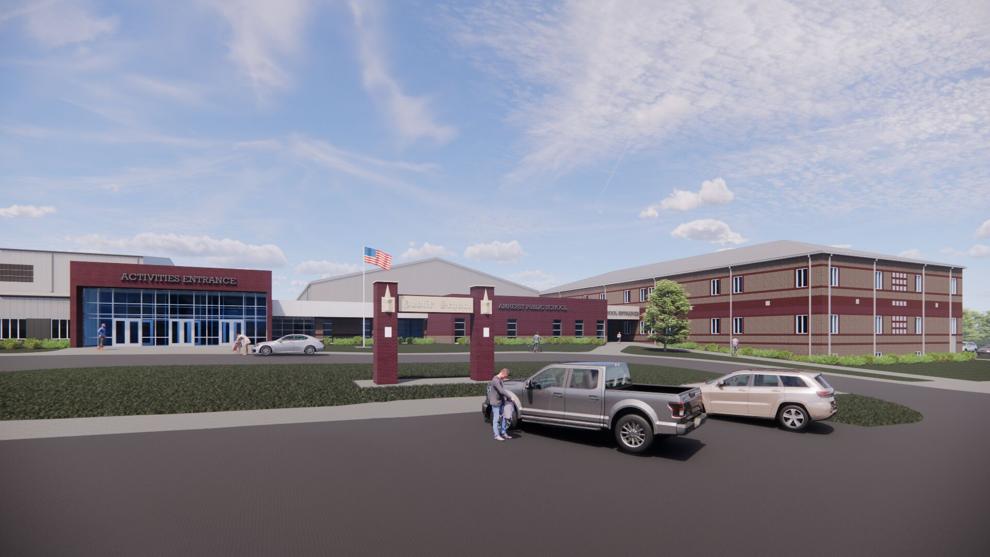 Low interest rates could also save the taxpayers money if they are locked in right after the vote.
"Our bond rate, looking at between 1.8% and 1.9% on a bond, those are the lowest interest rates we have ever seen. Even if we waited until after Christmas or next year to run a bond, if those interest rates rose even half a percentage point ... it's like $600,000 in interest," Gordon added.
The school and stakeholders have been interacting with community members to get input about the bond and to provide residents with all the information about the project before voting next month.
"I really feel this is what is best for the Amherst community and the Amherst kids. In Nebraska, schools really are the heart of our community. It will expand options for our students in the tech areas. It's going to expand options for our kids during school and our community after school because we are going to have space for people to gather, space for people to come watch events," Gordon said.