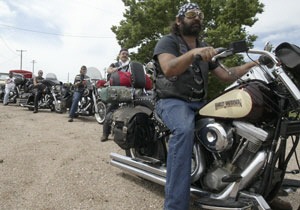 KEARNEY - Look again. Past the Harleys' chrome sheen and beneath crusty leather vests, the bikers share soft hearts.
The riders are veterans; their philanthropy runs as deep as their patriotism and their affinity for Harley-Davidson motorcycles.
Known as the American Veterans Motorcycle Club, the group cruises central Nebraska almost each weekend, driving thousands of dollars into local charities and to families in trying times.
"We're American veterans who enjoy Harley-Davidsons. Our main goal is to support the American troops and our basic freedoms and rights and help out where we can," said Jim Soden, AVMC area representative and a U.S. Army veteran. He founded the Kearney chapter in 1999 after moving from Columbus to take a job with Union Pacific as a signal switcher.
Perhaps the group's most patriotic contribution to Kearney also is the most visible, said Michael Streeter, former Kearney Veterans of Foreign Wars Post 759 commander.
They approached him two years ago about helping the VFW replace wind-torn flags on the American Veterans Memorial Overpass, the Avenue M-N Overpass over Highway 30.
The fundraiser was to be a poker run. Streeter rode along for the inaugural event - through pouring rain - with 35 bikes, including group members and others.
"We were soaking wet, and people kept putting in money," Streeter said. "I'm real thankful… I run into a lot of people who say that flag overpass looks really nice."
The group raised about $700 for the flags, which must be replaced every two months, and plans to make the event an annual Memorial Day excursion.
In August the members will have their fifth annual barbecue, with bike challenges and live music, to benefit Good Samaritan Health Systems' Hospice.
For the past several weekends, group members have completed runs through central Nebraska to benefit causes such as Urgent Soldiers Assistance and FACES, a national organization that helps children with facial birth defects. They also support the Nebraska Veterans Home in Grand Island.
"Going out there and making a difference in someone's life, there's something so special about that," said Rose Hamilton, hospice clinical coordinator for Good Samaritan. The hospice currently serves about 30 people.
The AVMC benefit is a unique gesture she said, because most donations come from families and friends of those who've received care.
"I can't tell you how much we appreciate it; they're great," Hamilton said.
Some communities have been reluctant to accept legal motorcycle clubs because of the outlaw biker stigma, Soden said.
The American Veterans Motorcycle Club also operates chapters in Kansas, Oklahoma and California. The club was chartered in 1972 in North Platte.
"We get quite a bit of support around here," Soden said.
The chapter has eight members. A few live in Kearney and several more live in Grand Island. The chapter's territory extends to the Kansas and South Dakota borders and east to Grand Island.
For some members, a decade or more has passed since military service. But each feels an obligation to show continued respect for freedoms, said treasurer Jim McLaughlin. Part of the respect comes by helping others.
"We feel it's not just about the money, as it is showing our support for things that are happening in the community," said McLaughlin, who enlisted in the Montana National Guard in 1959 after fibbing about his age. He later served in the U.S. Navy and Nebraska National Guard.
"When we have a charity event, it is for local charities or people. We may not be instrumental in starting an event, but the club will donate out of our treasury what we can," he said.
Perhaps their most prominent run was 1999 trip during Memorial Day weekend to Washington, D.C.
The AVMC became the first motorcycle club invited to place a wreath at the Tomb of the Unknowns. Members also visited the Vietnam Veterans Memorial Wall.
The group's annual rite, the National Run, returns to Kearney Aug. 5. The chapter first hosted the get-together in 2001. Members use the event to socialize and usually make a day run to a smaller town.
Then, they'll depart for the Sturgis Motorcycle Rally in South Dakota. Soden expects to host more than 100 members for the weekend at the chapter's clubhouse south of Kearney.
The group will participate in events throughout the summer. As the destinations and causes change, their sentiment has not.
"It's the camaraderie …" McLaughlin said. "The feeling we get being around one another and belonging to a group of people who enjoy the same things."