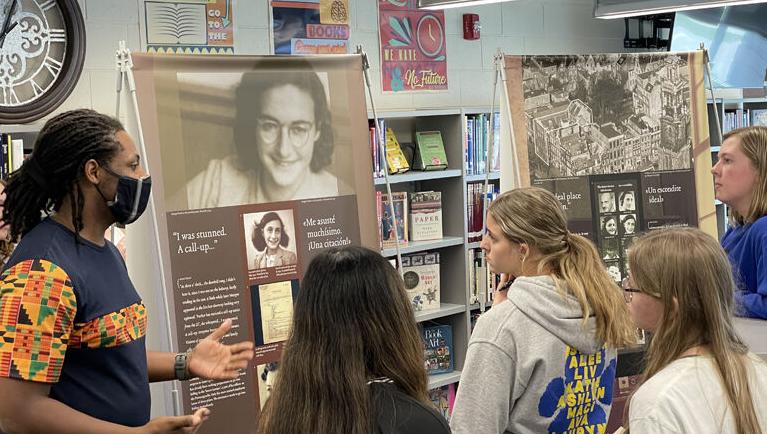 KEARNEY — When Jessica Day, an instructor at Kearney High School, teaches about the Holocaust, she wants to present a powerful story.
"I'm a social studies teacher and clearly I think history is important so we can learn about the past and these atrocities — and to make sure they don't happen again," Day said. "The sad news is that we know that genocides have happened again and again. This gives our students a unique opportunity to learn the story of one person. We know there were millions more."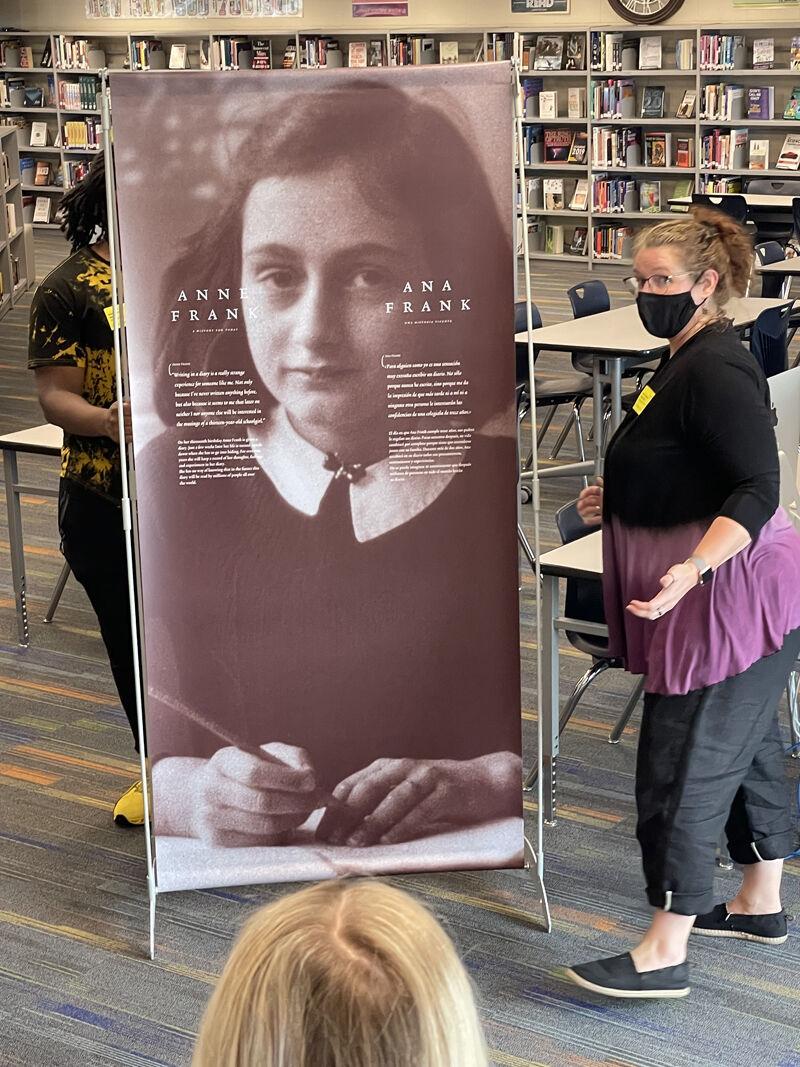 Day notes that in her diary, Anne Frank speaks of hope and compassion. The exhibit gives students a primary document to aid in learning about the systematic murder of more than six million Jews during WWII, from 1941-45.
"Hopefully we'll grow from learning about this," Day said. "Ultimately we need to do better."
The international traveling exhibit, "Anne Frank: A History for Today," presented by The Institute for Holocaust Education, seeks to inform and educate visitors about the history of the Holocaust from the perspective of Anne Frank and her family while highlighting the cultural, ethnic, religious and political differences between people, differences that exist in every society.
The exhibit is made possible through a grant from the Staenberg Family Foundation with matching funds from the Jewish Federation of Omaha Foundation.
The website for the Anne Frank House adds, "In many countries there are groups who consider themselves superior and deny others the right to equal treatment. Such views can lead to discrimination, exclusion, persecution and even murder." Another goal of 'Anne Frank: A History for Today' is to "challenge visitors to think about concepts such as tolerance, mutual respect, human rights and democracy."
The 30-panel exhibit continues on display at Kearney High School through Oct. 8, currently only available to students. It also will be displayed at both Sunrise and Horizon middle schools.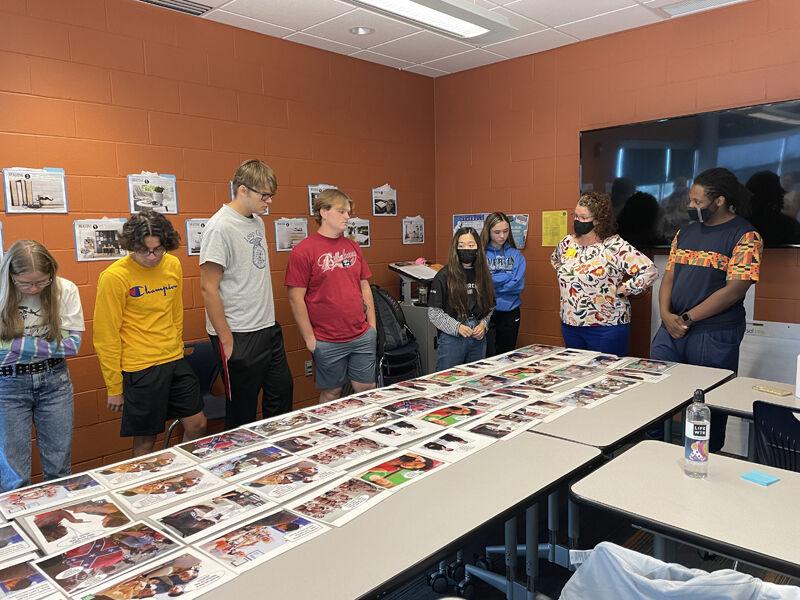 "The students will see the life of Anne Frank," Day said. "It will be to the backdrop of the Holocaust. It's a unique experience to see the two paralleled against one another as you walk through the exhibit. I think it is powerful when you see the events transpire to the timeline of Anne's life."
Frank, who lived from 1929-45, documented her everyday life in the Netherlands in diaries published after her death at the age of 15 in the Bergen-Belsen concentration camp in Germany. "The Diary of a Young Girl" contains Frank's personal feelings about the danger she and her family experienced — as well as the average frustrations of a teen.
Funding for the exhibit also includes two days of training of student guides to act as on-site docents for the exhibit. Day and Kearney High School English teacher Robert Mishou selected seven students, all of whom took elective classes on the Holocaust at the school. The students selected are Maci Miller, Grace Draper, Isabella Cao, Brooklyn Slaymaker, Carter Getz, Emma Bonsall and Taylor Crook.
For Draper, 16, one of the docents, the exhibit helps put the historical elements of the Holocaust into perspective.
"I learned how complex everything was," she said. "It wasn't black and white. So many things happened. You can't cover it all. You can't even understand it all in a lifetime of studying."
Crook noticed how subdued students act around the display.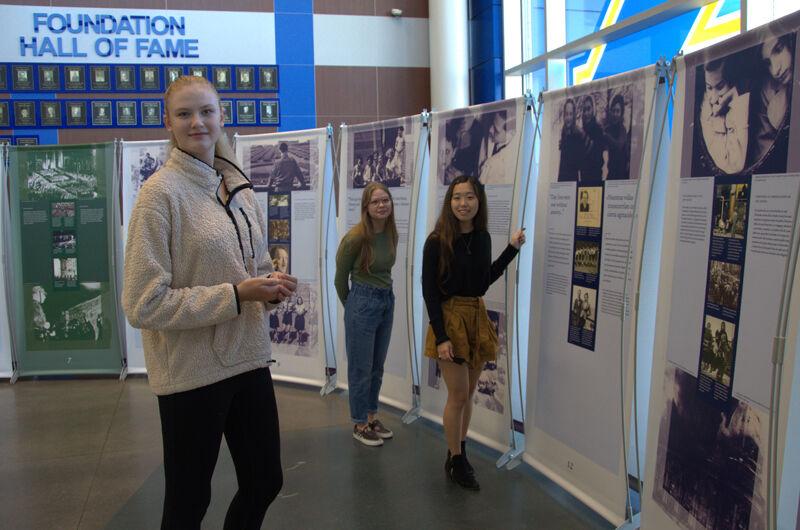 "Most students are super quiet around it because they really don't know how to react to it," the 17-year-old senior said. "They are respectful, but they're still teenagers."
Another docent, Cao, also 17 and a senior at Kearney High School, noted how quickly students related to the material in the exhibit.
"I think this exhibit does a really good job of providing an experience that students can relate to," she said. "It focuses on the life of a girl named Anne Frank. She was our age. She could be going to this high school. I think a lot of time when we're studying the Holocaust in normal history classes, people tend to think that this is something that happened in Germany, so long ago and so far away."
Cao sees parallels in today's society that could lead to events similar to the Holocaust in the future.
"This shows that this wasn't just a one-off incident by a bunch of bad people," she said. "It shows that we need to constantly be vigilant for this kind of thing. It shows that each person can make a difference. And then there's the quote: 'One person's death is a tragedy but one thousand deaths is just a statistic.' I think this is a good example of this."