Everybody has a business idea inside of them, Janita Pavelka says — even middle schoolers.
That's why she spent the past week working with a group of 14 budding entrepreneurs aged 9-14 at the Biz Kidz camp at the University of Nebraska at Kearney.
"It's great for them to experience success," Pavelka said. "Start young, start small, and that success and confidence builds."
Pavelka is an award-winning youth entrepreneurship educator who has taught camps for children across the state and around the country. In 2013, she was honored as a Nebraska Outstanding Entrepreneurship Educator at the Women's Entrepreneur Conference.
The camp was sponsored by the university's center for rural research and development, which focuses on providing resources for small businesses in rural areas.
The main objective of the course is to have campers identify their strengths, come up with a business idea and learn how to successfully sell it to a market target.
During the course, various area business professionals met with the students. This included advice on how to perfect a sales pitch, stories on character and perseverance and skill-building talks.
On Tuesday morning, Travis Hollman, spoke about his own personal strengths and weaknesses and how they have helped his business. Hollman started Hollman Media, LLC, a local company that designs and develops websites and apps. He talked about the importance of asking for help and working as a team.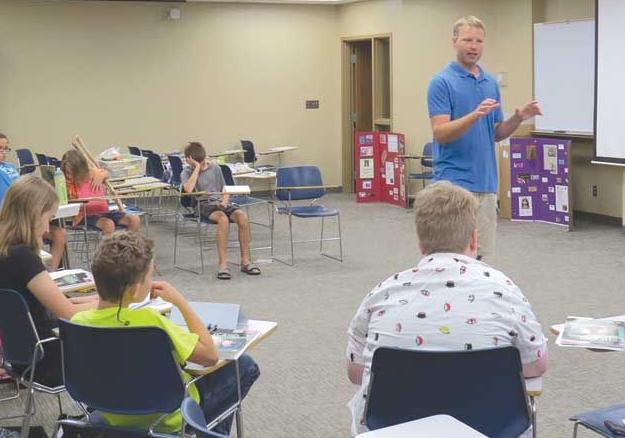 Hollman also fielded some questions from the students, including "What do you look for in a good employee?", "Have you ever gone on a talk show?" and "Can I have your business card?" (The answers: a normal person with drive; never a national show, but local media, yes; and sure.)
Shawn Kaskie, director of UNK's Center for Rural Research and Development, said that entrepreneurship education is only a portion of what the organization does. The center sponsors various educational events throughout the year for youth and the general public. The center also works on the professional level, partnering with businesses to provide market research and other studies.
Kaskie said it's the third year the center has sponsored the Biz Kidz camp, and that according to pre- and post-camp surveys, students continue learning more and more each year.
"(Programs like this) instill critical thinking and other soft skills into kids," Kaskie said. "It's hard to learn those things in a classroom."
There's also the possibility of earning money.
On Thursday, the Biz Kidz sold their materials and products at the Kearney Hy-Vee. It was a chance for them to use what they learned and put the sales pitch into action with real people, not just mom and dad.
The first year of the camp, each student had a profit of around $50, Kaskie said. That's a great incentive to encourage more creative thinking in the future.
"We don't know if they will start a business some day, but if they have these problem solving skills, it will make them successful in whatever they choose for an academic or professional career," Kaskie said.
In between an activity where students had to guess what famous entrepreneur was taped to their back, camper Isabella Cao, 10, said she was excited to be at the camp because she's always wanted to start a business.
"I like being around people, and I'm competitive," she said.
Cao's business idea was to make rubber band bracelets. She even fashioned a display rack for the crafts.
And, through taking a strengths assessment survey in the class, Cao said it was determined her top three strengths were competing, presence and dependability.
She is the daughter of Hai Shi Cao and Yue Liu of Kearney.
Twelve-year-old Robbie Exstrom said he's always thought about starting a business.
"I like the small business feel," he said, particularly the thought of being his own boss.
A self-described artsy kid, Exstrom's business is centered around prints of his drawings and photography. He plans to create greeting cards, too.
Exstrom said he has many skills that will help him launch a business, including creativity, friendliness and an ability to talk with adults. He even has a name for his business: An Unearthly Orbit Printing Company.
He is the son of Suzanne and Christopher Exstrom of Kearney.
Tarrah Anne Bickford, 9, said she has always done little business-type activities at her house, but going to the camp was her way to taking her ideas to the next level.
Her project is to make memory boards out of old denim material and cork board.
She is the daughter of Sonja and Nate Bickford of Kearney.
Course instructor Pavelka said that the middle school age is a great time to teach students about businesses. They are old enough to understand the concepts but aren't as self-conscious of the potential for failure as older students or adults might be.
"They aren't so worried about being silly and brainstorming, and they have a lot of ideas," she said.