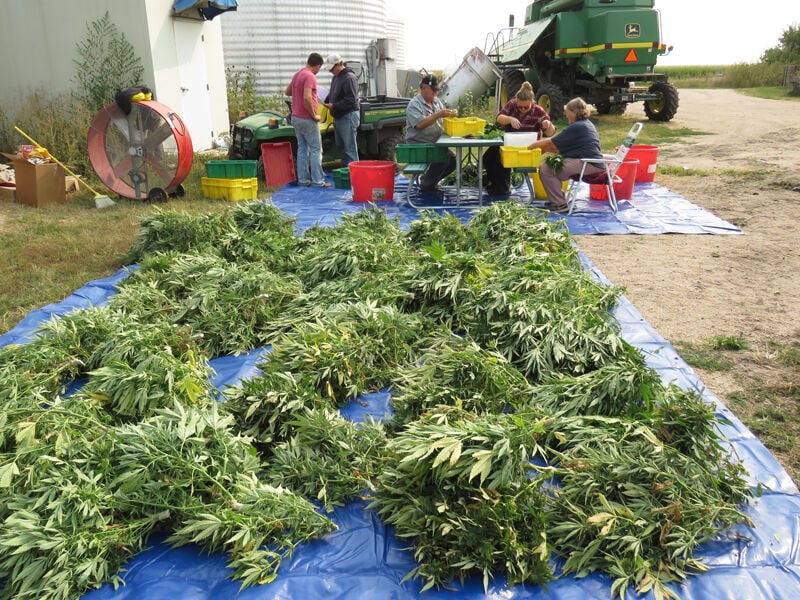 KEARNEY — The first thing to know about commercial hemp is it's not marijuana.
Hemp's products include fiber and cannabinoids such as CBD and CBG, which early research shows may have medicinal benefits. They don't have high levels of THC, the psychoactive ingredient in marijuana.
"This stuff basically doesn't have the stuff marijuana has ... commercial hemp and marijuana are not the same thing," said Tom Schwarz, whose family has state-licensed hemp production this year as part of an organic farming business southeast of Smithfield.
"The last thing you want is someone near you growing marijuana," he added, for the same reason growers of any specialty crops or seeds want to avoid cross-pollination.
The path toward legal cultivation of hemp in Nebraska started when the 2018 Agriculture Improvement Act (Farm Bill) was signed into law by President Trump on Dec. 20, 2018.
Among changes made by federal authorities related to hemp production and marketing was removing it from the list of controlled substances. That means cannabis plants and derivatives that contain no more than 0.3% THC no longer are controlled substances under federal law.
The Farm Bill explicitly preserved the U.S. Food and Drug Administration's authority to regulate cannabis or cannabis-related substances.
A hemp bill was introduced in the Nebraska Legislature in 2018. Among those who testified in support of the bill at a Feb. 6, 2018, hearing of the Nebraska Legislature's Agriculture Committee were University of Nebraska at Kearney professor of economics Allan Jenkins and Tom Schwarz's daughter, Becky, who spoke on behalf of Nebraska Farm Bureau.
The measure was postponed indefinitely.
A new bill was introduced in 2019. The Nebraska Hemp Farming Act, LB657, was approved by the Legislature and signed into law by Gov. Pete Ricketts in May 2019.
The U.S. Department of Agriculture approved the Nebraska State Hemp Plan on Jan. 27, 2020. The Nebraska Department of Agriculture began accepting grower and processor license applications on Feb. 3.
The licenses require that hemp grown for fiber, CBD or CBG cannot have THC levels higher than 0.3% in lab tests done on crop samples gathered by the state ag department before harvest.
Ancient partner
Jenkins is a longtime advocate of allowing legal production and processing of hemp, and edited a 2016 book, "The Return of an Ancient Partner," that describes hemp's history and uses.
He told the Hub no one had heard of CBD (cannabinol) 10 years ago until it was discovered by hemp growers in Colorado as part of search to help a child suffering from seizures.
"We have all this ditch weed in Nebraska and we don't know much about the chemical makeup," Jenkins said about wild hemp. "...We know hemp is well-suited to this climate and these soils."
Although it can be sensitive to dry conditions, especially when it's time to germinate, he said, "It will grow right through a snowbank. If it sprouts, it grows."
Jenkins said a lot of hemp was grown in Iowa during World War II because its fiber stands up better to seawater than other fibers.
Allison Dering-Anderson, clinical associate professor of pharmacy in the Department of Pharmacy Practice and Science at the University of Nebraska College of Pharmacy in Omaha, said the benefits of cannabis-based fibers and medical therapies appear in ancient writings more than 4,000 years ago.
"The British used cannabis-based fibers to make ropes and sails for ships because these fibers were resistant to saltwater breakdown. Cannabis-based paper was very popular in the colonial days of our country because it was cheaper than wood-based papers and more durable than animal-hide based papers," Dering-Anderson said.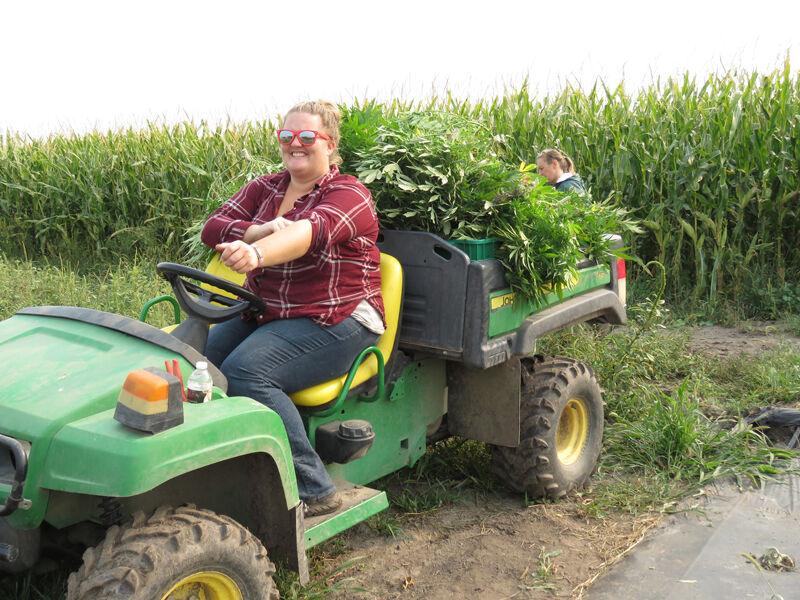 Tapping the surface
She said there now are more than 150 potential biologically active cannabis compounds identified, including 120 known cannabinoids.
"It is unlikely that we will ever know all there is to know about each of these compounds, but there are certainly avenues of research that haven't been tapped yet," Dering-Anderson said. "... As far as medical uses, the literature seems to grow every day."
She added that cannabis products can be consumed orally and contained in food, although there is no information to date that it's useful in human food.
"There is high-quality data that CBD is useful in helping patients to fall asleep," Dering-Anderson said. She cautioned that since it changes liver enzymes, it can cause significant drug-to-drug interactions, even if used as a topical product.
Tom Schwarz said CBD's anti-inflammatory properties are a big part of its value.
Other anticipated benefits include its use as a muscle relaxer. Research is being done on its possible use to treat cancer, glaucoma and other diseases and ailments.
Learning curve
The first 10 legal Nebraska hemp growers were licensed in 2019 as part of a pilot project. Jenkins was one of them, but he said it was mid-July that year by the time he finished the paperwork.
"In that first year, I told everybody to not think you're going to plant 10 acres to start and then be a millionaire," he said with a smile, partly because it grows all over and also because of the learning curve.
This year, he's a licensed processor.
In addition to CBD, about half of the Schwarz family's 2020 hemp crop has genetics for another cannabinoid, CBG. Tom's son, Alex, calls it the "mother molecule" from which CBD and other products can be developed.
Jenkins said the CBD supply chain is starting to be saturated, so CBG could be the next big item.
Another issue for consumers is that only three cannabis products are FDA-approved for specific uses by prescription, including a few specific types of seizures.
It's not legal to market any other cannabis products to treat any other disease or condition.