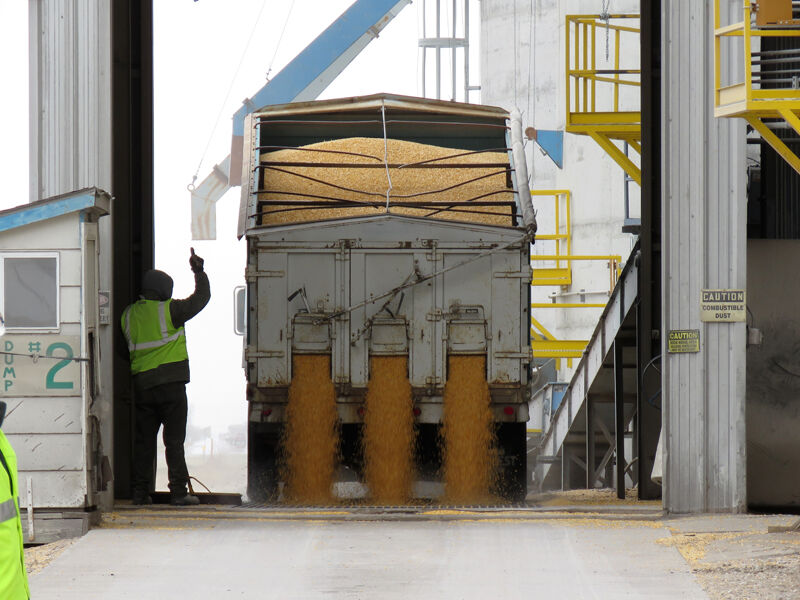 LINCOLN — "Disruptions from COVID-19 on Nebraska's Agriculture" joint policy brief, released today, presents an overview of the pandemic's effects on the state's biggest industry.
The authors, Platte Institute policy director Sarah Curry and Nebraska Farm Bureau senior economist Jay Rempe, also say current unknowns mean there is uncertainty ahead.
"The questions are many," they wrote in the report's conclusion.
According to a press release accompanying the report, the report also examines "the importance of Nebraska's agriculture, business, education and elected leaders working strategically to assure Nebraska's agriculture sector is on the proper path for growth in a post-COVID-19 world."
That includes looking at the scope and role of regulations on agriculture's ability to respond to the pandemic.
The latest projections from the Bureau of Business Research at the University of Nebraska-Lincoln are that 2020 net farm income will decline 23 percent from last year and up to half of the net could be from federal government assistance.
Other general economic impacts listed in the report include:
n For the past 12 months ending June 30, Nebraska was second only to Wisconsin in the number of Chapter 12 bankruptcies filed, with 38, an increase of 13 compared with the previous 12 months.
n Since 1971, average land values have declined only 14 times in 49 years, but that includes five of the last six years.
"Nebraska's crop and livestock producers have been on a roller-coaster ride over the past decade regarding farm income. The agriculture economy was already on the downside and weakened when COVID-19 hit," Curry said.
The pandemic brought two blows to Nebraska's ag economy.
The first was the mid-March shutdown of the hospitality, restaurant and institutional food service sector. The report says food demand in those sectors, which accounted for 54 percent of all food consumed pre-COVID, was gone almost overnight.
Although grocery store food purchases increased, the two supply chains are different and were ill-equipped to deal with the shutdown of one segment and onslaught of demand in the other.
Another effect from stay-at-home orders at that time was much lower fuel demand.
The report says that at the height of the slowdown for the ethanol industry in early May, 11 of Nebraska's 25 plants shut down and two operated at reduced capacity, dropping overall production to 55 percent of capacity.
"The immediate impact was that corn producers lost a key ethanol market and livestock producers lost a key feed source in ethanol byproducts," Rempe said. "The chaos in supply chains, the destruction of demand and general uncertainty caused commodity prices to spiral downward."
The second punch came as employee health concerns in April disrupted meat processing facilities. Complete shutdowns, reduced operations and slower speeds pushed processing plants to 60% to 70% of capacity at one point.
Livestock prices plunged.
A Nebraska Farm Bureau analysis released in June said the state's ag economy could face nearly $3.7 billion in losses in 2020 due to COVID-19 if economic conditions did not improve.
Although livestock and commodity prices have improved since June, they remain below pre-COVID-19 levels.
"There's a great deal of uncertainty surrounding Nebraska's agriculture sector and what the future holds," the report's conclusion says.
Two variables are the duration and magnitude of COVID-19 effects on the economy, and how shrinkage in world economic growth will affect trade.
COVID-19 effects will be felt by Nebraska agriculture for many years, which raises several important questions for the long term.
Curry said that because agriculture was among the hardest hit sectors of the economy, it was among the sectors eligible for federal assistance such as programs through the CARES Act. She added that estimates suggest 35% to 50% of the state's net farm income in 2020 could come from federal assistance due to COVID-19.
It's unlikely that such financial assistance can be sustained and unknown if ag markets will regain enough strength to offset a drop in federal payments.
The value of exports equal 30% of Nebraska's farm receipts — $6.8 billion in 2018, the last year U.S. Department of Agriculture Economic Research Service data was available.
So among the many questions is: Will economic growth, trade policies and politics post-COVID-19 allow for continued growth in trade which is needed by Nebraska's ag producers?
Be the first to know
Get local news delivered to your inbox!