KEARNEY — Andres Hayes has learned to think like a poacher.
Heading out on anti-poaching operations at the Ivan Carter Wildlife Conservation Alliance in Mozambique not long ago, he quickly slipped into that frame of mind. He was handling the operations while group leader Mfana Xaba was on leave.
"You have to think quickly and strategically when making plans for the patrols. You almost have to think like a poacher. Since the area is so big, it's hard to patrol every square foot of the land all the time," he said.
"It becomes a game trying to cover all the bases and poacher hot spots. The sad reality is that very few areas like this — true, wild Africa — are left in the world," he said. "I believe that if all our conservation initiatives and hard work of protecting the area were to stop, this place would disappear in five years."
Vanishing lions
Hayes, 20, a 2018 graduate of Kearney Catholic High School, lives in a primitive camp without air conditioning in a 2.5-million acre section of Mozambique's Zambeze Delta. He works with men from Malawi, Zimbabwe, Mozambique and South Africa. Few of them speak English.
Sign up for Kearney Hub daily news updates
Lions have lived in Mozambique for centuries, but poachers eradicated most of them in recent decades, especially during the Mozambican Civil War from 1977 to 1992.
About 25 years ago, Mark Haldane, a conservationist working with the founders of Zambeze Delta Safaris, formed an anti-poaching unit that aimed to restore the lions and their ecosystem. This effort was funded primarily by trophy-hunters in the area.
Most animals have come back at a healthy rate, Hayes said.
"In 1994, the area had about 2,500 buffalo, 50 sable and a few zebras. Now there are more than 25,000 buffalo, around 3,500 sable, and 2,000 zebra, and too many reedbuck, waterbuck, warthog, eland and nyala to count. It shows how well animals can bounce back if they are given the protection and research they deserve," Hayes said.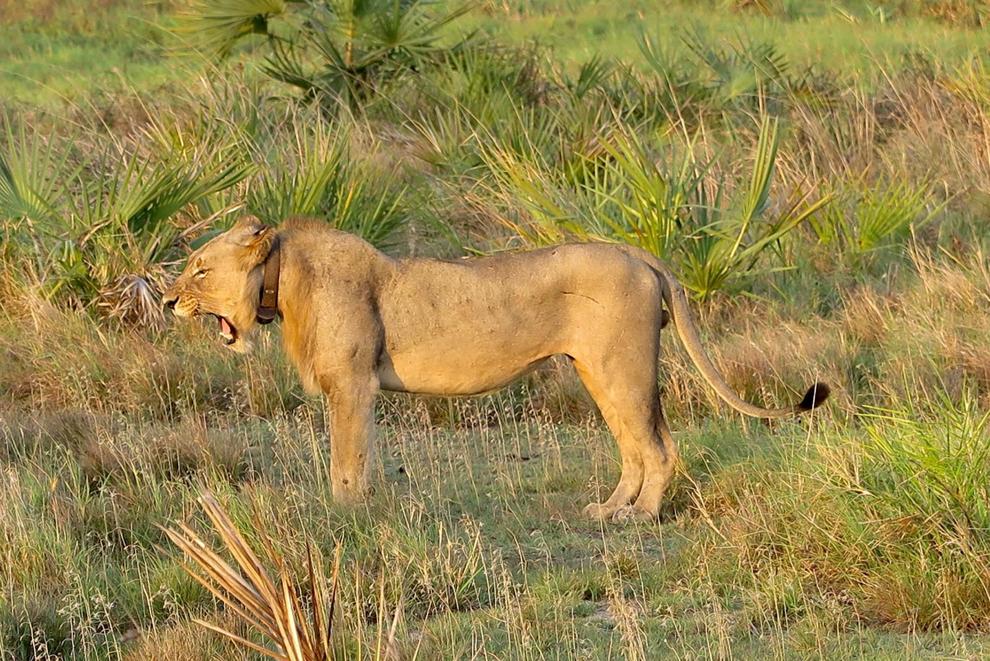 24 Lions
But one animal that struggled to rebound was the lion.
The Cabela Family Foundation — founded by Dick and Mary Cabela of Sidney, founders of Cabela's — created 24 Lions, a project that has matured into the largest translocation of lions in history.
In 2018, 24 wild lions — six males and 18 females — were sedated with darts and moved from six areas in South Africa to the Mkuze Game Reserve in South Africa. After living in a stockade for a month, they were again sedated and flown into Mozambique.
In August 2018, after being fitted with GPS collars, the lions were released into the Zambeze Delta. Through the lions' GPS collars, the conservation alliance staff can study pride formations and home ranges and make sure they do not wander into villages or into areas where poachers remain. They also watch to be sure the lions stay clear of snares and gin traps.
When seasonal rains make the area inaccessible, the group monitors the lions from two small Robinson R22 helicopters, which are funded by outside money.
"We try to get eyes on each lion about once a week to check its condition," Hayes said. "To track and find them, we use the satellite location the collar sends us three times a day, but usually by the time we get the lions' coordinates and head out in the chopper or our Land Cruiser, they have moved a bit."
In that case, the staff uses an antenna and a radio receiver that beeps faintly if the animals are in range. "With enough practice, we can almost always pinpoint the lions," he said.
A male lion from Mozambique joined the transplanted South African females, and 25 cubs have been born in the past 15 months and more are on the way.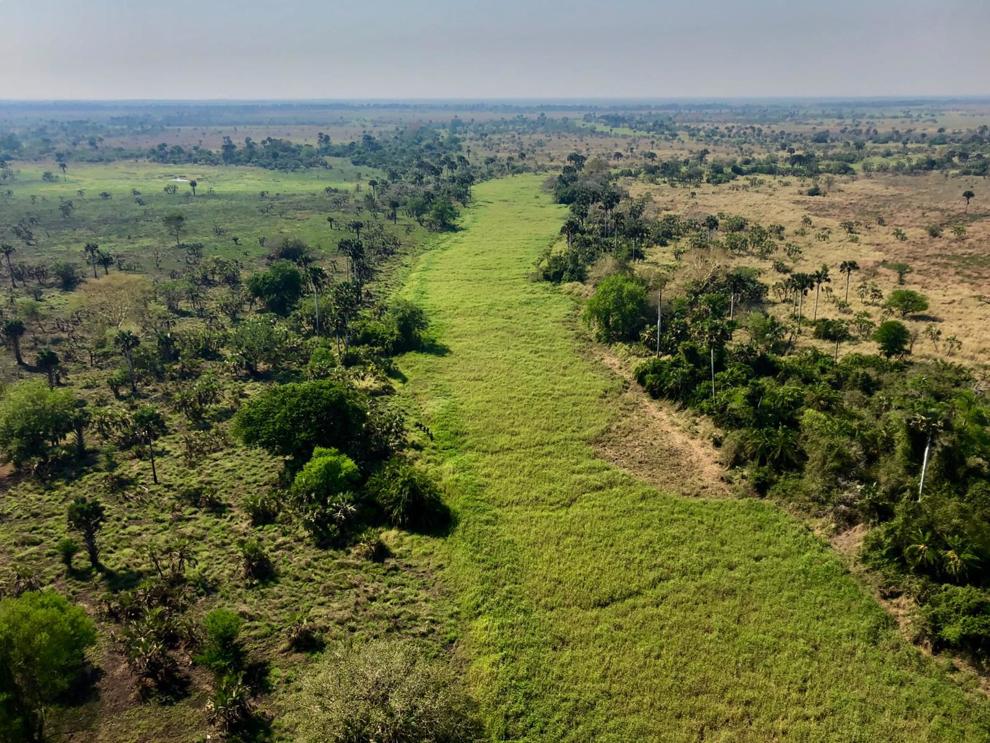 Africa calls
Born in Colonia Caroya, Argentina, Hayes is the son of Zeke and Chelle Hayes of Kearney. He calls both Argentina and Kearney home because Chelle is from Alma and Zeke is from Argentina. His parents also own a dove hunting business in Argentina.
Hayes always has been drawn to animals. As a young boy, he made a pet out of a fox he found in the woods.
When he was 13, his family vacationed in Zimbabwe, Zambia and South Africa. In 2016, they visited Tanzania.
The summer after graduating from KCHS, Hayes headed to Mozambique to work for the summer as an unpaid apprentice at a conservation/hunting nonprofit organization. He expected to return home and begin college, but he fell in love with the work and the country.
"Before I knew it, I was offered a job monitoring lions, coordinating community projects and helping with anti-poaching operations," he said. He quickly accepted.
After-dark adventures
Haley and ecologist Willem Briers Louw are the only employees at both ICWCA and Zambeze Delta Safaris working in conservation/research. Other workers include mechanics, fuel masters, guards, trackers, rangers, camp managers, a safari guide and a pilot. The anti-poaching crew includes 20 rangers, along with Honda motorbikes and a Land Cruiser.
As they work with lions, they also collar buffalo, elephant, sable, reedbuck, warthog and eland to study their movements and home ranges to learn whether the lions are affecting their behavior.
"A couple months ago, we were successful in collaring two leopards, a very hard animal to dart," Hayes said. "We drive the roads slowly at night with human trackers sitting on the front, looking for leopard tracks. When a track is found, the dog handler comes with his hounds and tracks the scent until he hopefully trees the leopard."
After the leopard is treed, a vet arrives to drug it with a dart gun. After the leopard is sedated, it is fitted with a GPS collar.
"It is incredible to see sedated lions and leopards get up and walk away after the GPS collar is fitted," he said.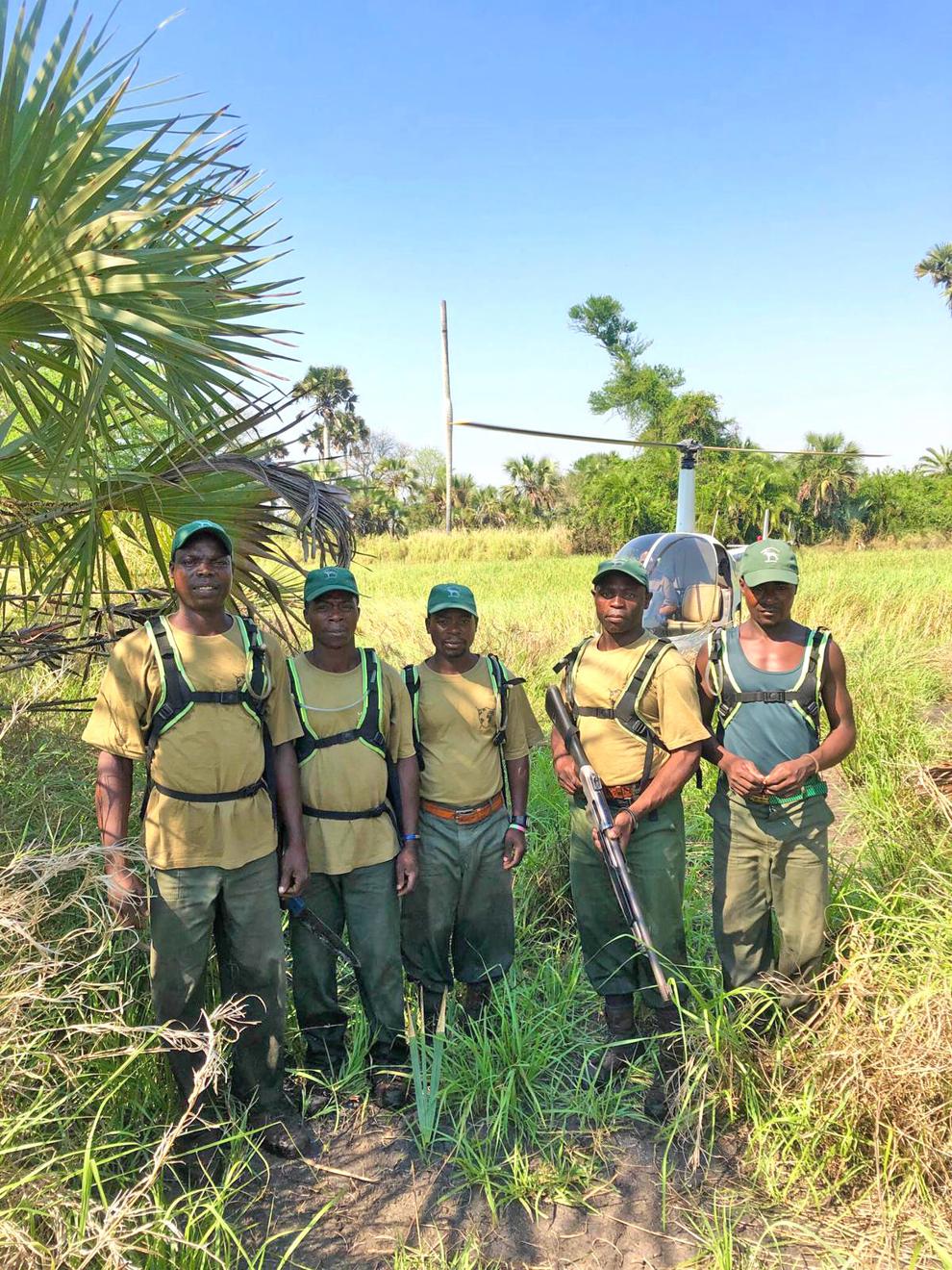 Eradicating poaching
While poaching is declining in Africa, it still occurs, primarily for the bushmeat trade and for traditional medicine. "Most poachers head into the bush with either snares (wire noose traps), or gin traps (foot traps made from the old leaf springs of vehicles). Both traps are designed not to kill the animal, but to injure the animal to keep it fresh until the poachers can get to the site and spear it or club it to death," he said.
"This suffering is unethical and incredibly wasteful. Half the time the poacher doesn't get to his trap in time, and the animal has rotted, or the vultures have eaten it, or the poacher runs away or is caught by us and leaves half his snares in the area," Hayes said.
Because the area is so large, and virtually inaccessible during the rainy season, two Robinson R22 helicopters are critical to the efforts. Funded by the Cabela Family Foundation and the Dallas Safari Club Foundation, the helicopters are used for anti-poaching patrols and lion monitoring.
"A few lionesses got caught in wire snares, and we were able to spot them quickly while tracking them from the chopper," Hayes said. "We darted them and removed the snares. Apart from that, collaring and recollaring would be almost impossible without the helicopters."
He said most poachers' meat is sold commercially or consumed by the poachers, a practice he calls "completely unsustainable and illegal."
To reduce poaching, the ICWCA does "community meat drops," where several tons of meat harvested by trophy hunters is distributed to the local villages every year.
Previously, Hayes was skeptical about African trophy hunting, "but now I understand its importance in conservation and job creation," he said. Hunters come to the Zambeze Delta to hunt the Cape buffalo. Their dollars benefit local communities and conservation projects.
New language, daily lessons
Living in a primitive camp has been challenging. Since Hayes speaks Spanish, he assumed he'd easily pick up Portugese, the legal Mozambique language, "but the accent is very different from any other Portuguese," he said.
Many locals speak Sena, a local language. Hayes has dabbled in a language called fanagalo, a mix of Zulu, Shona and Afrikaans, and used a bit of English.
"After three months of struggling, I was able to speak fluently with the Mozambicans," he said. That allowed him to work effectively with the anti-poaching unit and local people.
Hayes has been in Africa for 15 months, but every day he "sees something crazy" or learns something new. "Being able to get experience in such an amazing place has opened up opportunities and shown me the different careers in this type of work. It's tough being far from family and friends and having limited communications, but I've made some incredible friends from all over the world."
Hayes said he will come home for the holidays and begin classes in January at the University of Nebraska-Lincoln, but he will return to Mozambique during college breaks.
"Once I have my degree, I'll see what happens," he said.