KEARNEY — Rodney Keesee will never forget something his father told him years ago: "You know, Rod, if you've got the right tool, you can fix anything."
Keesee's "right tool" is his Mannerport camera. It has led him into his growing business, VirtuallyPossible 360. He uses that camera to create virtual tours of homes and businesses for real estate agents, business owners and more.
He spends about two hours doing a scan of a house, capturing every tiny nuance. He scans each room from dozens of angles. The result is an interactive tour, providing a far more detailed overview of the layout of the house than what many real estate agents offer on their sites.
"Imagine: You stand in the middle of a room, turn around slowly and tell me what you want a picture of. I can get a picture of it. The only piece of equipment I use is my camera and an iPad," he said.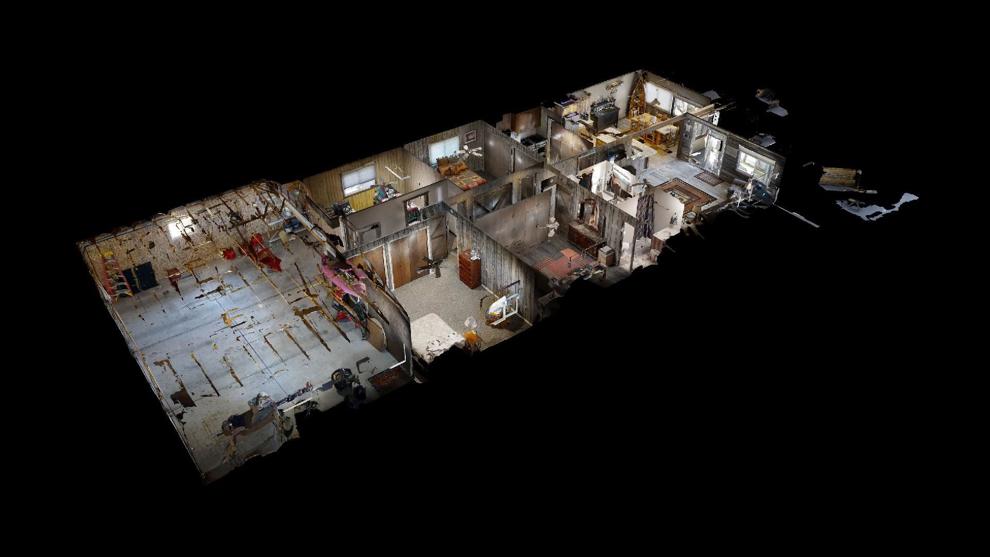 Getting started
A little over two years ago, Keesee sat at home perusing Facebook. A native of Phillipsburg, Kan., and a graduate of Fort Hays State College in Hays, Kan., he had planned to be an eye doctor, but he switched to business after chemistry gave him a bit of trouble.
By 2017, he'd been a store manager at Kmart for 25 years, including two years in Kearney, but with Kmart wobbling across the country, the Kearney store had just closed and Keesee was existing on 20 weeks of severance pay.
He perused an ad on Facebook for a sophisticated, highly technological Mannerport camera. Later, when he met an Omaha man who does 3D virtual tours for a living, Keesee theorized that providing those tours would be a "good fit" for Kearney. "I purchased my camera and was on my way," he said.
Alley Rose
Last October, Keesee was having lunch at Alley Rose when he began studying its historic architecture. "I thought, 'What a great place. This has so much character." He approached owner Shawn Engberg about doing a scan with his new camera. "I did a virtual tour, and it turned out great," Keesee said.
Keesee repeated the ritual at Cunningham's, where owner Mike Anderson similarly was impressed. Ditto Kinkaider's in Grand Island, which he chose after he saw a picture of a friend dancing at the bar there. "In the back I could see how interesting that bar is. It definitely has some history to it. I like doing places that have a unique quality to them," he said.
He contacted the Kinkaider's owner and eventually did his magic at all three Kinkaider's locations in Grand Island, Lincoln and Broken Bow. Keesee also scanned a virtual tour for Buzz's Marine Supply Inc. at 407 Central Ave. "This was my niche. Bars, restaurants, business-to-business relationships," he said.
He chose the name Virtually Possible for his business because "it goes to show that anything is virtually possible." It can be accessed at Virtuallypossible.net.
24/7 open houses
Several months ago, a friend in real estate asked Keesee to create a virtual reality tour of a house he was showing. It was a success.
Then came COVID-19, forcing real estate agents to cancel open houses and create innovative methods to reach buyers. Keesee proposed virtual tours to a few agents he knew.
"3D virtual tours are basically 24/7 open houses," he said. "A virtual tour allows a viewer to see the property in a 3D view and interact with it. They can adjust and modify the view and get a deeper feel for the flow of the home before they actually see the property," he said.
Virtual tours allow buyers to see the actual dimensions of each room, eyeball the floor plan and see how rooms and corridors are connected.
"If you attach this virtual reality tour to a listing, people can view a virtual tour for a house for three, four, eight minutes. All of a sudden, a consumer may decide to call a Realtor and take a look in person."
Keesee added: "A virtual tour doesn't guarantee a sale, but according to industry publications I've read, properties that have virtual tours get twice as many views. Of those, that viewer will spend eight to 10 minutes longer looking at that house than when there are just 2D photos."
VirtuallyPossible 360 is off and running. Keesee has done 26 virtual tours in this area in the past three weeks, including nine last weekend alone.
Brisk business
Prior to COVID-19, his focus was on showcasing local businesses, including the Alley Rose, Cunningham's on the Lake, Cunningham's on the Bricks, The Bike Shed, The Village and Buzz's Marine Supply. As real estate part of his business skyrockets, businesses remain a central focus.
"At first, businesses thought it was a great product, but they weren't sure how to utilize it. Once we talked through how they could use the virtual tour in their marketing toolbox, they became more interested. Alley Rose was the first business 3D tour I did and it grew from there," he said.
His charges are based on the square footage of the property, depending on the size of the house or business. A client pays a hosting fee for a specific amount of time that the scan can be posted, say six months. Keesee also sells pictures and, for an additional fee, also will provide a video.
"Some people may think this is expensive, but it's nowhere near what a service provider charges in larger cities," he said. Sometimes, sellers pay him. Other times, Realtors pay because they consider his videography a key marketing tool.
One real estate agent wanted him to shoot only homes that were selling for $250,000 or more, "but I've done houses where the asking price was only $119,000. The virtual tour lets buyers see what sets that property apart from the rest of them," he said.
The energetic Keesee now is in management at Builder's, and it's a job he's as enthusiastic about as his VirtuallyPossible 360. He gets up at 5 every morning and devotes two hours to VirtuallyPossible 360. At 7 a.m., he turns his attention toward Builders. Evenings and weekends, he's back to VirtuallyPossible 360 and his Mannerport camera.
Keesee said, "This is a tool that's offered to help a house sell, but it's like any other tool. Garages can be filled with tools, but what good are they if you don't use them?"