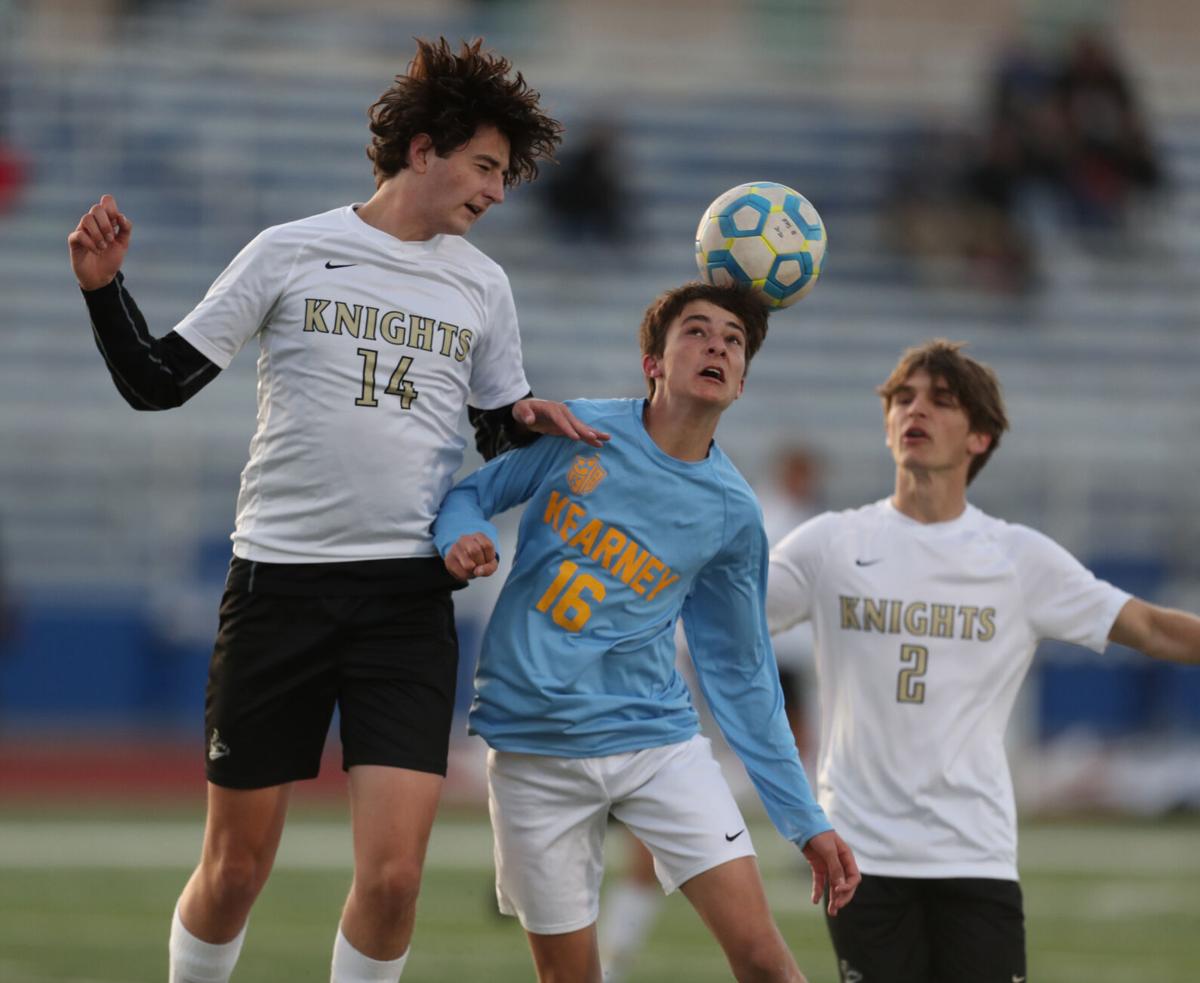 KEARNEY— It was a big night for goalkeepers at Kearney High. However, it was Conner Hibberd who had the hot hand for the Kearney boys soccer team.
In a scoreless defensive standoff with Lincoln Southeast High School, the Bearcats came out on top with a 1-0 victory over the Knights after going an extra period. Hibberd led the Bearcats with five saves. Four of which came down in the final 12 minutes of play in the second half.
"I can't say enough about Conner," KHS coach Scott Steinbrook said. "That's a great example of a senior goalkeeper. He made two or three big-time saves, and I just told him in the locker room, that was as good of a forward scoring a goal because those were point-blank shots."
For Hibberd, this would be his fourth shutout this year. The Bearcats improve to 5-4. The Knights dropped to their third loss this season.
"Southeast is top-rated. Much respect to them," Hibberd said after the game. "They did a great job all night. Give credit to our defense. I want to clean up our mistakes."
Southeast's goalkeeper, Emmett Anderson, was no slouch either as he led his Knights with eight saves. Some of which were crucial in the second half as Kearney had one-on-one opportunities to capitalize on Southeast but did not prevail.
"He made some fantastic saves," Steinbrook said. "Josh Bean had a couple breakaways late. Their goalkeeper kind of bailed them out as well. That was two really good defenses ... battling out tonight."
Steinbrook also acknowledged his two center backs, Kamden Bryant and Caiden Lawn. He considered the two defenders as his unsung heroes.
"Those two along with our goalkeeper are kind of responsible for organizing our defense," Steinbrook said. "You don't hear a lot of the center backs in the paper a whole lot unless they happened to get lucky to score a goal, but those two guys all day long have been solid. They win the ball in the air, they organize the attack and our great communicators back there. So I think Conner will be the first to credit those guys in terms of helping organize and getting our defense setup the way it is supposed to be."
The Bearcats finally caught a break late in overtime. After a foul call on Southeast, Ryland Garrett was on the line for a penalty kick, where he clinched the win for Kearney.
Despite losing two of the last three games against top-ranked teams, the Bearcats continue to gain confidence the more they are in tight battles. However, they are not out of the woods and have more to improve with six more games left to play before the postseason.
"We've got a lot of tough games left in our schedule, and there will be a lot of tough games in the postseason," Steinbrook said. "Soccer can get better. It can be a little cleaner. It can be a little prettier. It certainly wasn't pretty tonight, but sometimes, you have to win ugly, and tonight we did that. That's just a credit to the competitiveness and the grit that our group is slowly developing."