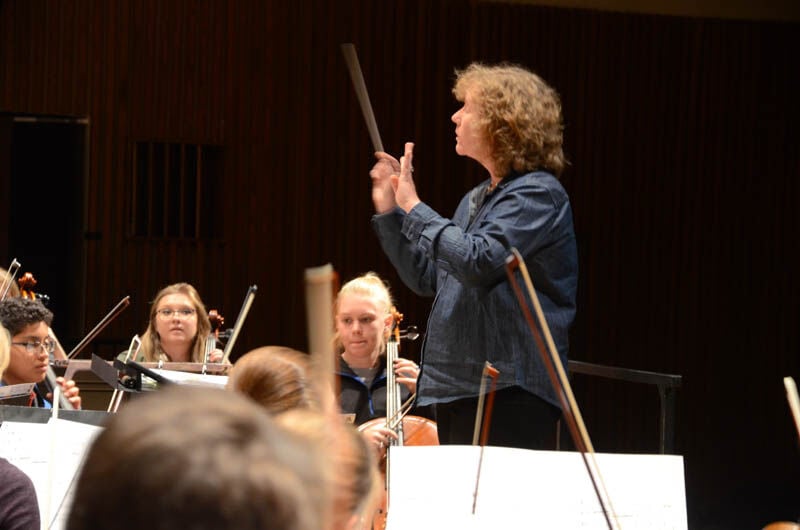 KEARNEY — Music often connects listeners to the traditions, moods and festivities of holidays.
Alison Gaines, director of the Kearney Symphony Orchestra, hopes to celebrate the upcoming holidays with a concert featuring music by Bach, Beethoven, Mozart as well as more modern composers like Scott Joplin and Edward Elgar.
"Holiday Kick-Off" acknowledges a variety of holidays — Thanksgiving, Christmas, New Year's, Kwanzaa as well as Hanukkah.
"There really isn't a big repertory of Thanksgiving music," Gaines said. "Ralph Vaughan Williams has a piece for choir and orchestra called 'Song of Thanksgiving,' but Thanksgiving is a more recent holiday than Christmas. Christmas has had a lot of years to get some repertory going."
The Kearney Symphony Orchestra usually presents a holiday concert between Thanksgiving and Christmas. This year, because of the COVID-19 shutdowns and restrictions, Gaines decided to program a free livestreamed concert 10 days before Thanksgiving. The orchestra will present "Holiday Kick-Off" at 7:30 p.m. Tuesday. To access the video, visit unk.edu.
"Because it's happening before Thanksgiving instead of its usual first week of December, we're calling the concert 'Holiday Kick-Off,'" she said. "We will use the same format we had in our first concert this season: Brass and percussion playing first, followed by music from the woodwinds and then the strings."
Although Gaines moved to Kearney from the Chicago area in 2018 to direct the orchestra and to teach at the University of Nebraska at Kearney, she had ties to Nebraska.
"For Thanksgiving, my partner Ben and I would travel to northeast Nebraska to stay in the farmhouse of his uncle near Stanton," Gaines said. "We're not doing that this year, for the first time in eight years, because of the shutdowns."
To help find comfort during these challenging times, Gaines selected music that celebrates a variety of holidays. The program includes:
- Trumpet Voluntary by Jeremiah Clarke (1674-1707)
- "The Easy Winners" by Scott Joplin (1868-1917)
- "Nimrod" from "Enigma Variations" by Edward Elgar (1857-1934)
Woodwinds and Percussion with members of 1st Lutheran Church's Bell Choir
- "Sleighride," German Dance No. 2 by Wolfgang Amadeus Mozart (1756-1791)
- Military March by Ludwig van Beethoven (1770-1827)
Strings with Franzika Brech, flute soloist
- Capriol Suite by Peter Warlock (1894-1930)
- Orchestral Suite No. 2 for strings and flute solo by Johann Sebastian Bach (1685-1750)
"To me, 'Sleighride' by Mozart evokes the oncoming of winter," the director said. "Peter Warlock's piece, 'Capriol Suite,' imitates music of the Renaissance and early Baroque periods. Music like 'Greensleeves' and other carols are often associated with the Christmas season and this piece often echoes that type of music."
The performance also features "Nimrod" from Elgar's "Enigma Variations." Gaines programmed this piece of evocative and contemplative music as a remembrance of those who have passed away because of the pandemic.
Stay up-to-date on what's happening
Receive the latest in local entertainment news in your inbox weekly!