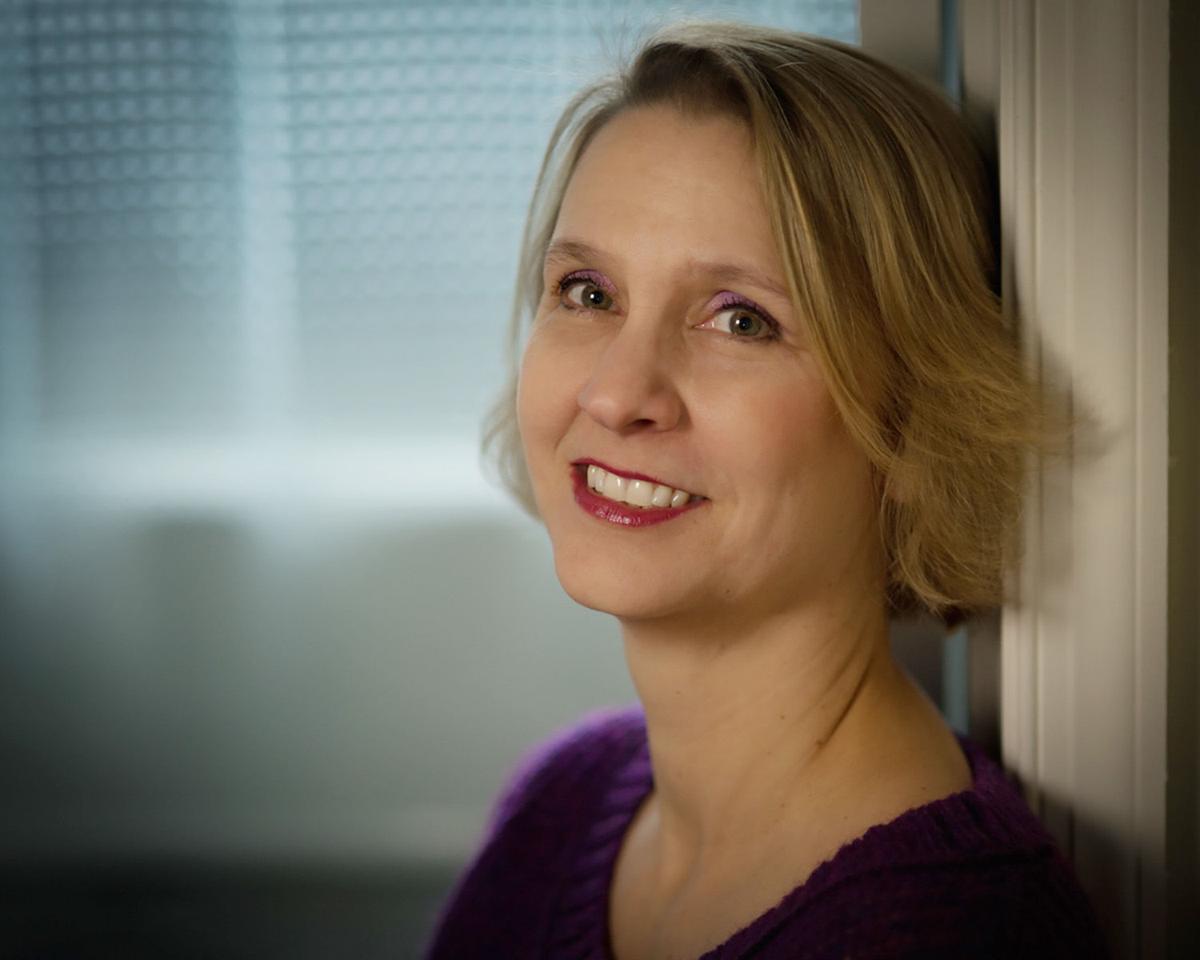 KEARNEY — When it comes to witnessing the annual crane migration in central Nebraska — or the stark landscape of the pre-spring Sandhills — novelist Leslie Pietrzyk understands the simple fact that Nebraska's beauty lies beyond the limits of a photograph.
"I have a social media presence and so I've been very diligent in terms of posting photographs and video of the cranes and talking about what I'm seeing and thinking all along the way," she said in an interview from Alliance on March 16. "I'm not a very good photographer but I got a shot of the last of the cranes taking off from the river and it was so beautiful. And because of the virus, when I posted my video, so many people posted things like, 'Oh, wow, I really needed this on this day. Thank you so much.'"
While many Nebraskans might take these kinds of everyday experiences for granted, Pietrzyk, a resident of Alexandria, Va., arrived in Kearney eager to soak up new experiences. As the winner of the first Sandhills Road Trip Writer's Residency March 11-18, sponsored by the English departments at the University of Nebraska at Kearney and Chadron State College, Pietrzyk arrived slightly ahead of the COVID-19 shutdowns. She read from her works at the G.W. Frank Museum of History & Culture on March 11 and toured central Nebraska before traveling through the Sandhills to Chadron for a reading.
"I finally got to see the Sandhills," she said. "I posted some pictures but no picture can do justice, really. I talked about that experience of being in that remote, austere landscape. I went to Chimney Rock and posted some pictures of that. I'm very interested in the pioneer experience so I was thinking and talking about that."
Pietrzyk is the author of three novels and a collection of short stories. She currently teaches at John Hopkins University. After growing up in Iowa City, Iowa, Pietrzyk moved east, living in Chicago, New York and the Washington, D.C., area.
She also lived in Phoenix for a number of years.
"I don't think this landscape is at all like my experience of living in Arizona, but I have the feeling that if you put those Sandhills within a half-hour drive of where I lived in Arizona, they would be covered with condos," she said. "People would be swarming all over them. They are so beautiful. It's lucky these really beautiful places are tucked away and we need a little effort to find them."
Pietrzyk's current novel features a character with Nebraska connections.
"I'm working on a novel about a 15-year-old girl who has been abandoned by her father," she said. "The father is a famous retired football player with CTE, the traumatic brain injury. In the rough draft, I made the father from Nebraska. To be honest, it was sort of at random. I didn't want to write about Iowa again and obviously I knew about the great Cornhusker football tradition. I thought that Nebraska would be a good place for him to be from."
Pietrzyk's experiences with the Sandhills Road Trip Writer's Residency has helped her in developing that pivotal character.
"Now that I'm here, sort of seeing this place and these people, I really can see that character more clearly. At my desk, in Virginia, that guy is from Nebraska. But now, after coming here, I hope he will be 'of' Nebraska. I will use the things I've learned and seen here to really deepen that character and enhance the book in a profound way."
And as a creator of fiction, Pietrzyk understands that her experiences often end up as tools in her work.
She stayed overnight at Dog Town Lodgings, an old schoolhouse converted to guest lodging facilities by Luke and Allison Rankin, near Spalding north of Grand Island. Pietrzyk spoke with Luke, a man with a connection to the land that spans three generations.
"I had a fascinating conversation with him," she noted. "He hand-restored a one-room schoolhouse in this beautiful setting. I was all alone in this very vast landscape. And he said, 'Oh, by the way, you'll probably hear coyotes howling tonight.' An experience like that, meeting that man who so graciously shared his life with me, I'd be surprised if I don't write a story in which something from that experience doesn't emerge."
Pietrzyk acknowledges the importance of a sense of place in her work.
"I will confess that I'm not really good at describing natural landscapes," she said. "As I was driving through the sandhills, I wondered how I could describe this. One of my weaknesses is creating that beautiful, descriptive writing about landscape that so many writers have. But having said that, I totally believe that people are 'of' a place. I can't know a character — or a person in real life — unless I know where they came from and how they grew up and how they lived their life."
For Pietrzyk, understanding a character begins with understanding how a sense of place shapes that individual.
"Not just the natural landscape but the way people are, what the economy was, the way they talk," Pietrzyk said. "The guy at Dog Town Lodging referred to the highway as 'getting on the blacktop.' That's a phrase I never would have heard on my own."
The closings and travel restrictions because of the COVID 19 pandemic began to effect Pietrzyk's travel plans. She considered canceling her airline reservations and driving 20 hours back to her home in Virginia, but a pending blizzard in western Nebraska ended her residency a day early.
She flew out of Rapid City, S.D.
In an email sent after arriving home safely, she wrote, "There was a blizzard warning for Thursday, my original departure date, and because the flights are so limited, I decided I should get out while I could — so I did fly, out of Rapid City on Wednesday. I loved the drive from Alliance up to there and all the topography I encountered."