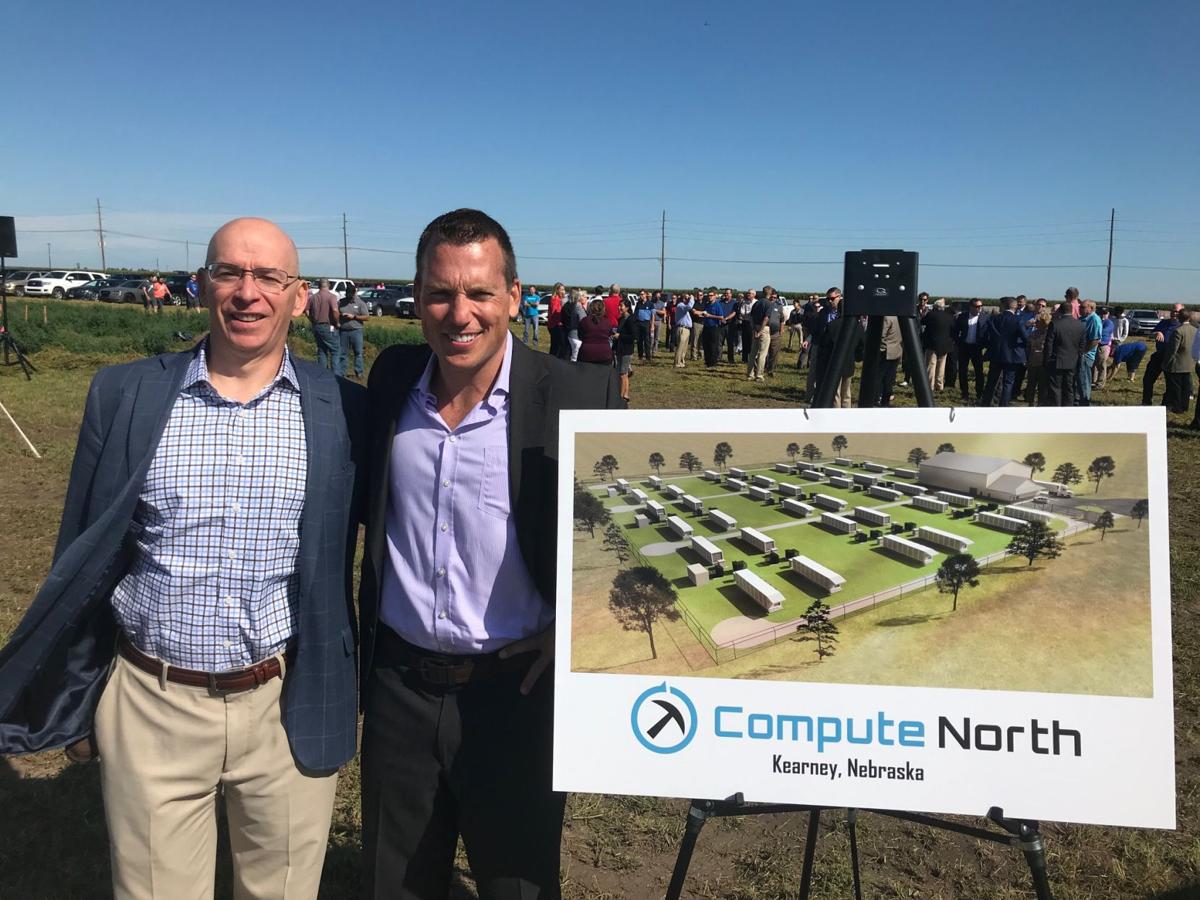 KEARNEY — The recruitment of Compute North to Kearney's Tech oNE Crossing park began about one year ago.
Darren Robinson of The Economic Development Council of Buffalo County had convinced Mayor Stan Clouse to meet Compute North CEO Dave Perrill in North Sioux City. S.D., where Compute North was building a data center on the former campus of Gateway Computers.
According to Perrill, Clouse — an account manager with Nebraska Public Power District — opened the conversation by asking Perrill what his electrical requirements would be if he built a data center in Kearney.
"Now that's a different mayor," Perrill exclaimed to the crowd of about 200 Wednesday morning as dignitaries, elected officials, engineers and economic developers broke ground for the $7.65 million data center Compute North will build at the tech park in east Kearney.
Sign up for Kearney Hub daily news updates
The Kearney facility will be Compute North's third data center. The Eden Prairie, Minn., company also operates a center in Big Springs, Texas, and North Sioux City. Perrill said his company will begin work on its Kearney facility next week and that it will be in operation by Oct. 1.
Unlike the mammoth data centers that cover entire city blocks, employ hundreds and cost hundreds of millions to build, the Kearney data center will be among the first of its kind of small and powerful data centers.
Rather than storing information, its massive computing power will be used for a variety of applications, including blockchain technology, cryptocurrency, artificial intelligence and machine learning.
"What we're going to build will really be on the forefront," Perrill said.
Compute North will occupy five acres at Tech oNE — a small tract compared to data centers Nebraskans are used to seeing in the Omaha area. Clouse said the 20 megawatts of power Compute North will consume is equal to about 20 percent of Kearney's total load.
Perrill said NPPD's reliability played a key role in selecting Kearney for the data center. Kearney also has fiberoptic access.
Perrill also commended Robinson for his recruitment effort, City Manager Michael Morgan and City Hall for their rapid and professional assistance, and the community in general. "We have felt such a welcome since we set foot in Kearney."
Other speakers and their thoughts:
- NPPD CEO Pat Pope: "When I think of Kearney I think of one word, 'up.' When I think about selling all the electricity to Compute North, I get fired up. What will the city of Kearney dream up next?"
- Mayor Stan Clouse: "State and local dollars went into this tech park, and after 10 years it's coming to fruition. If you look around you now see the new veterans' home, Xpanxion and the SoCore solar farm."
- Lt. Gov. Mike Foley: "Kearney keeps hitting home runs."
- Compute North President Marshall Johnson said his company does business around the globe and that customers from Australia were in Wednesday's groundbreaking crowd. He said the Kearney facility will differ from earlier data centers because its mission is different. "What we're building is the next generation data center where we can handle high-end computer processing at a lower cost."