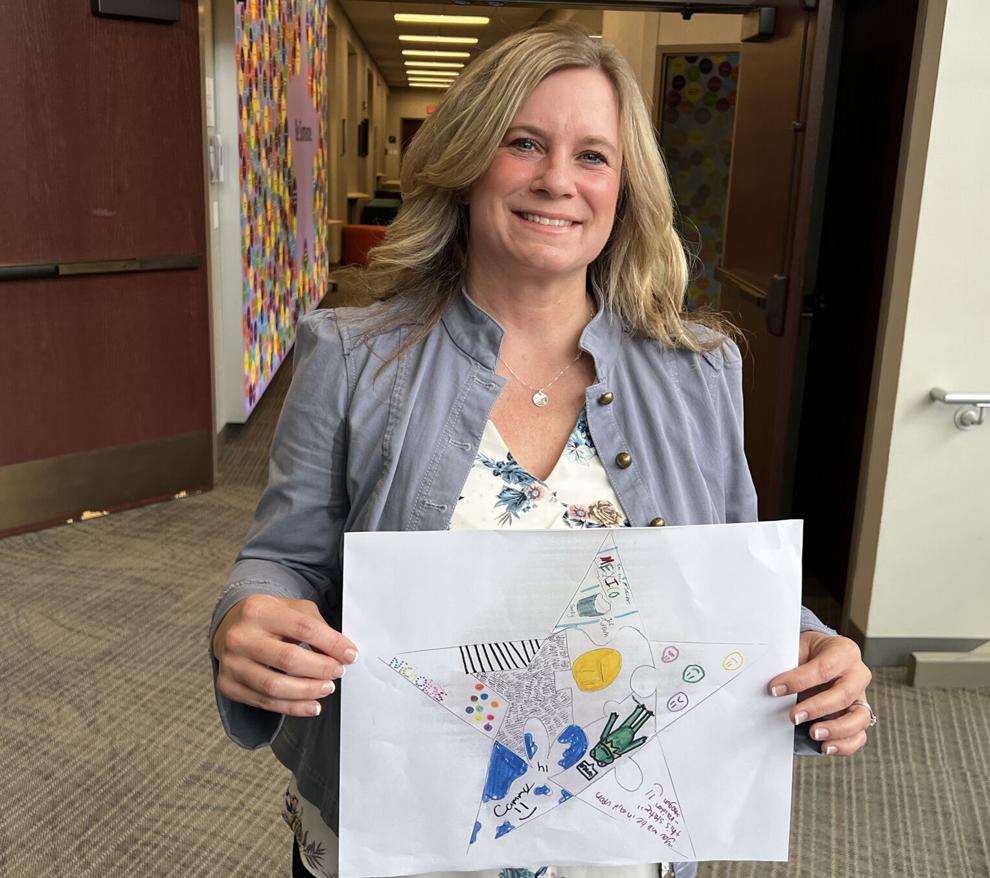 Brandon Lopez-Pereira was struggling with remote learning last year. The Norris High School junior felt disconnected from his fellow students. "I was kind of in, I want to say, a dark place," Lopez-Pereira said.
The director of an after-school program suggested Project Harmony's Connections program might be able to help. After a referral, Lopez-Pereira signed up for an eight-week group therapy session focused on expressive art, where he quickly found a sense of community.
"I felt very confident and comfortable with everybody," he said. "We all know this is a safe space and we can trust each other."
Project Harmony is known for its efforts to end the cycle of child abuse and neglect. But the nonprofit is also working proactively to address the mental health needs of young people through its Connections program.
"We link children and families with appropriate mental health services," said Jordan Grieser, director of Connections. "We contract with therapists in the Omaha area who have evidenced-based practices and experience working with kids and families."
Brandon's sessions were facilitated by Betsy Funk, a registered expressive arts therapist. Funk said using art can reduce the stigma of therapy and make students excited for the experience.
"Art is a good connector," Funk said. "It's sort of a natural language for people."
It came naturally for Brandon, who graduates this month and plans to study acting at Columbia College in Chicago.
"It's really cool to see other people's creative side," he said of the Connections program. "It made me feel like I can be myself."
Connections is open to children who have been through a recent stressful event and could use extra support to navigate their feelings — regardless of how they are reacting.
"We're much more likely to reach out for help with our kids when we're seeing real behavior concerns for kids — both internal and external," Grieser said. "But the internal can be just as concerning. You can have a straight-A student who's not causing any problems in class who's really struggling."
By working in groups, students learn how to forge connections with their peers and they can take those friendships with them after the sessions conclude.
"They've created this support relationship already," Grieser said. "The kids learn to trust each other and to share with each other."
In Brandon's case, the students formed a group chat to keep in touch.
"We would, of course, text each other all the time, and it was really nice," he said. "It made the experience more comforting because I felt, during that time, we were always so vulnerable."
Referrals to Connections were up nearly 66% through March, and Project Harmony has more than doubled the use of groups. Grieser said she expects to finish the school year with close to 2,000 referrals, a couple hundred more than before COVID-19.
When the program started in 2015, a major challenge was addressing the stigma associated with mental health treatments. But that's changed since the pandemic began.
"We all got much more comfortable talking about our physical health during COVID, and we also got more comfortable talking about mental health," Grieser said. "So, I don't expect our referrals to go down in the next year or two."
Connections will continue to emphasize the use of groups, while also adding more providers. The program has about 40 groups meeting in schools, and work continues during the summer months, including training in a new therapeutic model.
"We see group models as being a great way to address the need that we're seeing," Grieser said.
Anxiety and difficulty with social interactions are the primary issues seen among young people right now, Funk said, which comes as no surprise amid the pandemic.
Navigating family difficulties is also prevalent.
"There's a lot of turmoil going on at home with each of the children in their own separate families," Funk said. "The group offers an opportunity for them to have a safe place to talk about some of these things."
The program spans elementary through high school students and serves all members of the child's family. Financial assistance is offered to those without insurance. Connections currently operates in Omaha, Millard, Bellevue and Papillion La Vista schools.
Families interested in learning more about Connections can visit projectharmony.com or talk to their child's school about a referral.
---
This content was produced by Brand Ave. Studios. The news and editorial departments had no role in its creation or display. Brand Ave. Studios connects advertisers with a targeted audience through compelling content programs, from concept to production and distribution. For more information contact sales@brandavestudios.com.